Cash Box
The original
Cash Box
magazine was a weekly coin-machine and music-industry publication from July 1942 through its last issue dated November 16, 1996. The Cash Box name has been revived as a current online music magazine, at cashboxmagazine.com. (
Cash Box Top Singles
)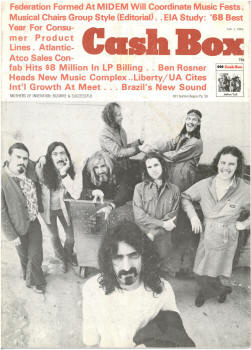 1969 February 1
Vol. 30 No. 27
---
Front Cover
Frank Zappa is an underground. Since he first came to public attention with the Mothers of Invention, Zappa has been the most admired, if least understood, of current crop of musicians. His musical talents, his offbeat (and sometimes in person) stage manner, and his business acumen have contributed to an ever-changing pied piper image.
Mixing satire with progressive musicianship, Zappa has been humorously putting down commercialism (i.e. a recent Mother's album called "We're Only In It For the Money") while racking up sales of over 200,000 units for each of the group's three albums. Their fourth and current Verve/Forecast set, Reuben & the Jets, a satirical but authentic look at 1958 rock & roll groups, is their biggest set to date.
Zappa's newly-formed Bizarre Productions has recently signed distribution deal with Reprise (see story on Pg. 10), with the Mothers themselves set to debut on the label this month.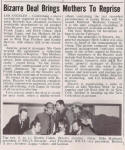 Source: slime.oofytv.set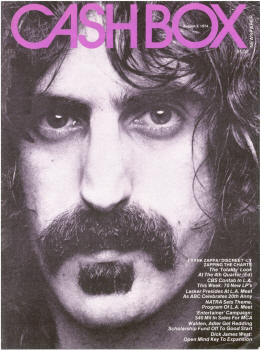 1974 August 3
Vol. 36 No. 12
Cash Box Profile: Frank Zappa after 10 years - The Man, The Music, the Mystique
pp 25-32
---
Front Cover
Frank Zappa and the Mothers of Invention have been through quite an odyssey in their career which has seen the zany and prolific genius and his cohorts consistently delight avant garde music fans everywhere with no less than 20 wild and wonderful records. Currently represented on th CASH BOX charts with his DisCreet LP, "A'POS!TRO'PHE," Zappa and friends have never ceased to come up with refreshing new material.
One of the most sought after concert acts in pop music both here and abroad, Frank and the Mothers have proven that their inventiveness on record is a direct carry-over from their recording talent and capability. With his new LP proving to be his best seller, Zappa's tenth anniversary is indeed a happy and profitable one.
Source: slime.oofytv.set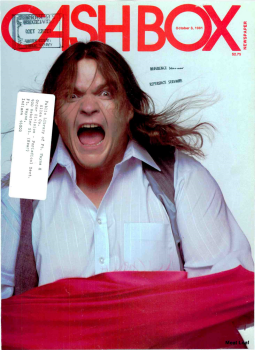 1981 October 3
Vol. 43 No. 20
Album Breakout Of The Week: You Are What You Is - Frank Zappa
p 17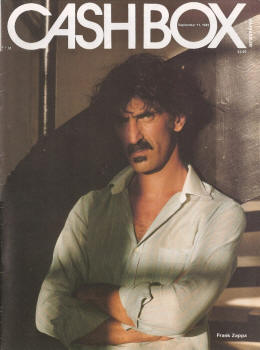 1982 September 11
Vol. 44 No. 16
---
On The Cover
When Frank Zappa first started in the music business making the rounds at various record companies, label executives rejected his work, claiming it held absolutely "no commercial potential." What they failed to see was the unique nature of the singer/composer/guitarist's talent, and today, after earning numerous accolades as an innovative creator of classic craziness, bionic funk and other genres of spatial zonery, Zappa (aided by daughter Moon Unit) is reaching a wider audience through the "Valley Girl" single from his latest LP, "Ship Arriving Too Late To Save A Drowning Witch."
Over the years Mr. Z. has composed dozens of off-the-wall songs, such as "Muffin Man," "Son Of Suzy Creamcheese," Cosmik Debris," "Illinois Enema Bandit" and "Penguin in Bondage," but none of them ever seemed to have the mass appeal of "Valley Girl," which details teenage lifestyles in Los Angeles' San Fernando Valley region and in the weeks since its release, has been placed on hot rotation on several traditionally conservative radio stations.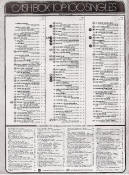 Source: slime.oofytv.set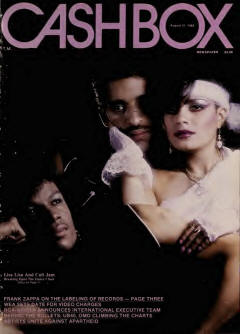 1985 August 31
Vol. 49 No. 12
Extortion, Pure And Simple ...
An Open Letter To The Music Industry
By Frank Zappa, p 3
---
With all due respect to Stan Gortikov and the RIAA, I would like a few moments of your time to express my personal feelings regarding the unfortunate decision to bend over for the PMRC on the issue of album 'identification.'
First, let me say that I appreciate the difficult in, and sympathize fully with the organization's struggle to move legislation through Congress. The problem seems to be the Thurmond Committee. This is where the industry's proposed legislation will live or die. It is no secret that Mrs. Thurmond is a member of PMRC. What is apparently happening is a case of extortion, pure and simple; THE RIAA MUST TAP DANCE FOR THESE WASHINGTON WIVES OR THE INDUSTRY'S BILL WILL FEEL THE WRATH OF THEIR FAMOUS HUSBANDS. (read more)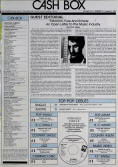 Source: americanradiohistory.com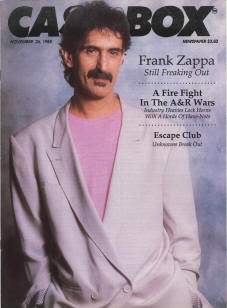 1988 November 26
Vol. 52 No. 22
A Mind For The Body Politic
By Julius Robinson, pp 8-10
---
"I have to finance my own product," Zappa explains. "I then go to Capitol and pay them to press it and ship it. Nobody can tell me what to put on records, or take off. They have nothing to do with the promotion and advertising; in fact there is hardly any advertising at all." (read more)
Source: slime.oofytv.set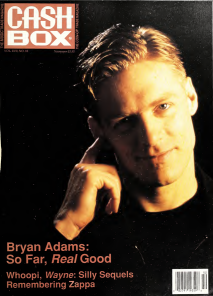 1993 December 18
Vol. 57 No. 17
Remembering Zappa
By Troy J. Augusto, p 4