Džuboks
Džuboks
(Serbian Cyrillic: Џубокс, trans. Jukebox) was a Yugoslav music magazine. Founded in 1966 by publisher Duga, it was the first magazine in Yugoslavia dedicated to rock music, and the first rock music magazine in a socialist country. The first issue came out on 3 May 1966. After the 39th issue, released in July 1970, Duga stopped publishing the magazine.
In 1974, the publisher Dečje novine from Gornji Milanovac renewed
Džuboks
under the name
Ladin Džuboks
(Lada's Džuboks), as it was initially released as a supplement of the girl magazine
Lada
, but soon appeared as an independent publication under the name
Džuboks
. The first issue was released on July 1, 1974, and the last, 171st, on July 22, 1983.
In 1984,
Džuboks
was, under the editorship of Ljuba Trifunović, renewed once again, but was finally put out in 1985. (www.tomy.se)
Archives 1974-1985 are available at
www.popboks.com
.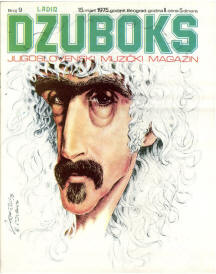 1975 March 15
No. 9
Portret Frank Zappa – Majka stara 10 godina
(Portrait of Frank Zappa – Mothers 10 years old)
By Dražen Vdoljak, 5 pp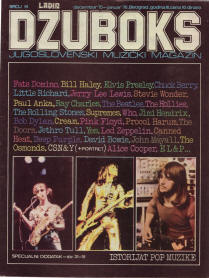 1975 December - 1976 January
No. 19
Frank Zappa na concertu u Zagrebu
pp 76-77
1979 August 3
No. 68
Muzičari su glupi, lenji i pohlepni (Musicians are stupid, lazy and greedy)
By Ray Bonici, pp 31-33
---
The same interview with Frank Zappa was in May published in German monthly Musikexpress.
Source: popboks & facebook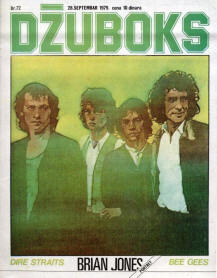 1979 September 28
No. 72
Frank Zappa sprema operu (Frank Zappa is recording opera)
By ?, p 5
---

Source: popboks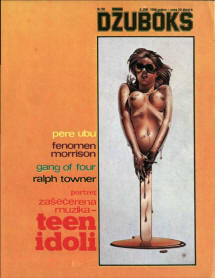 No. 90
Cinik meja kožu, ali ćud nikada (Cynic is changing a skin, but never a temper)
By P. Vuković, pp 24-25