Musikexpress
Started in August 1969 as
Musik Express –
an independent German edition of Dutch
Muziek Expres
. Later merged with
Sounds
and from January 1983 the magazine was titled
Musikexpress/Sounds
. The all-time highest print-run was in 1984. Since September 2000 is the magazine titled as
Musikexpress
. In 2009 started collaboration with American
Spin
.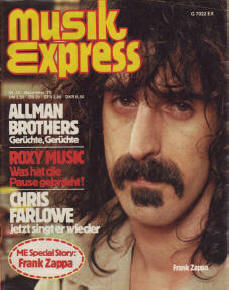 1975 December
No. 12
ME Special Story: Frank Zappa
Rock-Genie und Bürgerschreck
pp 60-69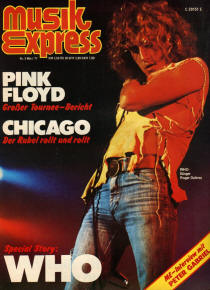 No. 3
Frank Zappa unterwegs (Frank Zappa On The Road)
By Hermann Haring, pp 24, 26

Originalton Zappa "LSD vom CIA"
By Jim Ladd, p 26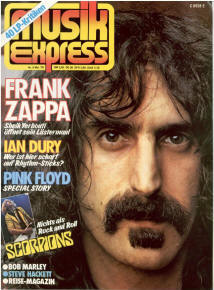 No. 5
ME-Interview Frank Zappa
Interview by Ray Bonici, pp 16, 18, 20
---
The same interview was later published in Yugoslavian monthly Džuboks.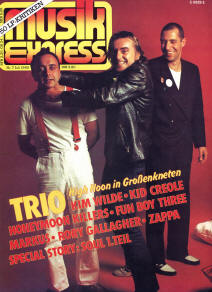 No. 7
Alles Scheiße!
Interview by Sylvie Simmons, pp 24-27
---
Warum Veröffentlichst du in der Regel Doppelalben?
"Manche Autoren schreiben Kurzgeschichten, und andere schreiben lange Geschichten. Für mich ist es schwer, Einfach-Alben zu machen, obwohl meine nächste Platte eins sein wird. Das Format gefällt mir nicht."
Ist ein Doppelalbum genug?
"Nein. Nur ein Beispiel: In den letzten Monaten haben wir achtzehn Albumseiten aufgenommen. Ich könnte die alle auf einmal veröffentlichen, wenn sich jemand leisten könnte, sie zu kaufen. Aber das kann keiner, und daher wird es ein Einzelalbum werden." (read more)
Source: Pittylabelle @ zappateers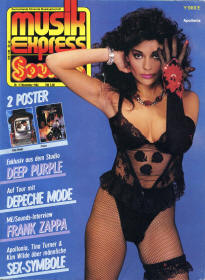 1984 November
No. 11
Frank Zappa
Interview by Alan Bangs, pp 26-28, 30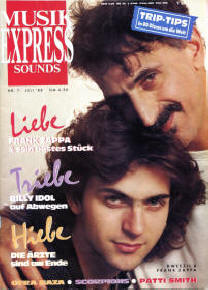 No. 7
Freak & Sohn
By Steve Lake, pp 8-10, 12, 14
---
Google translate: Once upon a time there was a shock of the citizens. He posed naked on the toilet bowl, exposed the state and church on the stage and frightened prudish America with pornographic texts. And private? What is it like when the father is a freak? ME / Sounds brought Frank and Dweezil Zappa to the table. (read more)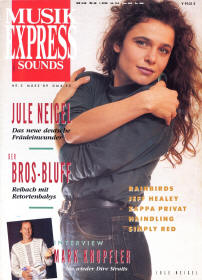 No. 3
Zappa Zoo
By ?, pp 60-61
---
These pictures are taken by Lynn Goldsmith in 1988. The article here is titled as "Zappa Zoo – Holiday on the Freak Farm". See also Zappainfrance.
Source: Pittylabelle @ zappateers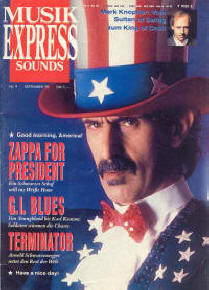 1991 September
No. 9
Zappa For President
Interview by Rudi Dolezal, pp 30-32, 34
---
Daß er ein politischer Kopf ist, war bekannt. Daß er sich nun aber als amerikanischer Präsident bewirbt, war selbs von einem Querdenker wie Zappa nicht zu erwarten. ME/Sounds-Mitarbeiter Rudi Dolezal traf den Kandidaten in Prag, wo er mit dem tschechischen Staatspräsidenten Vaclav Havel über das sprach, was ihn derzeit am meisten bewegt: Politik. (read more)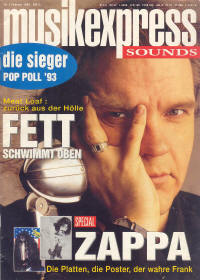 1994 February
No. 2
Special – Frank Zappa komplett
By Steve Lake, pp 92-97

Captain Beefheart
By Uwe Schleifenbaum, pp 30-31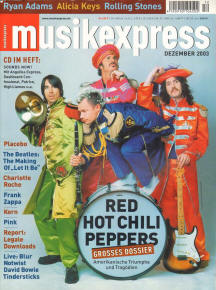 2003 December
No. 12
Zappa für Einsteiger (Zappa for beginner)
By Christoph Lindemann, p 91

Does Humor Belong In Music? DVD (review)
By Uwe Schleifenbaum, p 93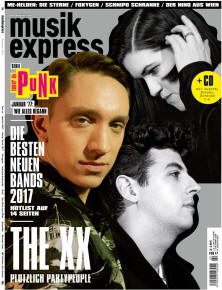 2017 February
No. 2
Neu Auf Vinyl (reviews)
We're Only In In For The Money
Lumpy Gravy
Cruising With Ruben And The Jets
Weasels Ripped My Flesh
By Albert Koch, p 101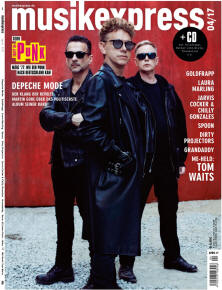 No. 4
Eat That Question. DVD (review)
By Mike Köhler, p 105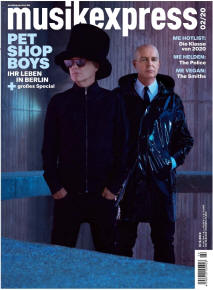 2020 February
No. 2
Frank Zappa. Hot Rats Sessions 50th Anniversary Limited Edition (review)
By Mike Köhler, p 97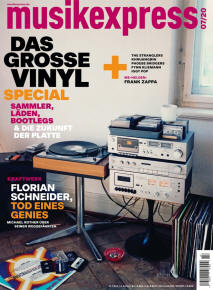 No. 7
Frank Zappa. Immer ein Freak.
By Chris Weiss, pp 54-59