East Coast Rocker
The
East Coast Rocker (EC Rocker)
is a publication that was printed weekly in the mid-to-late 80s and early 90s. It covered the local NY/NJ tri-state area music scene along with well known national artist. (eBay)
The alternative newspaper
Aquarian
was founded in 1969. In 1986 after 637 issues it changed to
East Coast Rocker
. In 1992 after 326 issues as
East Coast Rocker
the magazine changed back to
Aquarian Weekly
. It is accompanied by a pull-out section
East Coast Rocker
, which is freely distributed. (
wikipedia
)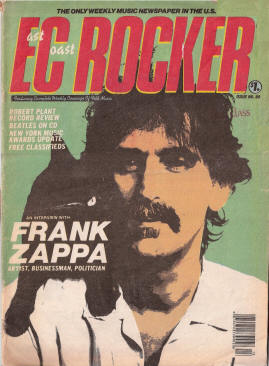 1988 March 30
No. 89
Artist, Businessman, Politician
By Harold De Muir, pp 18-20

Only The Weather Was Cold
By Glenn Rechler, pp 20, 33
---
Talking in front of Congress is not like going to heaven and talking to God. These people are your employees, they owe you good government, and you have the right to demand that they do their job. They've asked for it, they begged you to vote for them, and now they're supposed to perform. And so as long as you're not afraid of them and you keep your proper perspective, anybody could go in there and make a speech. (read more)
Source: slime.oofytv.set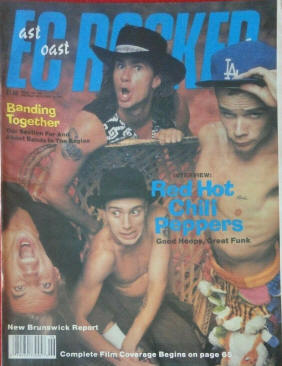 1990 February 7
No. 186
Zappa Faces Lawsuit From Former Mothers
By M.G., p 7

---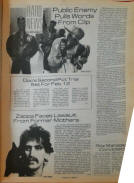 Six former members of Frank Zappa's Mothers Of Invention have filed suit against the head Mother for "denying royalties and defaming them," according to The Hollywood Reporter. Don Preston, Jimmy Carl Black, John Bunk Gardner, James Fielder, Ray Collins and Arthur Tripp sued Zappa in 1985 over back pay. The new suit claims Zappa has accused the six of taking drugs.
The plaintiffs claim Zappa told the Los Angeles Daily News that the first lawsuit "was the product of checmically altered imaginations," thus the second suit. The six also want the court to declare it unlawful for Zappa to "alter original master recordings by the group under their partnership agreement."
Undaunted, Zappa has formed Why Not? Inc., an "International licensing, consulting and social engineering firm." Currently in Moscow attending the "Global Forum On Environment & Development For Survival," he plans on developing business ties between the west and Soviet businessmen. He also plans to go to Prague to interveiw Czech President Vaclav Havel on business opportunities there. Accompanied by a video crew for all his jaunts, he is also representing some U.S. business interests: Financial News Network and MPI, a Chicago-based home video company.