Eclipsed
This magazine is oriented to "art, progressive, psychedelic, classic and hard rock music". Founded in 2000.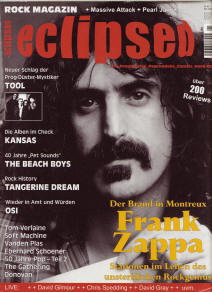 No. 82
Frank Zappa
By Neil Slaven, pp 24-27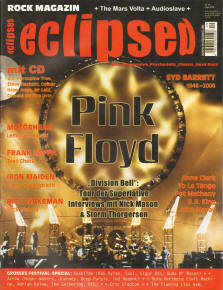 2006 September
No. 85
Leidensdruck
Weiter Im Text (My Guitar Wants To Kill Your Mama)
By Wolf Kampmann, p 46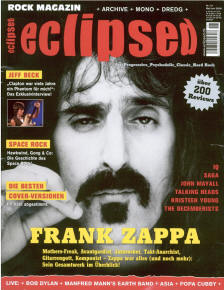 2009 May/June
No. 111
Shut Up 'n Check Out Yer Discs
By Sascha Seiler, Wolf Kampmann, Udo Gerhards, pp 28-33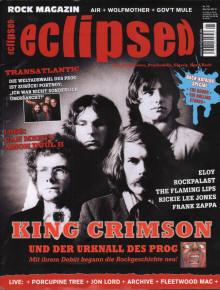 2009 December / 2010 January
No. 116
Weiter im Text
Frank Zappa "Bobby Brown (Goes Down)"
By Eclipsed, p 52

Amoklauf mit Dildo
By Daniela Aue, p 52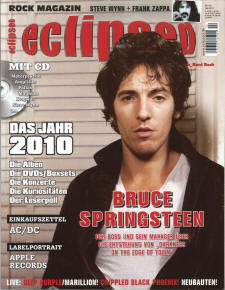 2011 February
No. 127
Frank Zappa – Harte Nüsse für die Nachwelt
By Wolf Kampmann, pp 38-39
---
This article, titled "brain teasers for posterity", is compiled by quotes from two books – Grand Zappa by Frank Wonneberg and Frank Zappa by Ingo Meyer.
Additionally on page 88 are short reviews on both books, published to commemorate Frank Zappa's 70th anniversary.
Source: slime.oofytv.set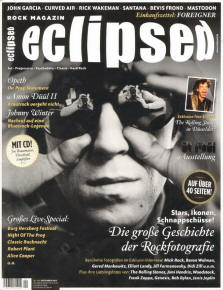 2014 September
No. 163
---
The cover story is "Die Geschichte der Rockfotografie" (The history of rock photography) complemented with interviews with some famous photographers, including with Baron Wolman (pp 52-55).
Baron Wolman (p 55):
Zappa zeigte mir seine exzentrische Kreativseite, und innerhalb weniger Momente nahmen wir ein paar absolut tolle Fotos auf. Eines davon zeigt ihn auf einem Traktor. Jahre später traf ich einen Musiker, der mir erzählte, dass er Zappa in seinen letzten achtzehn Lebensmonaten
begleitet habe. Er sagte mir, dass in Zappas Wohnzimmer ein Flügel gestanden habe, auf dem nur ganz wenige ausgewählte Objekte lagen – und eines davon war das Foto mit dem Traktor.

Zappa showed me his eccentric creative side, and within a few moments we took some absolutely great photos. One of them shows him on a tractor. Years later I met a musician who told me that he has accompanied Zappa in his last eighteen months of life. He told me that in Zappa's living room was a grand piano, on which only very few selected objects stood – and one of them was the photo with the tractor.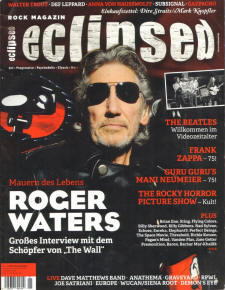 2015 December
No. 176
Wiederspruch als Lebensprinzip (Contradiction as a principle of life)
By Wolf Kampmann, pp 52-54

Frank Zappa. Halloween In The Big Apple.
By ?, p 94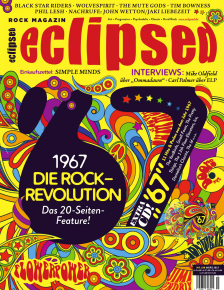 No. 188
Electric Music For The Mind And Body
By ?, pp 54-55

Frank Zappa. Fünf Alben.
By ?, p 97
---
Main article of this issue about 25 most important albums of 1967 Summer Of Love, "Electric Music For The Mind And Body", lists also Absolutely Free and Safe As Milk by Captain Beefheart.
On page 97 five reissued albums by FZ are reviewed: Lumpy Gravy, We're Only In It For The Money, Cruising With Ruben & The Jets, Weasels Ripped My Flesh and Joe's Garage Acts I, II & III.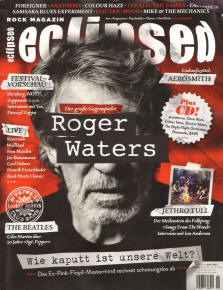 No. 191
Die erstaunliche Fähigkeit, die Zeit zu überdauern
By Ulrich Grunert, p 64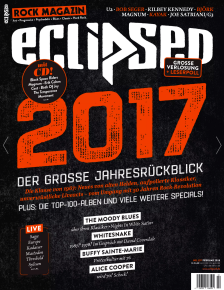 2018 February
No. 197
Frank Zappa. Fünf Alben.
By ?, p 105