Hit Parader
Started by Charlton Publication Inc. (in 1943), this [was] one of the oldest continually published music magazines in [USA] (after
Song Hits
,
Billboard
, and
Down Beat
). From its inception until about 1975 (when it became too expensive to license the rights), it published the lyrics to many popular songs of the time. (...) Printed on newspaper stock (with a glossy cover) until the 1980s, this mag contained many small feature articles about your favorite artists.
Hit Parader
's publisher, Charlton, located in tiny Derby, Connecticut, was a true music-mag empire. They put out numerous popular titles, including
Country Song Round-Up
,
Song Hits
, and
Smash Hits
.
Hit Parader
was sold in 1991, when Charlton ran into financial troubles and folded. (...) Since 1984, the magazine, like so many other music publications, caters largely to hard rock and heavy metal fans. (
CBub
)
Hit Parader
ceased publication after the release of December 2008 issue.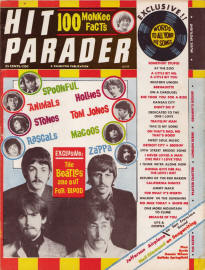 Vol. 26 No. 36
Frank Zappa the Incredible Boss Mother
By Don Paulsen, pp 44-45
---
The most amazing, outrageous and ambitious rock & roll group anywhere in the universe is The Mothers. Their music, best appreciated in-person, combines today's pop sounds with symphonic music, satire, the primitive rock & roll songs of the 1950's and social commentary, and you can even dance to it.
The Mothers were organized by Frank Zappa, an ex-advertising man who had been writing songs since he was fourteen and had experimented with abstract music. Using motivational research principles, Frank created a group unlike anything the world had ever seen. For one thing, they weren't seeking a "hit" record.
"Our aim is to kill Top 40 radio," explains Frank. "Certain concessions must be made before a record is playable on the air. I am not in the business to compete with the makers of 'Hanky Panky.' That record can be played because it won't hurt anybody. It won't move them, either. I'm not writing music like that. (read more)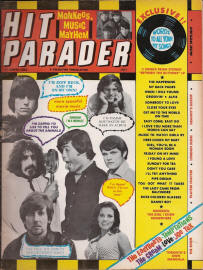 Vol. 26 No. 37
The Boss Mother Meets The Animals
By Frank Zappa, pp 40-41
---
On July 4, 1966, on what you might describe as a moment's notice, I was asked to manufacture, on behalf of Tom Wilson, for the Animals, a musical organization from England, a set of arrangements. I was told: just go in there, tell the musicians what you want and they'll play it. (read more)
Source: slime.oofytv.set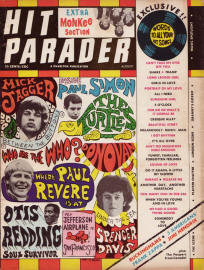 Vol. 26 No. 38
My Favorite Records
By Frank Zappa, p 61

Hagstrom Guitars ad
p 2
---
If you want to learn how to play guitar, listen to Wes Montgomery. You also should go out and see if you can get a record by Cecil Taylor if you want to learn how to play the piano.
You ought to look into the complete works of Anton Webern on Columbia (K4L-232), conducted by Robert Craft. That's four records. Robert Craft is not always an excellent conductor, and his performances are not always absolutely accurate, but they probably didn't give him a very good budget because it was modern music, and they wanted to get the job over with, and he was probably under pressure, so don't mind the mistakes that are on there if you're following it with a score.
Also, Pierre Boulez conducts his own composition: "Le Marteau Sans Maître". I don't know what label that's on, but it's the one with Boulez conducting. The one by Robert Craft has too many mistakes.
Also you ought to get Bartk's first, second and third piano concertos, which are all very groovy and good to dance to. I have the version on Westminster (18277) by Edith Farnadi with the Vienna State Opera Orchestra. I've never heard any other version of the second and third piano concertos so I don't know whether or not that's the best recording. It might not even be available. I heard another version of the first at Andy Kulberg's, of the Blues Project, who has an extensive collection of modern music. (read more @ killuglyradio.com)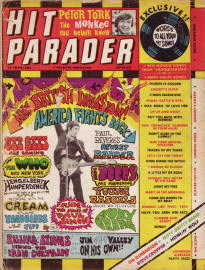 1967 September
Vol. 26 No. 39
Hagstrom Guitars ad
p 2

Absolutely Free ad
p 7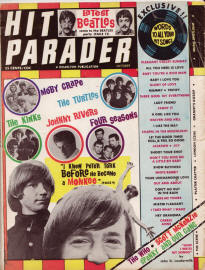 Vol. 26 No. 40
Frank Zappa On Freedom
By Frank Zappa, p 6

Hagstrom Guitars ad
p 2

Absolutely Free ad
p 5

Platter Chatter: Absolutely Free
p 63

Moop ad
p 67
---
It all stems from a system that was never designed to work. Our system is based on a lot of fallacies. Our moral code, for instance, from the Puritan era is basically wrong. No animal up to and including the human being was physically designed to live under that sort of a code. When these codes are strictly adhered to you come up with stunted, twisted fragments of society.
Sure they're building tall buildings. What else can they do? They're frustrated. So you have a system built on really faulty components. Then you've got a whole heritage of parent-to-child teaching. That is – teaching by example. Parents always wanted to be good guys, live in the system and be straight. Some of them really couldn't handle it, they couldn't play the right games and they developed horrible guilt feelings. Then they started wasting themselves – taking to drink and other things. Morally the society crippled itself.
By example of behavior, this whole tradition of nonsense was handed down from father to son as far back as the Pilgrims. (read more)
Moop. Read more on Moop project – Cal Schenkel interview @ Seconds. The same ad was presented on Cal Schenkel's homepage www.ralf.com/oldcrap.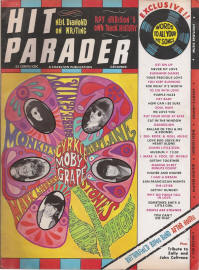 1967 December
Vol. 26 No. 42
Hagstrom Guitars ad
p 2

Brief notice on the Mothers coming to London
p 23

Brief notice on the new Mothers album WOIIFTM
p 47

United Mutation / Absolutely Free ad
p 67
---
The Mothers (Of Invention) are coming to London for one big show at the Royal Albert Hall on September 23rd. Their manager Herb Cohen was in town recently to set it all up. "We'll fly in about five days beforehand so that we can get it together properly and rehearse extra musicians to augment the sound," he told me.
***
.... The cover of the new Mothers album, "We're Only In It For The Money," is a hilarious take-off on both the Beatles "Sgt.Pepper" album cover and the famous photo of the Rolling Stones dressed as ladies with the wheel chair. The Beatles spelled their name with flowers. The Mothers used vegetables. Jimi Hendrix dropped into the photo studio and Frank Zappa put him next to a Christmas tree. Frank's pumpkin Gail is in the front row, in furs and blue gown, and the tall guy on the left is Tom Wilson, the Mothers record producer. It's a great cover ....
Source: slime.oofytv.set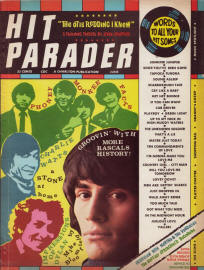 Vol. 27 No. 48
The Incredible History Of The Mothers
By Frank Zappa, pp 27, 38-39
---
Although the Mothers have been in existence for about three years, the project was carefully planned about four and a half years ago. I had been looking for the right people for a long time.
I was in advertising before I got into ... ha ... show business. I'd done a little motivational research. One of the laws of economics is that if there is a demand, somebody ought to supply that demand and they'll get rich.
I composed a composite, gap-filling product that fills most of the gaps between so called serious music and the so-called popular music. Next, I needed my own group to present this music to the public.
The group that was to become the Mothers was working in the Broadside, a little bar in Pomona, California. (read more)
Vol. 28 No. 60
The Lead Guitar Of Henry Vestine
By Henry Vestine, pp 18-30
---
Page 18. Essentially, I left the Mothers for the same reason. When I first joined, we were playing stomping R&B all night long (generally, we were working five set a night club dates at that time). However, when Frank was putting together the first albmn, he started teaching the band harmony parts. etc. to compliment the lines he had been playing himself in the clubs. This was all fine and dandy (Frank's genius as a composer and arranger has certainly become evident), but for me, playing these exacting, precise; parts which lacked (my) spontaneous emotional attack, represented a giant step in the direction of my becoming a paunchy studio musician who'd play anything for a buck. So, we had an amicable parting, and in the long run, I'm sure we're both happy it happened that way.
Page 20. The pop record that really flipped me out was "Help" by the Beatles I bought in Pomona, Calif. when I was making in a beer bar. This was where I really got to talk to and know Frank Zappa (he's got some roots!) although I'd met him and Capt. Beelheart briefly at a jam session at the Sea Witch in Hollywood a couple of years before. I'd actually gone to the record shop that day to buy a copy of "Together Again" by Buck Owens, and to look for old out of print R&B 45s (Zappa had already cleaned them out though).
Source: Javier Marcote, Sea Witch Sunset Strip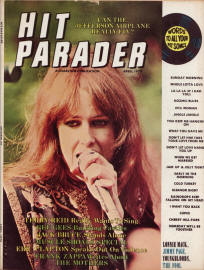 Vol. 29 No. 69
What Ever Happened To The Mothers Of Invention?
By Frank Zappa, pp 23-25

Hot Rats ad
p 47
---
The Mothers of Invention, the infamous & repulsive rocking teen combo, is not doing concerts any more. Jimmy Carl Black (the Indian of the group) has formed another ensemble which he calls Geronimo Black (named after his youngest child). Don (Dom De Wild) Preston is collaborating with avant garde dancer Meredith Monk in performances of electronic music. Ian Robertson Underwood is preparing material for a solo album. Roy Estrada, Bunk Gardner, Buzz Gardner & Art Tripp are doing studio work in Hollywood. Motorhead (James Euclid) Sherwood is working on his bike & preparing for a featured role in a film with Captain Beefheart. Frank Zappa is producing various artists for his record companies, Bizarre and Straight (which he co-owns with Herb Cohen), working on film & television projects & is currently writing arrangements for a new album by French jazz violinist Jean Luc Ponty. This Ponty album, to be released on World Pacific, will mark the first attempt by any other artist to record a whole album's worth of Zappa's writing, exclusive of The Mothers of Invention interpretations.
It is possible that, at a later date, when audiences have properly assimilated the recorded work of the group, a reformation might take place. The following is a brief summary of The Mothers' first five years of musical experimentation & development. (read more )
PS. Added nice picture of Moondog conducting, from page 35. Moondog's producer was James William Guarcio, who briefly was a member of The Mothers of Invention.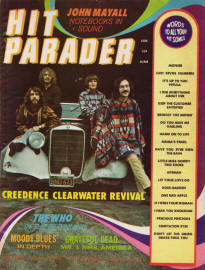 Vol. 30 No. 83
Zappa On The Move Again
Interview by Richard Green, pp 15-16, 60
---
HP: When did you first start writing with classical music in mind?
ZAPPA: The first thing I ever wrote was a drum solo ... a piece for snare drum and it was called "Mice". I wrote that when I was about 14 and performed it at school – you know they have these little instrumental compositions.
HP: Do classics influence your writing now?
ZAPPA: In as much as I'm writing for orchestra and some of the techniques I use are standard orchestral techniques from that world of music. A lot of thematic material doesn't derive from classical music. (read more)