The New York Times
The
New York Times
is an American daily newspaper founded in 1851 and published in New York City. The largest metropolitan newspaper in the United States. (
wikipedia
)

1966 December 25
Son of Suzy Creamcheese
By Robert Shelton, section Arts & Leisure, pp 11, 12
---
This is a well-known article, which full text you can even find on zappa.com.
* * *
The most original new group to simmer out of the steaming rock'n'roll underground in the last hour and one-half is an audacious crew from the West Coast called The Mothers of Invention. The eight-member group will be appearing through New Year's Eve at the Balloon Farm, the new haven for young hippies at 23 St. Mark's Place, atop the Dom.
The Mothers of Invention are primarily musical satirists. Beyond that, they are perhaps the first pop group to successfully amalgamate rock'n'roll with the serious music of Stravinsky and others. Both in their material and in their looks, they are also furthering some of the more outrageous elements of anti-convention, thus contributing to a new style that might be called "shock rock." (read more)
Source: Javier Marcote

Mothers of Invention at the Garrick
By Dan Sullivan, pp 58
---
Review of the first "Absolutely Freeee" at the Garrick Theater. The right picture is ad from The New York Times, May 26.
* * *
"Absolutely Freeee," which opened at the Garrick Theater last night, will cost you threeee dollars a ticket. Whether you find the money well-spent will depend a great deal on how old you are, or wish you were. (read more)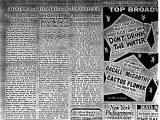 Source: Javier Marcote

1967 December 23
Town Hall Rocks To A Zany Group
By Robert Shelton, section Business & Finance, p F31
---
Review of the first of two concerts at Town Hall. Ad (right picture) is from the same issue.
* * *
What began as the equivalent of an underground office party at Town Hall last night soon developed into both a very serious and experimental new-form concert, an equally irrevelent and satirical musical evening. (read more)

Source: Javier Marcote

1968 August 5
Park Show Offers Satiric Ensemble
By Robert Shelton, p 46
---
Review of the August 3 concert in Central Park.
* * *
Buddy Guy with his flamboyant guitar and the Mothers of Invention with their inventive zaniness put on a lively show Saturday night at the Schaefer Music Festival in Central Park. (read more)

Source: Javier Marcote

1970 November 8
Zapparap on the Zappaplan
By Craig McGregor, section Arts & Leisure, pp 17, 29, 33
---
Another important article, which for some reason wasn't available online elsewhere.
* * *
Frank Zappa has this plan, see. He's had it since he was 18. ("You know, some people like to climb mountains? Well, I made up this plan that is so absurd, man") and he is about a third of the way along and the way he's going he'll probably make it ("Oh yeah, it's gonna be Art") but the thing is, he ain't telling anybody what The Plan is. Oh no. Christ, that would spoil everythang. Besides, says Zappa, Greek-Arab-Sicilian eyes glinting beneath theatrical black overhangs, he's gonna make a movie about it. "Man, it's so absurd that it wouldn't do you any good if I told you about it. I'm gonna do it, that's all." And shuts up. (read more)
Source: Javier Marcote

1972 September 24
Zappa Creates Musical Magic
By Don Heckman, p 72
---
A review of the Grand Wazoo Tour concert at Felt Forum, September 22.
* * *
Frank Zappa proved again Friday night that he is a master of musical sleight-of-hand. Dealing with a Felt Forum audience that clearly expected to hear a medley of old Mother of Invention hits like "Son of Suzy Creamcheese," "Are You Hung Up?", "Nasal Retentive Calliope Music," "Brown Shoes Don't Make It" and other similar provocatively titled tunes Zappa gave them instead fluxed bag of jazz-rock-classical music from a 20-musician ensemble. It is to his credit – or perhaps to the persistence of memory – that the audience loved what it got. (read more)
Source: Javier Marcote