Player
#1 music magazine in Japan. Full name of this monthly guitar player magazine is Young Mates Music Player. The magazine started as 8-page tabloid newspaper titled Young Mates Music in May 1968.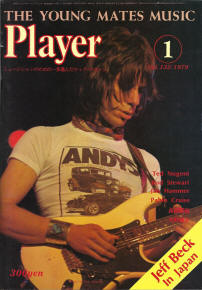 Vol. 10 No. 1 Issue 132
An Introduction To Classic Albums: One Size Fits All / Frank Zappa and the Mothers
名盤紹介: One Size Fits All / Frank Zappa and the Mothers
By Sakuma Masahide [佐久間正英], Suzuki Keiichi [鈴木慶一], Morizono Katsutoshi [森園勝敏] and Asano Takami [浅野孝已], pp. 66-67

Pipco Studio Presents Vol.1: Frank Zappa / Studio Tan
By Yagi Yasuo [八木康夫], pp. 94-95
---
TAN Mitsugu:
This issue has Yagi Yasuo's commentary on Studio Tan, with his parody illustration of Gary Panter's cover art. As an FZ enthusiast, he'd been in charge of providing Japanese liner notes for most of the Discreet-era albums. But for Studio Tan, Warner Pioneer in Japan decided to hire a not-so-enthusiastic American writer to do the job, which resulted in a not-so-satisfactory text for an avid fan like Yagi. Thus, he essentially wrote his own version of liner note in the first installment of his monthly column. (It was later incorporated into his "Zappa Vox" in 1989.)

You can find another FZ-related article called "An Introduction To Classic Albums", to which four Japanese musicians contributed their thoughts on OSFA. Two of them, namely Sakuma Masahide and Morizono Katsutoshi, were from a band called Yonin Bayashi, which was one of the supporting acts for FZ's first Tokyo concert (1976/2/1). Sakuma was also a member of the Plastics, whose song "Robot" was picked up by FZ during his BBC Radio 1 appearance in 1980.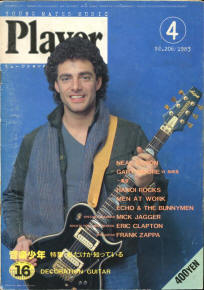 Vol. 14 No. 4 Issue 206
The Guitar: Frank Zappa
pp 265-269

---
TAN Mitsugu:
The article shows eleven guitars in FZ's house. The photos were taken by Joel Serber, but the author of the Japanese text is unknown.

Apparently, Serber and the unknown author didn't notice that they also took up two of Dweezil's guitars: a Stratocaster with a lot of stickers on it (p. 268, center) and "Star Guitar" (p. 269, left), which was a special present from Eddie Van Halen. (You can read the full story on the guitar here.)

Among FZ's guitars featured here, I think the black fretless Stratocaster (p. 268, right) is the rarest. Is it the one that FZ mentioned during the 1982-04-20 rehearsal? (See: https://www.youtube.com/watch?v=gtLKP04qJTg)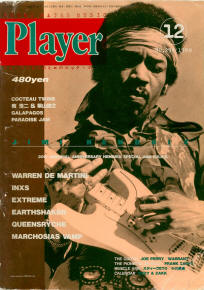 1990 December
Vol. 22 No. 12 Issue 298
The Pioneers Of Rock #34 Frank Zappa:
-- History, Discography, Sound, Family
By Kato Masato, pp 279-281, 284-285, 288-290, 292
-- Frank Zappa Interview
By Andy Gill, pp 282-283, 286-287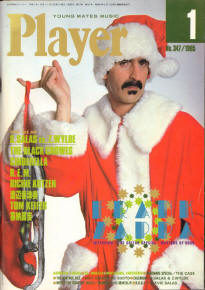 Vol. 27 No. 1 Issue 347
Frank Zappa Interview
By Steven Rosen, pp 60-65

Zappa Guitar Special
By Keishi Kawakami, pp 184-189

Masters Of Rock #29 Frank Zappa:
-- Background, pp 283-285
-- Dweezil Zappa interview by Steven Rosen, pp 286-287
-- Mike Keneally interview by Yoshika Horita, pp 288-289
-- The Works, pp 290-291
-- Shut Up'n Play My Guitar, pp 292-293:
------ Black Page #2
------ Zoot Allures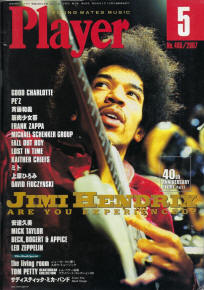 Vol. 39 No. 5 Issue 495
Album Legend - Frank Zappa "Joe's Garage Acts I, II & III":
-- Story: The Amazing Extraordinary Artist
STORY: 驚異の規格外アーティスト
By Yamazaki Tomoyuki [山崎智之], pp 202-203

-- Interview: Terry Bozzio
インタビュー: テリー・ボジオ
By Yamazaki Tomoyuki [山崎智之], pp 204-205

-- Technique: The tightest ensemble achieves a one-of-a-kind sound world with a full of diverse elements
Technique: 一糸乱れぬバンド・アンサンブルで展開される多様な要素が詰め込まれたオンリー・ワンの音世界
By Urata Yasuhiro [浦田泰宏], p 206

-- Recording Room: Creating a complex yet unobtrusive sound that captures the listener's imagination to the fullest
Recording Room: 聴き手の想像力を最大限にかきたてる、複雑でありながらそれを意識させないサウンド作り
By Akutagawa Kazuhisa [芥川和久] (with JINMO and Watanabe Kazuo [渡部和夫]), p 207

-- Equipments: Frank Zappa's Les Paul has been modified many times
Equipments: 何度も改造が重ねられたフランク・ザッパのレス・ポール
By Kawakami Keishi [川上啓之], p 208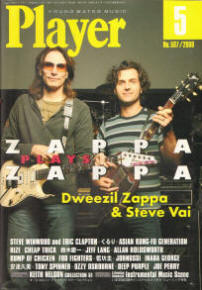 Vol. 40 No. 5 Issue 508
Tribute to Fank Zappa: Zappa Plays Zappa
-- Dweezil Zappa & Steve Vai Talk Session
By Kato Masato, pp 22-27
-- Mike Keneally Interview
By Kato Masato, pp 28-29