Projekte
Local monthly from Nuremberg area. "Produced, arranged & struggled with + Artdesign: Hans Bant." The name of the publication changed issue by issue (MOP Project, Projekte). Print-run 1500.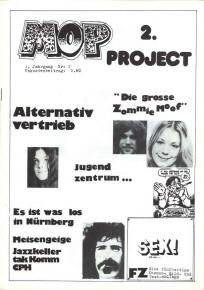 No. 2
---
Zappa & Mothers photos scattered throughout the pages, uses the 'Discreet' style of heading, various Zappa articles & reprints, ad for Hot Raz Times n.1;
Source: slime.oofytv.set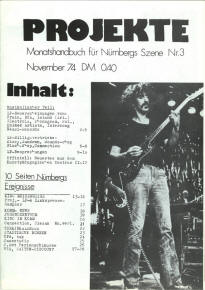 1974 November
No. 3
---
Roxy & Elsewhere review, record store ad for FZ albums, ad for Hot Raz Times, Warner ad with Apostrophe.
Source: slime.oofytv.set