Record Business
Record Business
was a London-based trade magazine for the record industry. It was founded in 1978 by Brian Mulligan and Norman Garrod. In February of 1983 it was absorbed into its rival,
Music Week
. (
worldradiohistory.com
)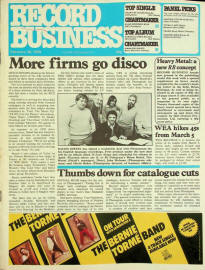 1979 February 26
Zappa: faultless professionalism
By Tim Smith, p 27
---

THE LEGAL hassles involving WEA and his new label CBS are obviously having little effect on Zappa's live performances. At Hammersmith last weekend, he turned out a technically faultless show that smacked of true professionalism and delighted an audience converted to his skills years ago. (read more)
Source: worldradiohistory.com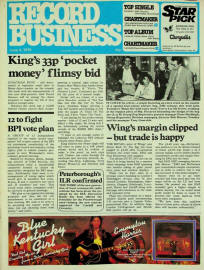 Airplay chart (incl. Dancin' Fool)
p 10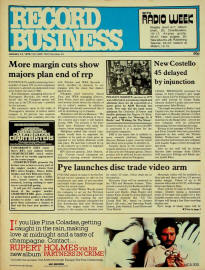 1980 January 14
FRANK ZAPPA: Joe's Garage Acts II & III
p 10
---

FRANK ZAPPA: Joe's Garage Acts II & III (CBS 88475) Prod: Frank Zappa
By superhuman effort, Zappa has brought us the second half of his Joe's Garage project before the first part has entirely faded from the memory, adding to its interest value among British fans. It is in the tradition of We're Only In It For The Money and the Live At The Fillmore East set with plenty of highly scuzzy language and a story line about electronic erotica and a totalitarian society in which music and musicians are thrown in jail under the concept of 'total criminalisation' designed to bring uniformity ot the last degree under the eyes of the law. In between come some extended examples of Zappa's very best guitar work and lots of forbidding music.
Source: worldradiohistory.com

The Old Grey Whistle Test
10 page special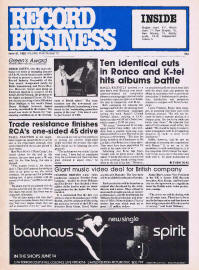 FRANK ZAPPA: Ship Arriving Too Late To Save a Drowning Witch
p 16
---
FRANK ZAPPA: Ship Arriving Too Late To Save a Drowning Witch (CBS 85804) Prod: Frank Zappa
The latest in Zappa's increasingly swiftly-turned-out albums is a six-track single set which focuses on guitar virtuosity, plus the inevitable slab of heavy-handed social sarcasm - this time aimed at brainless girls hailing from a certain district of Hollywood, called 'Valley Girl' and is as cutting as anything he has done this decade. An extra inducement to buy the record is the addition of a free 7-inch 33rpm disc which features a mercurial guitar workout called 'Variations on the Carlos Santana Secret Chord Progression.' For once, a manageable-sized Zappa album and one that deserves attention.
Source: worldradiohistory.com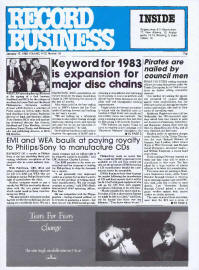 1983 January 17
Clatter, clatter goes Zappa
By David Redshaw, p 12
---

LONDON SYMPHONY ORCHESTRA PLAYS FRANK ZAPPA
London, Barbican Centre
ZAPPA HAD already warned that this was to be no 'rock-plus-strings' evening and how right he proved to be. It was a full-scale excursion into the realms of modern classical music – with all the discordant tedium and intense, intellectual posturing that that genre so often provides. (read more)
Source: worldradiohistory.com