Creem
Creem
: 1968-88; 1990-94.This legendary rock publication was founded and published by Barry Kramer in a suburb of Detroit, Michigan.
Creem
set out to cover the music and cultural scene with style and distinction. It succeeded.
Creem
certainly had the cream of the country's rock writers (...) Barry Kramer published
Creem
until his death in 1981. (...) In 1982, it was sold to another company in Los Angeles. It continued to be a fine magazine, but was never quite the same again. In 1988,
Creem
ceased publication. It was revived for about 18 months by a new company, Alternative Media, in August of 1990. Over the years,
Creem
put out scores of special issues and spinoffs, including:
Creem Close-Up
,
Creem Presents
,
Creem Special Edition
, and
Creem Rock Shots
. (
CBub
)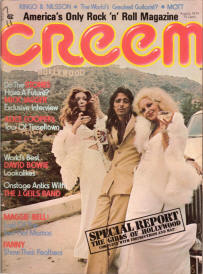 Vol. 6 No. 3
Apostrophe (review)
By Richard C. Walls, pp 71-72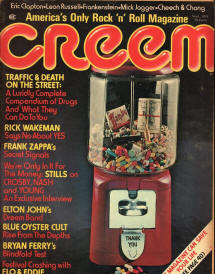 1974 September
Vol. 6 No. 4
Frank Zappa Doin' The Hand Jive
Photos by Emerson Loew, pp 46-47
---
No, this isn't the newest dance craze. This is our boy Frank Zappa demonstrating the tricks of his trade. It may look like monkeyshines, but how would you like to be responsible for riding herd on a pack of mangy instrumentalists, each hot to solo his grand wazoo off given half a chance? You'd have to keep a firm hand, and that's what Frank demonstrates here in ten freeze frames, each commemorating one of his years in the business and immortalizing his distinctive brand of body language. Some say the hand is quicker then the eye, but our photographers disproved that old axiom and caught Frank in his famous fickle fingers act. So the old fart decided to fess up and tell us what all the hand jive means.
Source: The Waldo Scrapbooks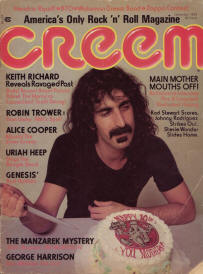 1974 December
Vol. 6 No. 7
Frank Zappa vs. The Tooth Fairy:
It happened in the Hollywood Hills
nolo contendre by Ed Naha, pp 38-41, 76-77

Ten Years With The Mothers
pp 42-43
---
The living room could be anyone's. A cheerful, grey-haired grandmother tries to coax her tiny grandson into a state of slumber. An older blonde boy sprawls on the couch and watches a re-run of Hee-Haw. Upstairs, a little girl patters about unseen. It's Los Angeles' answer to suburban Long Island. I sit in the corner, loading my tape recorder, awaiting the subject of this interview. Ozzie Nelson? Glen Campbell? Gerry Ford?
Nope. Frank Zappa.
As I slide the tape cartridge into the sputtering Sony, I try to envision Zappa's entrance. This has to be some sort of set up. Being a fan of Frank's for ten years, I just KNOW he'll do something bizarre. Maybe he'll throw up on the carpet. Or carry in a large stuffed giraffe with a likeness of Jimmy Carl Black strapped on its back. Or burn a carrot on a cross. (read more)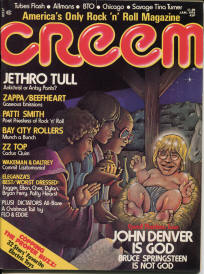 Vol. 7 No. 10
Penguins In Bondage. Frank Zappa and Captain Beefheart
By Robot A. Hull, pp 24, 72

---
The radio programmer has his nose pressed flat against the glass which separates his padded cell from our studio recording booth. Kids are wandering outside our room, waiting for the release of Captain Beefheart and Frank Zappa so they can smother them with hostile affection (and receive the usual cold snub). (read more)
Source: The Waldo Scrapbooks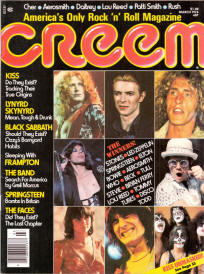 Vol. 7 No. 10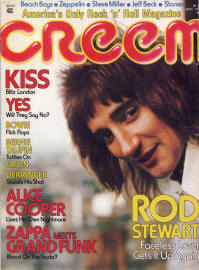 1976 September
Vol. 8 No. 4
Zappa's been workin' on de railroad
(De Grand Funk Railroad, dat is!)
By Michael Davis, pp 34, 36-37, 68-69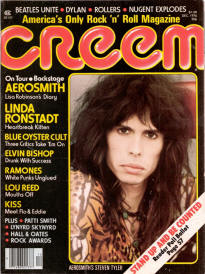 1976 December
Vol. 8 No. 7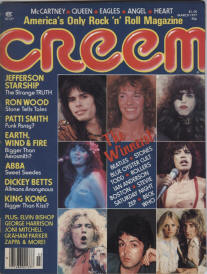 Vol. 8 No. 10
Frank Zappa: Zoot Allures (review)
By Robot A. Hull, p 63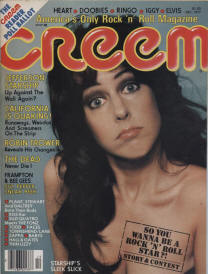 1977 December
Vol. 9 No. 7
Creem's Profiles: Frank Zappa
By Robot A. Hull, p 28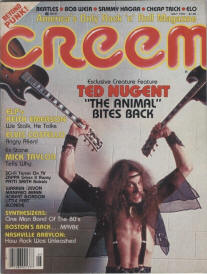 Vol. 9 No. 12
Frank Zappa Vs. The Bunny Thugs
By Michael Davis, p 25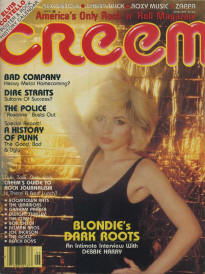 Vol. 11 No. 1
Frank Zappa: Sheik Yerbouti (review)
By Richard C. Walls, pp 55-56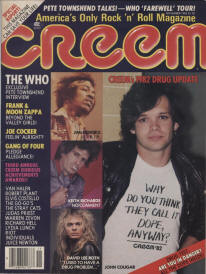 1982 November
Vol. 14 No. 6
Frank And Moon Zappa Go AM
By Michael Goldberg, pp 24-25, 62-63
---
Article on Moon and Frank Zappa based on interview with them.
The first time I heard Frank Zappa's "Valley Girl" on the radio, I turned up the volume, pulled my car off the road, and sat there slightly shocked. I was turned to KFRC, a very powerful, very popular Top 40 station in the San Francisco Bay Area, a station that generally plays hits like "Waiting For A Girl Like You" and "Keep The Fire Burning." (read more)
Source: John Harrison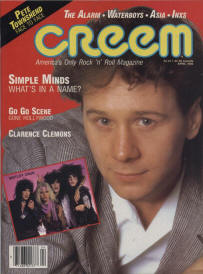 Vol. 17 No. 8
Creem's Profiles: Frank Zappa
p 237