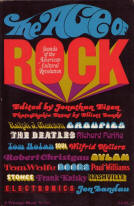 The Age Of Rock:
Sounds of the American Cultural Revolution

Vintage Books, New York


1969 May, 1st edition
ISBN –
388 pp, paperback, 21 x 13,5 cm
English
---
This is a collection of the best writing on the rock culture and business. The book contains three important articles about Frank Zappa:
Frank Zappa Interview by Frank Kofsky, Jazz & Pop
In Person: The Mothers of Invention by Doon Arbus, Cheetah
Zappa and the Mothers: Ugly Can Be Beautiful by Sally Kempton, Village Voice

For some reason only part I of the Frank Kofsky interview, originally published in Jazz & Pop, was included into this book. The same mistake was found even on zappa.com site, which presented full text of all these 3 articles from this book in Articles & Interviews section.
Full version of the Frank Kofsky interview is 1967-09 Frank Zappa: The Mothers of Invention.
A collection called The Age of Rock, edited by Jonathan Eisen, contains five good pieces from Cheetah (plus one of mine on rock lyrics) as well as five equally good ones from Crawdaddy!, including Richard Meltzer's "Aesthetics of Rock"; the latter would justify any collection. Beyond that, there are also the classic come-gather-round-all-ye-over-thirties essays on the Beatles by Richard Poirier and Ned Rorem, both cogent and convincing and badly off the mark in tone and detail, and some other stuff that is even more stodgy. It is in fact the perfect rock textbook, and anybody who wants one of those should go right out and buy it. As for the rest of us, there remain the Cohn and the Williams and the Goldstein, and, even better, a few records, five or so: Chuck Berry's Greatest Hits(Chess); A Package of Sixteen Original Hits (Motown); The Beatles' Second Album (Capitol); Happy Jack, The Who (Decca); Crown of Creation, Jefferson Airplane (RCA Victor)
In the same article on rock critics Robert Christgau gives a good overview of 60s rock publications:
It is a rare underground medium – a category which includes not only the dozens of community journals (almost all of which are supported by record advertising) but the college anti-papers and even the mimeographed or Xeroxed high-school and Army-base handouts – that does not give space to two or more rock commentators. The Village Voice has ten or so. Most teen and fan magazines feature serious or pseudo-serious discussions of rock and one of them, Hit Parader, has become a respected organ. Eye, a Hearst-backed hip-youth magazine centered around rock, survived a predictably pallid year, then folded like its much hipper competitor Cheetah, and Crawdaddy!, formerly "the magazine of rock," has recently transformed itself into "the magazine of roll," whatever that means. Rolling Stone, however, guided by an ambitious young critic-entrepreneur from San Francisco named Jann Wenner, seems likely to end up as solid (though not as boring or limited) as its jazz counterpart, Down Beat, which is admitting rock into the canon itself these days, as is Jazz & Pop, formerly just Jazz.