Elburger Courant
Newspaper from Elburg, Netherlands, established in 1869.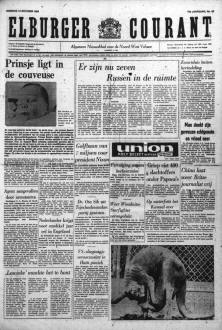 1969 October 14
Vol. 76 No. 82
Dit is Frank Zappa (This is Frank Zappa)
By ?, p 17
---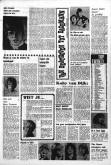 Automatic translation: The producer and arranger of "The Mothers of Invention" single says "My guitar" and "Dog breath", well, the dogs love it. Frank (with his dog's head) was allowed to take a picture. Hence this shot.
Source: Streekarchivariaat Noordwest-Veluwe

1969 November 14
Vol. 76 No. 91
Moeders uit elkaar (Mothers apart)
By ?, p 17
---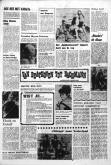 Automatic translation: The Mothers of Invention, one of the original underground groups, has given up. The reason for this is that leader Frank Zappa thinks the press is a little inaccurate in what the mothers are saying and doing and he doesn't like the audience's response to their performance. Yes, and then you better cut down. Frank Zappa is still busy enough producing records by other artists on his "Bizarre" and "Straight" labels and composing and arranging many songs. What happened to the other mothers? Jimmy Carl Black has formed his own band "Geronimo Black"; Don Preston is working with dancer Meredith Monk for a performance of electronic music; lan Underwood wants to make a solo record and the other Roy Estrada, Bunk Gardner; Buzz, Gardner and Artie Tripp do studio work.
Source: Streekarchivariaat Noordwest-Veluwe

1970 November 3
Vol. 77 No. 86
Mothers Of Invention hebben toch "Moederbinding"
(Mothers Of Invention have after all "maternal bond")
By ?, p 9
---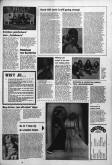 Automatic translation: "Our music exists because we play all kinds of things that don't belong together. In other words, we try to imagine the impossible and demonstrate that it can actually be achieved. For example, we are completely set up to play in a different , to get even more complicated," said Frank Zappa, leader and the spiritual father of The Mothers of Invention. The Mothers are mainly satirical musicians. In addition, the group is the first to combine rock 'n roll with the serious music of Strawinsky on Penderecki. All members of the group: Frank Zappa, Ian Underwood, Bunk Gardner, Motorhead Sherwood, Buzz Gardner, Roy Estrada, Jimmy Carl Black, Art Tripp, Ray Collins, Don Preston, Don Harris and Lowell George play a huge arsenal of instruments. You can say with certainty in which line-up the Mothers will give their next concert. In addition, every Mother has already left the group at least three times and has come back again. But on the latest, just released LP "Weasels Ripped My Flesh" the line-up of the inventive Mothers is as depicted above. Awesome. Also the plate.
Source: Streekarchivariaat Noordwest-Veluwe

1972 September 1
Vol. 79 No. 70
Popspektakel met Frank Zappa en Hot Rats
By ?, p 17
---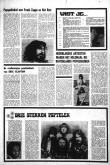 Automatic translation: Dutch pop fans are waiting for a special event on Sunday 17 September. In the Houtrusthallen in The Hague, nobody will perform more or less than Frank Zappa. And although this figure is one of the most reviled and yelled at pop figures in history, he must unmistakably be regarded as one of the most prominent. He will perform with his Hot Rats Orchestra, a 26-member orchestra. The performance starts at 7 p.m., a nice early time, so you're always on time for the train afterwards. Another advantage is that the Houtrusthallen have been selected for this spectacle: 15,000 seats (!) and a much better ventilation than in Amsterdam's Oude RAI. The organizator is the jubilee magazine Muziek Expres (which has existed for 200 months), in collaboration with Radio Veronica. (read more)
Source: Streekarchivariaat Noordwest-Veluwe