Experience
Short-lived "Zeitschrift für Musik und anderen Lärm" (Journal of Music and other Noise) by René Matti, Zurich. In total 1973/74 7 issues only.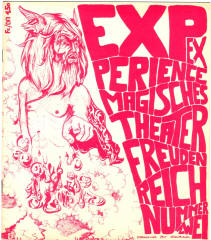 No. 2
Mutationsblues
By ?, 2 pp
---
Mutationsblues - excerpts from an East Village interview with Frank Zappa.

German, published in "Acid, Neue Amerikanische Szene" by R.D. Brinkmann and R.R. Rygulla.

The magazine contains 10 pages in total, 2 with FZ content. All the Experience issues were printed in a different format, this one is 24x21 cm.

A handwritten article, everything in capitol letters, pink on white background may have been the dogs bollocks back in the 70's. Far out man. Nowadays it makes my eyes hurt.

From a pile of stuff I got from René some years ago.
Source: detritus @ zappateers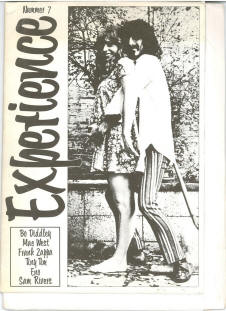 No. 7
Unser Aller Mutter Zappa
By Urban Gwerder, 6 pp

Zappa Mothers : ein Bilderbogen und eine Übersicht zum 10. Geburtstag der "Mothers of Invention"
By Urban Gwerder, 8 pp
---
This is the last issue of Experience containing a lot of materials by Urban Gwerder, including an extra addendum (only 200 copies made) to subscribers of Hot Raz Times. This underground magazine is closely related to fanzine Hot Raz Times.
The following comments to every page are by slime.oofytv.set.
scan 7a: front cover of fz/gz folds out to 7b, glossy paper
scan 7b: the 'back' cover which has all the mag contents listed; on this scan you can see the insert is a little bigger than the mag [7324 x 5184 vs 7036 x 4959] , glossy paper
scan 7b: price is 3 sfr plus another price of 4 sfr for the 'beilage' [drawing of penis with hat by u.g?]
scan 7b: vertrieb: rob tanner ? ... (Avo Raup: Rob Tanner had a Bücherkarawane edition, which published some Urban Gwerder's works, including 2nd edition of Alla Zappa).
scan 7b: page numbers noted on the contents; no page numbers on any black & white page inside
scan 7k: page 6, first zappa page, small bar at the top, mae west on most of the page, glossy paper
scan 7g: page 7 is the right half; it has the same graphic as Aunt Jemima's Freak Family Album with a few variations [left half of this scan is page 10 because the insert is not included in the page count], non-glossy paper
scan 7h: page 8 & 9, fz/moi variations ; this is the centerfold of the black & white pages, the larger red pages are inserted here
scan 7c: red page 0 & red page 8; pete frame family tree backed by 7d [not numbered] ... quite different than the one in zigzag 53
scan 7d: red page 1 & red page 6 [numbered in bottom corners]
scan 7e: red page 3 & red page 4 [numbered in bottom corners]
scan 7f: red page 5 & red page 2 [numbered in bottom corners]
scan 7g: page 10 of the black & white pages is the left half of this scan; 1974 additional notes that could go with the pete frame family tree
scans 7i & 7j: single page insert, two-sided non-glossy paper
scans 7l & 7m: single page insert, much smaller, two-sided non-glossy paper, one side blue & white; subscription order form for hot raz times
Source: slime.oofytv.set