New York
New York
is a weekly magazine principally concerned with the life, culture, politics, and style of New York City. Founded by Milton Glaser and Clay Felker in 1968 as a competitor to
The New Yorker
. (
wikipedia
)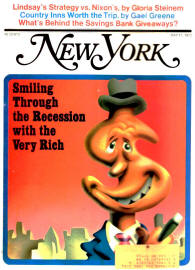 Vol. 3 No. 19
... And Thy Mother
p 48
---
The drawing is by Peter Bramley, who also did the Zappa comics in National Lampoon.
. . . And Thy Mother
Dear Mom, Hope your gas mask and smog goggles arrive in time and you can make it into town this year for Mother's Day. There's going to be a wonderfully offensive Mother's Day Special at the Fillmore East with the Mothers of Invention and Frank Zappa. It's the first time they've played together in nine months (just about the time it took you to hatch me). If we're really lucky they'll do some of the cuts from Burnt Weenie Sandwich (that's the new album you and Dad listen to every week after Tom Jones). What's more, Mom, Charles Gordone, who wrote No Place To Be Somebody (you know, the show you like almost as much as Fiddler) is going to do a program of sketches, poems and vignettes called "Gordone is a Muthah" over at Carnegie Recital Hall. And Mom, you remember Shirley Chisholm from the House of Representatives, well, she's going to read her own poetry at the Mothers Day Harlem Cultural Festival Show in Brooklyn`s Tompkins Park, sometime between two and five in the afternoon, and there'll be gospel music too (I know how you're into gospel music). If you come, Mom, I'll even take you to lunch with all the other fascists and members of the ruling classes at the Palm Court. The county clerk is asking me to remind you about that check for the bail . . .
MOTHERS OF INVENTION/Fillmore East/May 8, 9/"GORDONE IS A MUTHAH"/Carnegie Recital Hall/May 8/$5.50-$7/"SALUTE TO SHIRLEY CHISHOLM" Mother's Day Show Tompkins Park/May 10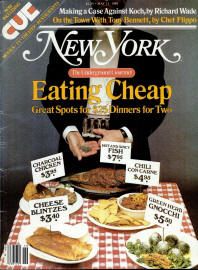 Vol. 14 No. 19
The Zapping Of Edgard Varèse
By Alan Rich, p 68