Record Mirror
Record Mirror
was a British weekly music newspaper. It competed with
New Musical Express
,
Disc & Music Echo
,
Sounds
, and
Melody Maker
, but had the smallest circulation of the UK consumer music weeklies and was considered to be the least important of the genre. The first ever UK album chart was published in
Record Mirror
in 1956. It ceased publication in April 1991, with sister publication
Sounds
closing in the same week. (The final
NME
print issue appeared in March 9, 2018.) (
wikipedia
)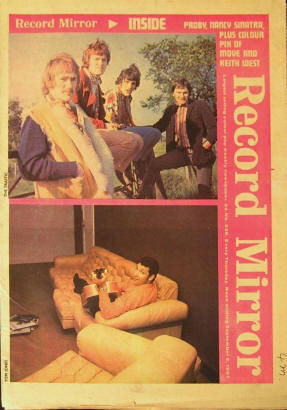 1967 September 2
Frank Zappa of the Mothers of Invention – the Hard Guy who doesn't radiate love ...
By David Griffiths, p 5
---
An American copy of the Mothers of Invention LP "Freak Out" was the first example I ever saw of the influence of psychedelia on pop music. But any notion that the Mothers would be exponents of the non-fashionable Flower Power was quickly dispelled by a meeting with Frank Zappa, in London to promote the group set up an Albert Hall concert next month. (read more)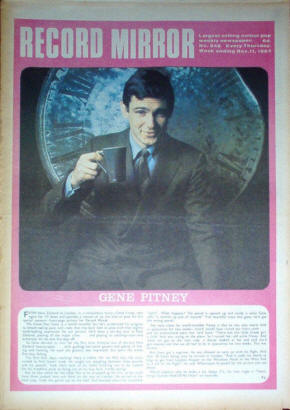 1967 November 11
'The biggest talent I have ever come across' says ex Dylan producer Tom Wilson of Frank Zappa
By Tom Smythe, p 4
---
Tom Wilson, head of MGM's pop team, is a different kettle of fish entirely. He almost shame publicity – almost, because it's hard for a six-foot-six bearded New Yorker to pass unnoticed anywhere. This week, however, during a two-day stay in London he broke his anti-publicity rule and talked. I first met Tom two years ago, when, as a New York based CBS producer, he was responsible for the recording careers of such artists as Peter, Paul and Mary and Bob Dylan. A brilliant recording engineer and musician in his own right, Tom served Dylan from his beginnings as a talented but obscure folk singer to his present position as head of rock. (read more)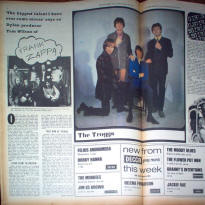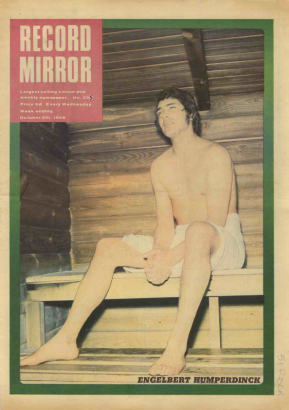 1968 October 5
The Great Zappa Put-on
By Derek Roltwood, p 3

Underground Groups
By Derek Roltwood, p 10
---
(1) "When people come to see us at one of our concerts, they don't come to listen to our music – they come to see us in the hopes that we might do something obscene and nasty on stage. Even the most ordinary things we do are full of significance as far as the audience is concerned. If my shoe flies off my foot halfway through the act people think it's a satirical comment. A good example of this is when we did our last performance in England at the Royal Albert Hall – about halfway through the show a guy jumped up on stage with a trumpet and decided to join in with us. He wasn't very good – he couldn't play the trumpet – but we made music. (read more)
(2) ... Interesting thing – as you may have noticed elsewhere in the paper, I had the pleasure of a long chat with Frank Zappa the other day. One afternoon talking to him provides enough material for a book, leave alone a short feature in RM. For example – the Mothers Of Invention are responsible for the whole underground scene. Said Zappa: "The fact that we were able to go on stage and on record doing exactly as we wanted – making sounds that up until then just weren't accepted because they weren't com'mercialopened things up for the whole underground movement. Groups appeared – most of them not particularly good – but all making progressive music rather than teenybopper music."
I wouldn't say that Frank Zappa started the whole thing, myself, but I would agree that the Mothers did help to open the doors to let in much of the beefy goodness of underground. ...
Source: www.americanradiohistory.com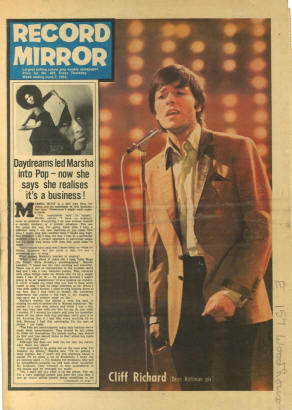 The Incurable Frank Zappa
By Lon Goddard, p 12
---
THE worst has happened – again. Mothers will be taking their kids off the streets, hippies will vacate Piccadilly Circus, orchestras will take lengthy coffee breaks, the great British yawn will hiccough . . . The Mothers of Invention are back in England.
Heading the popular team of stars, as usual, is the body beautiful, the loudest star of the silent screen, the incurable Frank Zappa. Reclining spaghetti-like in his tighter than a sausage jeans, Frank was having a glimpse at the British charts and I innocently inquired as to his opinion of Simon and Garfunkel, who are moving up the RM charts rapidly . . . (read more)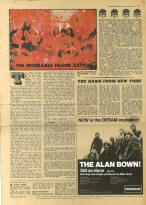 Source: Javier Marcote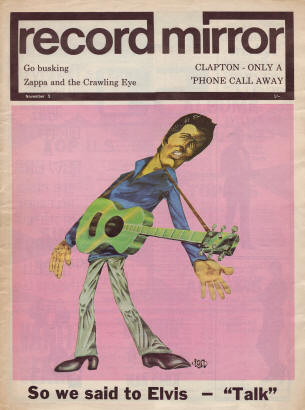 1969 November 5
Zappa and the Crawling Eye
By Lon Goddard, p 6
---
"There are still about twelve Mothers LP's in the can", he winked, "we did a lot of stuff.
The Bizarre label had several provisions in it concerning recordings other than the Mothers. These extra releases had to be approved and I needed a vehicle to dispose of the material I wanted to put out, so the answer was Straight Records (first releases are albums by Alice Cooper, Judy Henske & Jerry Yester and Captain Beefheart at last on a legitimate label). In the States, I'm starting a T.V. programme, but I will include the musical things I've wanted to introduce as well. For guests, I have compiled a list and possible first choices are Hubert Humphrey, Captain Kangaroo and Mick Jagger. A lot of it will be political, because that is how you supply the best in comedy." (read more)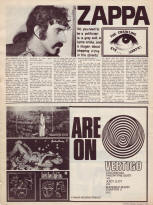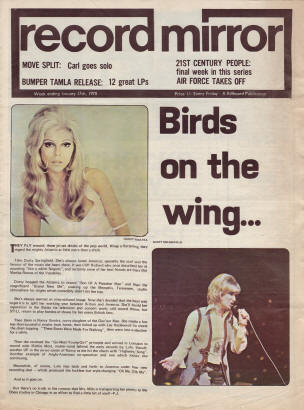 1970 January 17
(1) Understanding The Underground
By Frank Zappa, p 16

(2) 21st Century Pop People, P-Z
p 9
---
(1) A lot of the underground acts don't care about making a hit record. They're interested in artistic expression. The underground sounds are raw. But the Industry should remember that the music sounds that way because of the environment the kids live in.
They are a different kind of person. Some of their bodies are chemically altered and they have leisure-time activities that would be very foreign to record company executives. They have a concept of music as an art. Most A and R people don't know anything about music, but look for the commercial potential.
You should care about the artistic merit. You call our music noise, but don't bother to look underneath it for the chords or melody lines. You don't understand the underground's music – there is definitely a musical generation gap. (read more)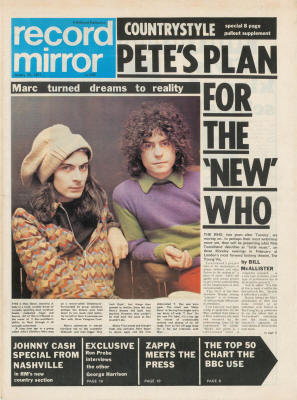 1971 January 23
Was this the real Reuben Sano standing up at last?
By Keith Altham, p 10
---
FRANK ZAPPA sauntered in, poured himself into the chair at the front of the room, folded his arms, crossed his legs and assumed the appearance of an effeminate librarian.
He aimed his nose and stared down it, appraising the curious faces assembled to cross-examine him at the press conference. The Groucho Marx whiskers twitched nervously, but the cemented gaze was unaffected. (read more)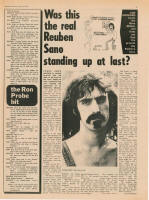 Source: slime.oofytv.set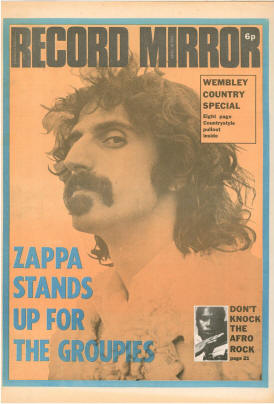 1971 April 10
Say A Good Word For The Groupies, Frank
By Keith Altham, p 10
---
TO THE great grey mass of the general public, Frank Zappa is a bad man suspected of corrupting the morals of our Youth and the perpetrator of musical obscenities from a great height with the aid of his evil crew, the Mothers of Invention.
He is, to a misguided mass, a freak, weirdo or charlatan and they, of course, arrive at this conclusion without ever having met the man or made any attempt to understand his motivation. (read more)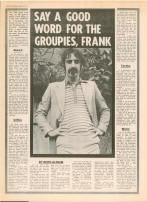 Source: slime.oofytv.set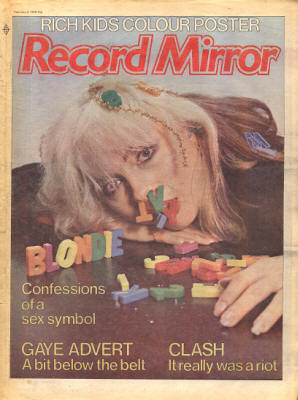 1978 February 4
Frank Zzzzzappa
By ?, p 31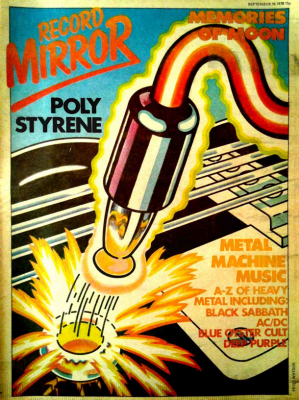 1978 September 16
Out To Lunch
By Tim Lott, p 6