Record World
Record World
magazine was one of the three main music industry trade magazines in the United States, along with
Billboard
and
Cash Box
magazines. It was founded in 1946 under the name
Music Vendor
, but in 1964 it was changed to
Record World
, under the ownership of Sid Parnes and Bob Austin. It ceased publication on April 10, 1982 (
wikipedia
)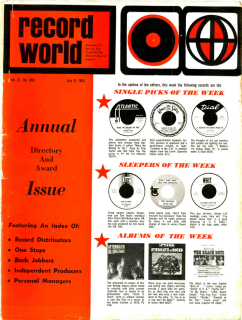 MGM Goes Way Out For 'Freak Out'
p 98
---
NEW YORK – MGM is massing a major campaign, already well under way, to boom their new "freak-out" music pactees, The Mothers of Invention.
Bud Hayden, exec in charge of album pushing, and Tom Wilson, who produced the two-records-for-the-price-of-one introductory package "Freak-Out!" have already been to see distribs in a number of markets who have been extremely receptive, and the MGM men are readying a further push for this week's MGM meetings.
Jigsaw puzzles of the album cover have been sent out to tease deejays, etc., and the album was sent on the puzzle's tale. A single from the album was shipped late last week.
Hayden has lined up a number of album tie-in dances or "freak outs" and TV shows in a couple of cities (Baltimore, the first) already and is looking for more. Buttons, in-store displays and other incentive moves are coming up.
The Mothers of Invention are exponents of the California "freak" (read "contemporary beatnik") movement, which in musical terms means very free form. The initial elpee was geared to show the spectrum of Mothers of Invention sounds from conventional rock to way out.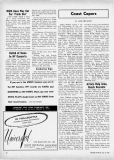 Source: americanradiohistory.com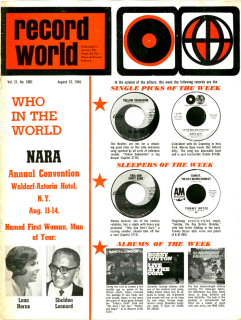 1966 August 13
N.Y. 'Freak Out'
p 30
---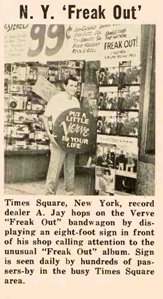 Times Square, New York, record dealer A. Jay hops on the Verve "Freak Out" bandwagon by dispaying an eight-foot sign in front of his shop calling attention to the unusual "Freak Out" album. Sign is seen daily by hundreds of passers-by in the busy Times Square area.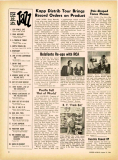 Source: americanradiohistory.com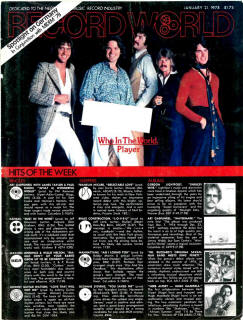 1978 January 21
Frank Zappa On His Current State Of Affairs
By Samuel Graham, pp 24, 86
---
That's the way I play. If I play a bunch of notes – and I also play long notes, too – that's the way I feel, that's who I am. What I'm trying to do at the point where I'm playing a solo is to take a piece of time and decorate it with notes that are relevant to the harmonic climate that's being laid down by the ensemble behind me. Sometimes, you take what you can get as far as accompaniment goes – you may have instructed them to play in the key of A minor, and some of them are playing in A minor, but you might hear a bass note which is coming from another key some place. To some members of the audience, this is jazz. But to a modal enthusiast such as myself, this is heresy, and it makes me want to murder and commit vile deeds right there on stage. But the show must go on, and you keep playing. (read more)
Source: Javier Marcote