Circus
Circus
was a monthly American magazine devoted to rock music. It was published from 1966 to 2006. In its heyday the magazine had a full-time editorial staff that included some of the biggest names in rock journalism, including Paul Nelson, David Fricke, and Kurt Loder, and rivaled
Rolling Stone
in sales and surpassed
Creem
. In 1974, a sister publication was launched, titled
Circus Raves
, but by 1977 that venture had been abandoned.
Gerald Rothberg originally put together the magazine under the name
Hullabaloo
in 1966 (23 issues), before changing the name to
Circus
in 1969
.
Since then he has been the publisher and editor-in-chief of the magazine. ... In the late 1970s, the magazine started focusing on pop culture as a weekly in the vein of
People Magazine
, which caused a drop in sales. ... The magazine shifted to Heavy Metal acts in the early 1980s, then focusing on glam metal groups like Bon Jovi and Def Leppard in the mid-to-late 1980s. ... Before the magazine was shut down in 2006,
Circus
covered contemporary heavy metal, competing against magazines like
Hit Parader
. (
wikipedia
)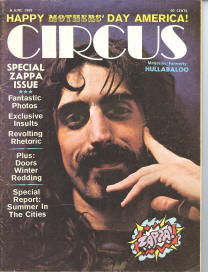 Hello boys and girls, my name is Frank ...
By Jonathan Kundra, pp 37-46
---
"I like to make instant music; I never know exactly what's going on to happen on stage, but believe me, what ever it is, we'll find a way to put it into the music. But most of it is going right over their heads. I talk to a lot of them afterwards, and I know what they see. I know what they hear. it bears very little resemblance to what we do. Audiences are all different, and they're all the same. They don't hear music. They're not trained to hear music. They're trained to be entertained. They come to see a show. The visual aspect of what we do is more accessible to that audience than the audio aspect. Of course it's much better now than earlier; and we're getting through to more people than before, but we've been doing this for five years. We're just now beginning to see it happen. Some of the people in the audience are listening to the music rather than waiting for weird lyrics, or waiting for some kind of bullshit to happen ..." (read more)
Source: zappateers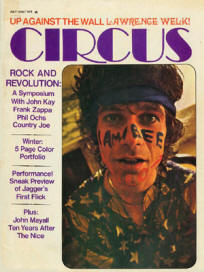 Rock And Revolution
By Jonathan Kundra, pp 19-23, 72
---
Round table with John Kay, Country Joe McDonald, Phil Ochs, Frank Zappa. (read more)
Source: The Waldo Scrapbooks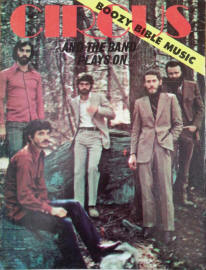 1970 September
Zappa Reforms Mothers For Money-Making Tour
By ?, pp 31-34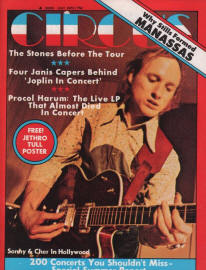 See the thigs of L.A. / In Your Chevrolet
That Zappa man is asking you to call
By Robert Hurwitz, pp 31-34
Waka/Jawaka * Hot Rats
By Ed Kelleher, p 20

The Phlorescent Leech and Eddy: The Saga of the Great Zappa Escape
By Howard Bloom, pp 46-47

Two Mothers Wriggle Free
By ?, p 55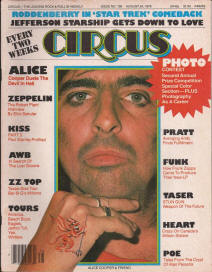 1976 August 24
No. 138
Zappa Produces New Funk LP
By Tim Hogan, p 57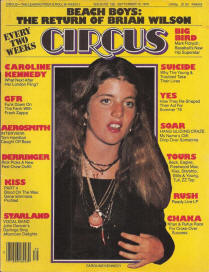 1976 September 13
No. 139
Funk Buys The Farm
Is Mark Farner The Real Mr. Greenjeans?
By Robert Duncan, pp 21-23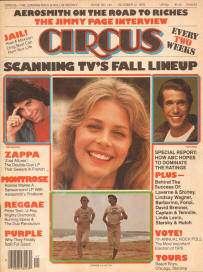 1976 October 12
No. 141
Zappa's Zoot Allures!: DiscReet Charm From Un-Bourgeois Z
By Tim Hogan, pp 44-46
---
At first glance, he looks like Carlos Santana with an overgrowth of moustache and chin-patch. But as the figure hustles further into the dim-lit room from the sunny Los Angeles atmosphere, it registers that this character is decidedly Frank Zappa, with his hair pulled back into a ponytail.
In one of the outer offices, a small group of people who were a moment ago discussing the perils of popdom, snaps to a strange attention. Several are waiting to speak to Zappa about one thing or another, but no one makes a move. Zappa notes this within a second, and the next view of him is from the rear, as he scoots into his manager's off-ice to conduct some fast business. It becomes too much like a scene from some bad movie as the group goes back to chattering about overdoses. (read more)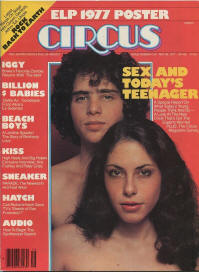 1977 May 26 12
No. 141
Zappa Forgives Queen Of England
p 13
---
Frank Zappa once claimed he would never play England again unless he received a personal apology from the Queen. Recently, however, Zappa gave the British one last chance and played four dates at London's Hammersmith Odeon. His two previous visits had been marred – on the first, a spectator pulled him off stage injuring him and causing nine months in a wheel chair; and on the second, Zappa lost a suit for cancellation of a contract and was forced to pay $40,00. This time, however, he was genuinely moved .= by the tremendous response exhibited and, after the third encore at one show, he forgave the English for being, "tensed up, hung up and Neo-Victorian."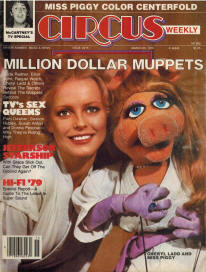 1979 March 20
No. 215
Zappanings
p 13
---
Frank Zappa has signed Indian violinist L. Shankar—formerly of John McLauglin's Shakti—to his fledgling Zappa Records label, and says the virtuoso fiddler's first LP will feature Van Morrison singing one tune titled "Dead Girls of London."

Meanwhile, the Zap himself should have a new album out as you read this. Titled Sheik Yerbouti (get it, discophobes?), it'll include such future hits as "Tryin' to Grow a Chin." "Broken Hearts are for Assholes," and, with a bow to Peter Frampton, "I've Been in You."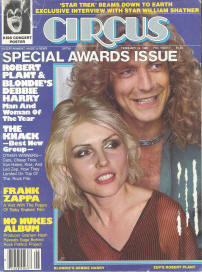 1980 February 19
Mecanic of 'Joe's Garage' father of 'Baby Snakes' – Zappa Lives!
By David Fricke, pp 38-39
---
A lump of colored clay in the form of a misshapen human face is rapidly transformed into an angry clay cheeseburger that turns to the clay face next to it and quickly devours it like some mad Marquis de McDonald's. Not long after that, a very human Roy Estrada – an ex-Mother of Invention – gives an inflatable life-size rubber doll a grotesquely hilarious bath by stuffing the doll's head facedown in a sink and, with a look of hedonistic glee, turns on the water full blast.
This, apparently, is what Frank Zappa means when he advertises his latest film Baby Snakes as "a movie about people who do stuff that is not normal." What animator Bruce Bickford does with those lumps of clay is worlds away from Disney and what Estrada does with that doll is not exactly standard dating etiquette. But according to Zappa, the film's producer, director, scriptwriter (what script there is), composer, star, and sole financier, there's a lot more to it. (read more)
Source: zappateers