Guitar Techniques
Guitar Techniques
is the only purely tuition-based guitar magazine in the world. It features transcriptions of the hottest guitar tracks around, lessons and tips from Europe's leading players and teachers in styles covering rock blues, jazz, country, funk and acoustic guitar. (...) All the music in
Guitar Techniques
is supported by a cover-mounted CD which provides top quality audio tracks so that you can hear how the piece you're learning should sound. It also features specially recorded backing tracks so that you can play along. (
futurenet
)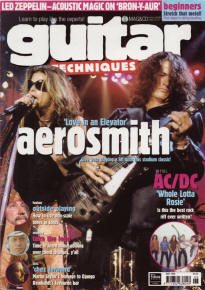 Frank Zappa: Soloing Study
By Adrian Clark, pp 30-33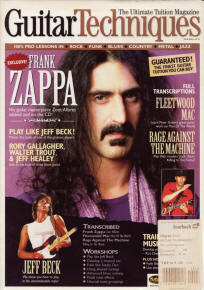 Frank Zappa: Zoot Allures
By Guthrie Govan, pp 16-23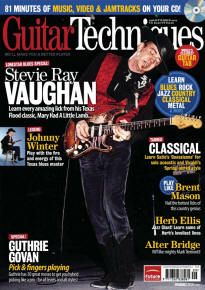 2012 September
Issue 208
Lydian Mode
By Charlie Griffiths, pp 88-90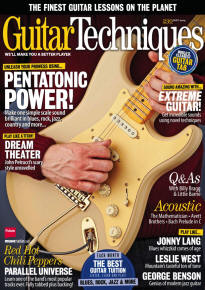 Issue 230
Extreme Guitar
By Milton Mermikides, pp 28-34
---
Are you tired of playing middle-of-the-road blues, rock or pop? Then let's get adventurous and take things to extremes, says Milton Mermikides.
TRACK RECORD Head straight for 'middle period' Frank Zappa: Hot Rats (1970), Roxy & Elsewhere (1972), Overnite Sensation (1973), Apostrophe (1974), Zoot Allures (1976) and Studio Tan (1976). Also check out Steve Vai's Flex-Able (1984) and Passion & Warfare (1990), Joe Satriani's Surfing With The Alien (1989), and King Crimson's Red (1974) and Discipline (1981). For pure experimental guitar, try anything by Derek Bailey, Henry Kaiser or Fred Frith.
Source: Vitaly Zaremba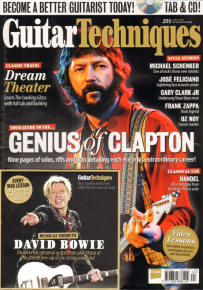 Issue 254
Frank Zappa
By Martin Cooper, pp 52-54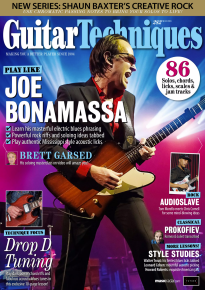 Issue 282
Fretboard Fluency
By Martin Goulding, p 88
---
Martin Goulding continues his look at the Lydian mode. With its distinctive #4th degree it's an airy and uplifting sound, known for its association with flight.
The Lydian mode is an airy and uplifting sound well used in the themes of film soundtracks and musicals including Westside Story (Maria) and Star Wars: The Phantom Menace (Anakin's Theme). The Lydian mode is also a sound commonly heard in the music of legendary composer and influential guitar icon Frank Zappa. Check out the title track taken from the 1981 release Shut Up 'N' Play Yer Guitar for Frank's characteristic use of the Lydian mode when improvising.