OOR
OOR
is a Dutch (pop) music magazine. It was titled until 1984 as
Muziekkrant OOR
.
OOR
is the largest and oldest existing music magazine on the Dutch market. (
wi

kipedia
)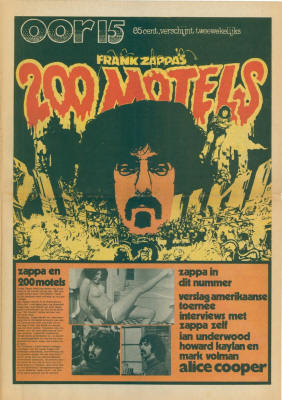 No. 15
Zappa en 200 motels
By ?, p 1

Met 1+3+3 Mothers On The Road
By Jip Golsteijn, p 3

De industrie wilde het Fillmore album ontzettend geil aanprijzen
Zappa interview by Jip Golsteijn, p 3

Ian heeft alleen maar muziek aan z'n hoofd
Ian Underwood interview by Jip Golsteijn, p 4

Howar Kaylan: "Zappa is een stuk minder diktatoriaal geworden"
Mark Volman & Howard Kaylan interview by Jip Golsteijn, p 5

200 Motels de film
By ?, 1 p 5
---
This is a real Zappa special issue containing nice cover, article about 1971 USA tour, interviews with Frank Zappa himself, Ian Underwood, Mark Volman and Howard Kaylan, articles about 200 Motels plus wonderful full page 27. November Ahoy, Rotterdam concert ad. Some of these articles are here available with full Dutch text and translation feature.
Source: slime.oofytv.set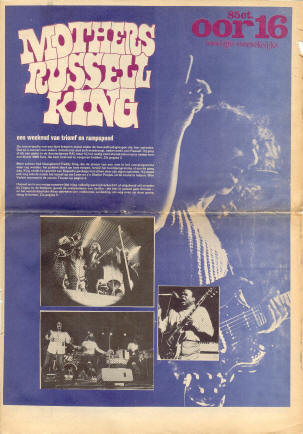 No. 16
Zappa gelooft dat meer popgroepen in de filmbusiness zullen gaan
By Willem Hoos & Robert Briel, pp 4-5

The Mothers zijn meer waard dan Zappa alleen
By Barend Toet, p 5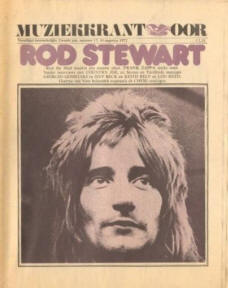 1972 August 30
No. 17
Zappa Weer Aktief (Zappa is active again)
By Barend Toet, p 1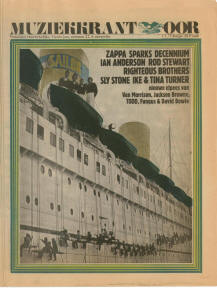 1974 November 06
No. 22
Zappa's Wil Is Wet! (Zappa's Will Is Law!)
By Urban Gwerder, Canzus (translated by Ted Leyendekker), pp 12-13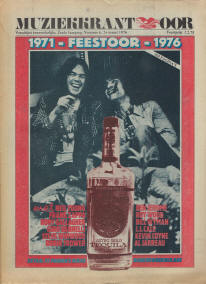 1976 March 24
No. 6
Ik Speel Frank Zappa
By Roberto Palombit, pp 12-13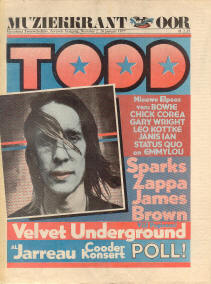 1977 January 26
No. 2
Zappa Uigslang
By Roberto Palombit, p 37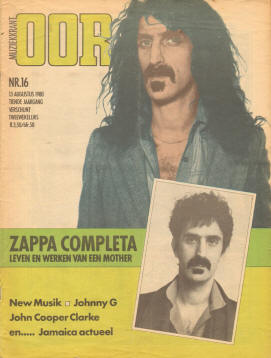 1980 August 13
No. 16
Zappa Completa (Part I)

The conceptual continuity van een duizendpoot: Een buitenbeentje
By Roberto Palombit, pp 20-21

Geef mij wat vloerbedekking onder deze vette zwevende sofa
Discography by Bert Van Manen & Co De Kloet jr, pp 20-25

The Mothers
By Bert Van Manen & Co De Kloet jr, pp 22-23

Le Guitariste
By Roberto Palombit, pp 24-25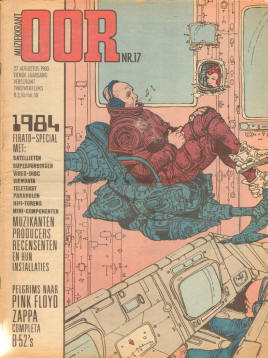 1980 August 22
No. 17
Zappa Completa (Part II)

The conceptual continuity van een duizendpoot: Zappa, Francis Vincent, componist 1941...
By Frits Oostvogel, pp 14-15

Geef mij wat vloerbedekking onder deze vette zwevende sofa
Discography by Bert Van Manen & Co De Kloet jr, pp 14-18

Een mondvol
Roberto Palombit, pp 15-16

De Dalai Lama
By Roberto Palombit, pp 17-18

Aap op knie (Captain Beefheart - Doc At The Radar Station review)
By Jan-Maarten De Winter, p 27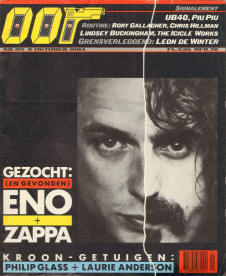 1984 October 6
No. 20
De Zappa Affaire
By Co De Kloet jr, pp 26-29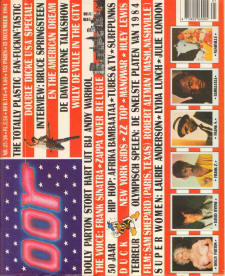 1984 December 15
No. 25/26
Zappa En De Chri$t Biz
By Co De Kloet jr, pp 120-121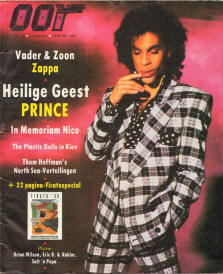 1988 August 13
No. 16
Vader & Zoon:
Zappa sr.
By Zjakki Willems pp 42-45

Zappa jr.
By Hans van den Heuvel, pp 46-47, 49

Mothers Of Television
By Bert van de Kamp, p 45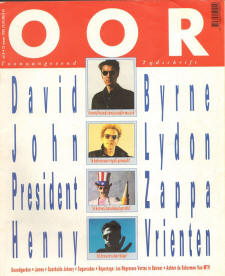 1992 March 21
No. 6
Waar blijft Zappa?
By Bert van de Kamp, pp 64-67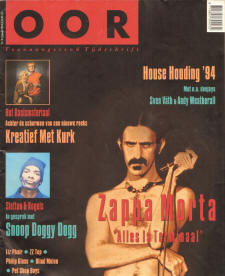 1994 January 15
No. 1
Zappa Morta
By Bert van de Kamp, pp 18-20

Zappa en Nederland
By Bert van de Kamp, pp 20-22

Grandmothers
By Edwin Ammerlaan, p 27