Qui Giovani
Popular Italian youth lifestyle weekly. The first issue of
Giovani
was published in February 1966 and the magazine lasted until March 1970.
Qui Giovani
started on March 5, 1970. The very last issue appeared in May 1974. (
Riviste anni 60
)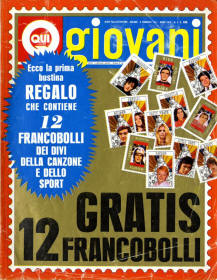 1971 February 4
No 5
Questo è Frank Zappa il profeta della musica underground
By Cristiano Mascalero, p 37
---
Automatic translation: In America he is already very famous: now he has set out to conquer Europe - a triumphal recital in Paris - he will shoot a strange film where everything will be dedicated to the happening. (read more)
Source: Fulvio Fiore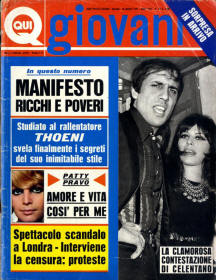 1971 March 25
No 13
Zappa: censura per "oscenità"
By Cristiano Mascalero, pp 48-50
---
Automatic translation: A recital of his at the Albert Hall banned at the last moment - The reasons: the script was chock full of incredible "filth"! - Frank Zappa sued the directors of the famous theater for damages - The incriminated sentences - A film about the censored show, with the exceptional participation of Ringo Starr. (read more)
Source: Fulvio Fiore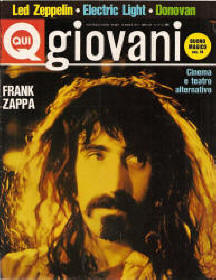 No 19
Voci e sounds degli States: Frank Zappa
By Massimo Villa, pp 44-45, 47
---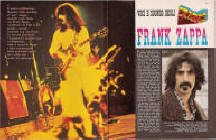 Automatic translation: Our journey through musical America could only end with Frank Zappa, certainly one of the most serious musicians of the whole world pop scene, engaged for years in a work of criticism and "revision" of the musical medium that he himself has chosen for express and disseminate what he thinks of America, young people and music itself. (read more)
Source: slime.oofytv.set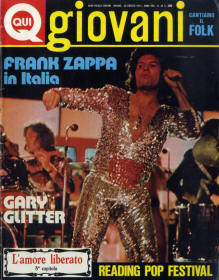 1973 August 30
Vol 25 No 35
Frank Zappa arriva in Italia con il suo mitico sound
By Elio Donato, pp 22-24
---
Automatic translation: The arrival of Frank Zappa and his Mothers Of Invention, at the end of August in Italy (30 in Bologna, 31 in Rome), coincides with the resurrection of the artist, who after a musically obscure moment reappears offering some of the best sounds of its production, supported by an exceptional training. (read more)
Source: Fulvio Fiore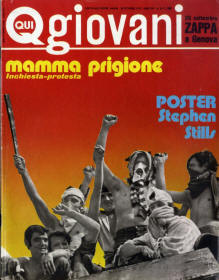 1973 September 20
Vol 25 No 38
Zappa "live"
By Marco Fumagalli & Daniele Caroli, pp 16-18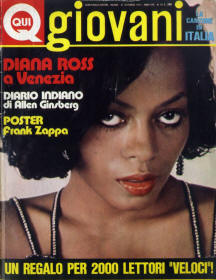 1973 September 27
Vol 25 No 39
Zappa centerfold poster
pp 38-39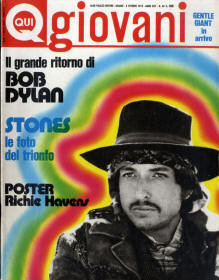 1973 October 4
Vol 25 No 40
Frank Zappa "Over-Nite Sensation"
By Marco Fumagalli, pp 66
---


Automatic translation: It struck again. We all expected something different, after "Waka / Jawaka" and "Grand Wazoo", fascinating frescoes of an absolutely unique expressive intelligence. Instead, Frank returns (at least in part) to the past, to the less elaborate arrangements, to the exasperation of his hallucinating monologues: and probably enjoys a world, as always, to give rise to crazy discussions on "the futurist-neodadaist structural evolution of his music ". (read more)

In the news section:
Automatic translation: Zappa thrills at Wembley Frank Zappa came to England with his new Mothers to play a single concert at the Empire Pool in Wembley. At a time when concert tickets sell like peanuts, alas, that wasn't the case with Frank. The 8,000 seats at Wembley were occupied by only 5,000 fans. A real contrast from the reports of the various European concerts by Zappa and Ponty. Wembley Pool looked a little cold and dreary, after the enthusiastic crowds of days before with Super Mick and his Stones. But Frank was asked for two encores, thus proving that, even if the 12 million Londoners managed to squeeze only 5,000 fans, they nevertheless got in trouble. Frank? He played little, making the others play more and in the meantime smoking two packs of cigarettes. What a great fellow. Come back soon Frank!

Source: Fulvio Fiore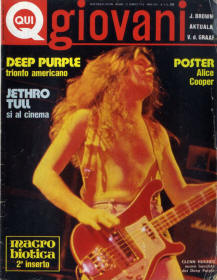 1974 January 31
Vol. 26 No 5
Schede musicali: Frank Zappa
By Barbara Woods, p 33
---


Automatic translation: FUTURE: Frank Zappa is a musical genius recognized above all by his colleagues. Each record of him will still be an "experience". (read more)
Source: Fulvio Fiore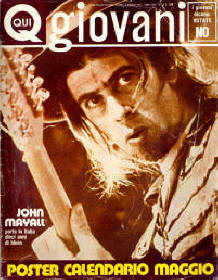 No 18
Frank Zappa "Apostrophe'"
By Marco Fumagalli, pp 68-69
---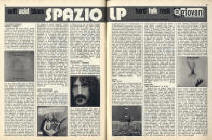 Automatic translation: Uncle Frankie continues to rage: the echo of the exceptional Italian tour has not yet died out, immediately followed by the relative cold shower of "Over-Nite Sensation", and already a new work unexpectedly swoops on the market, prompting new and old reflections on the figure of this indefinable character. (read more)
Source: Fulvio Fiore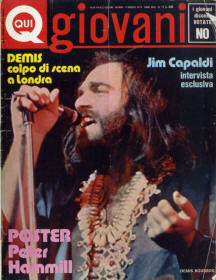 No 19
Captain Beefheart: Nuovo album ma stavolta per menti lucide (New album but this time for clear minds [Unconditionally Guaranteed])
By Andrea Drake, pp 44-47