Suosikki
Suosikki
(Favorite) was popular Finnish monthly youth magazine, issued from August 1961 until December 2012. (
wikipedia
)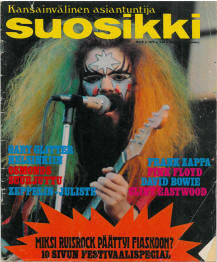 1973 September
No. 9
Sensational Sound Of Zappa!
By Bill Breckham, pp 94-95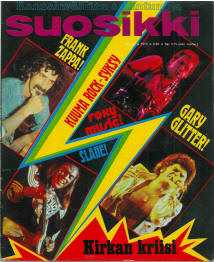 No. 10
Zappa: liikenero ja musiikinero samassa persoonassa! Palkkio 150 000 markka?
(Zappa: business genius and musical genius in the same body! Salary 150 000 mark?)
By Suosikki, p 36

The Mothers: Over-Nite Sensation (review)
By James Seville, p 85
---
The main article is about Zappa, the outstanding businessman. It was agreed, that for two Helsinki concerts (in August 1973) Zappa will get 150,000 FIM, but the total box office later, with ticket price of 20 FIM, was only about 100,000 FIM. The concerts were paid to Zappa by Helsinki city festival organizers and the difference was covered by tax payers. "In our country we support not only opera, but also elite pop music."
Interesting, that in this article is written, that Zappa had actually three concerts in Helsinki because the demand was so high and probably he got more than 150,000 FIM.
Zappa gig list includes two shows in August 23. In the Suosikki article is written, that Zappa had concerts in two consecutive days with long rehearsals in both days and everything in these two days was recorded. Most probably Zappa had two full-scale concerts in August 23 and 24, and 3rd concert mentioned was actually a jam session afterparty in August 23 in N-Klubi without Zappa (described in Intro, October 1973).
Finally, in October 2013, Road Tapes, Venue #2 were issued based on recordings of the shows in August 23-24, Finlandia-talo, Helsinki.
The review of the concerts you can find in Intro, October 1973.
Source: slime.oofytv.set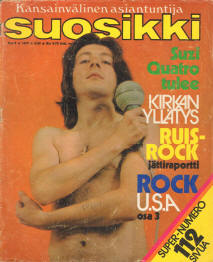 1974 September
No. 9
Frank Zappa story alkaa!
By Johnny Maestro, pp 110-111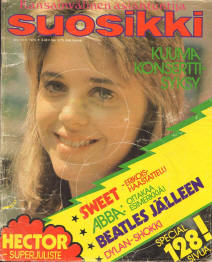 No. 10
Taitelija, liikemies ... nero? (Artist, businessman... genius?)
By Johnny Maestro, pp 40-41

Pihvisüdäntä ei kesytetä
By Johnny Maestro, pp 122-123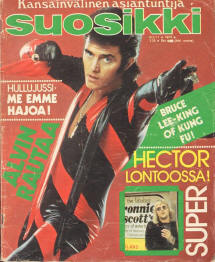 1974 November
No. 11
Suosikin lukijat tapasivat Zappan (Readers of Suosikki meeting Zappa)
By Timo Mesimäki, pp 36-37

Ei missän ole tälläistä kuin Suomessa! (Nowhere is there like in Finland!)
By Johnny Maestro, pp 38-40

Roxy and Elsewhere (review)
p 104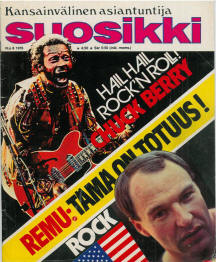 No. 8
U.S.A. Super Adventure Volume 1
By Jyrki-Boy, pp 10-13
---
This exclusive interview was made in Zappa's home, LA. After the interview FZ and Jyrki-Boy visited recording studio where Grand Funk Railroad was recording their LP (Good Singin', Good Playin'), and Zappa played a guitar solo for this album (probably for the song "Out To Get You"). Full text available.
Source: slime.oofytv.set