Popster
Popster. La prima rivista poster di pop, rock, soul, jazz, country music
, also known only by the name
Popster
, was a monthly magazine founded in Rome in 1976 by Massimo Stefani.
Popster
closed in 1980 after issue 37, and part of its editorial team merged into the new magazine
Rockstar
magazine. (
wikipedia
)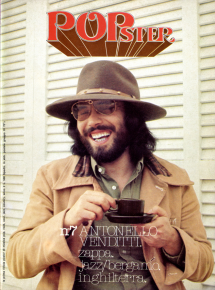 1977 September
No. 7
Zappa si autointervista (Zappa interviews himself)
By Vincent Messina, pp 14-17
---
Google translate: Rivers of words have been written about Frank Zappa. Often attempts have been made to go back to the character, to give a face to the personality through his compositions: the conventional image of the person and far from the real one. Let's see why. Talking about it and Frank Zappa himself. (read more)
Source: Fulvio Fiore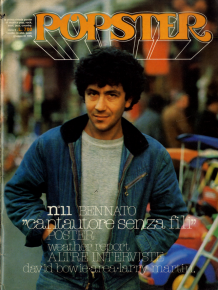 1978 February
No. 11
Gibson SG Standard
By ?, pp 68, 70
---


Google translate: Speaking of punk, the 38-year-old Italian-American from Baltimore said: «I'm too evolved to feel punk. Unfortunately a lot of people writing about rock criticism today, and more specifically about punk, weren't there during the 1960s because otherwise they would know that punk was already there. And it was even better ». (read more)
Source: Fulvio Fiore
---
Google translate: And so here is the arrival at the Hyde Park Hotel in London of Mr. Zappa and Mr. Smothers, assistant, secretary, bodyguard who came out of the pages of "Uncle Tom" who, from the height of his three meters in height, sentenced : "This fucking English television is the same as the American one, it sucks." And he wrinkles his back on the elegant back of the armchair with a wavy and careless way of his own phosphorescent Hawaiian shirt. America. (read more)
Source: slime.oofytv.set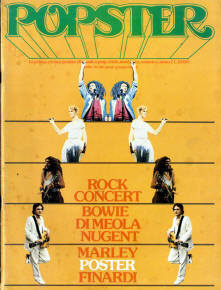 No. 15
Zappa in New York
By Massimo Bassoli, 2 p
---

Google translate: Zappa in New York is yet another album of the artist's legal quarrels with the record company. The record was ready and packaged since October 1977, parked in the warehouse now sees the light seven months after everything has smoothed out for the worst with Warner Brothers. Recorded live, in New York in fact, between Christmas and New Year 1976 and this is the album of the latest production that more than the others will reconcile him with all that European public who have always loved him for an image that after all was not exactly the her. (read more)
Source: Fulvio Fiore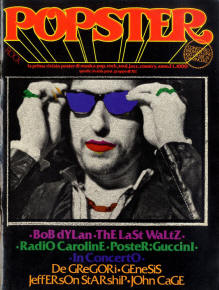 1978 September
No. 17
Extremely dubious short news on Frank Zappa and Paul Simon
---

Google translate:
Scuffle in a New York club
Incredible fist fight in a well-known 5th street dance club between singer Paul Simon and eccentric and unpredictable Frank Zappa. The fist fight born out of a trivial quarrel between lovers almost immediately deteriorated into a real unprecedented brawl.
Source: Fulvio Fiore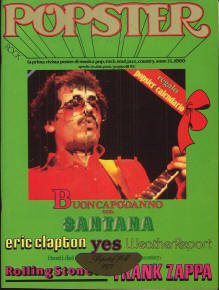 1978 December
Vol. 3 No. 20
Poster Frank Zappa: La madre ritrovata
By Massimo Bassoli, p 43

Studio Tan (review)
By Massimo Bassoli, p 82