Soundi
Glossy Finnish music monthly covering a wide variety of popular musics from rock to reggae. Some regional coverage. (
rojaro
)
Established in 1975. In the beginning of 2014
Soundi
swallowed another music magazine
Rytmi
.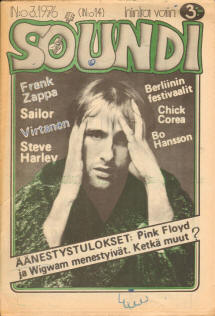 No. 3 Issue 14
Oliko sulla kivaa, Frank? (Did you have fun, Frank?)
By Pekka Markkula, p 13

Mothers-bassisti vasta 8-vuotias? (Mothers bass player only 8 years old?)
Mikko Montonen, p 13

Zappa konsertissa: Suuri floppi! (Zappa in concert: a big flop)
Mikko Montonen, p 13
---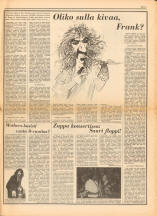 Page 3 contains three articles on Zappa visiting Finland in February 25-28, 1976. The overall impressions are quite negative. According to Mikko Montonen the concert in February 26 was a flop and Pekka Markkula writes that the press conference was a farce. Usually Finnish audience liked Zappa very much. This time the verdict was, that you can't compare a 1976 band with former Zappa bands performing in Finland (like Roxy band and famous Helsinki concerts). After the February 26 concert other band members (not FZ) went to Natsa club and had there jam with Jukka Tolonen (perhaps the best ever Finnish guitarist), Hessu Hiekkala (percussion) and Dave Lindholm (vocal, guitar).
Article about 8-year bass player is how Roy Estrada went in February 27 with Finnish friends to Jukka Tolonen's concert. As he left his passport in hotel he wasn't let in, because the age limit for evening concert was 18.
On page 13 are result of year best musician polls. As you can see many Zappa band (former) members are listed. Mothers of Invention - band #16, Frank Zappa - guitar #10, George Duke - keyboards #4, Tom Fowler - bass #13, Jean-Luc Ponty - miscellaneous #2 (violin), Captain Beefheart - miscellaneous #10 (harp).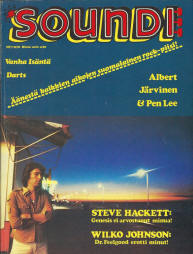 No. 7
Eskapismia kaunosieluille
By Mikael Wiik, pp 56-57
---

Automatic translation: Now, however, it looks like FZ has tried to entertain people all over the world at once, as this live double features a progressive Grand Wazoo-type mix for an orchestrated ensemble while trying to subdue all the requirements for good taste in terms of content. And where can you find the fan who digs both style trends at the same time? (read more)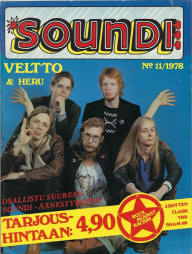 1978 November
No. 11
Frank Zappa "Studio Tan"
By Pekka Markkula, p 62
---

Automatic translation: Unfortunately - as so many times recently - Frank has nothing new to offer us. At most comments on old stuff. And even those old stuff are Frank's own old stuff. (read more)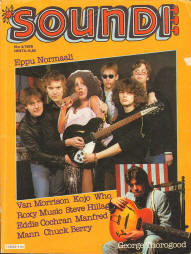 No. 4
Sleep Dirt
Sheik Yerbouti (review)
By Mikael Wiik, pp 80-81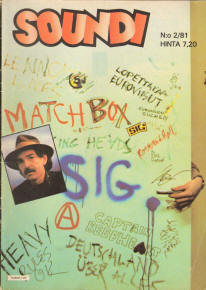 1981 February
No. 2
Captain Beefheart, maalari, kirjailija, muusikko, nero (Captain Beefheart, artist, writer, musician, genius)
By Dali De Clair, pp 42-46
---
Issue includes 5-page Dali De Clair interview with Captain Beefheart (shorter English version published in Melody Maker 1980, January 11.)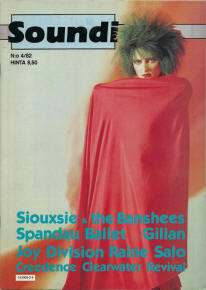 No. 4
Frank Zappa "Shut Up'n Play Yer Guitar"
By Hannu Tervaharju, p 74
---
Automatic translation: Up until the release of this album, few understood the fact that the most hardened Zappa fanatics have known since the beginning: FZ can play the guitar. (read more)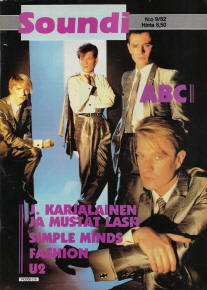 1982 September
No. 9
Frank Zappa "Ship Arriving Too Late To Save A Drowning Witch"
By Hannu Tervaharju, pp 64-65
---
Automatic translation: For the first time in a long time, Zappa is content to release a solo record: perhaps the man realizes that even the most fanatical person's money can't support only triple and double records. Maybe his latest plan is to post such crap every month ... (read more)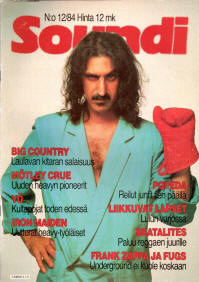 1984 December
No. 12
Frank Zappa ei kainostele kitarasooloja ja tuhmia juttuja
By Esa Koivio, pp 48-50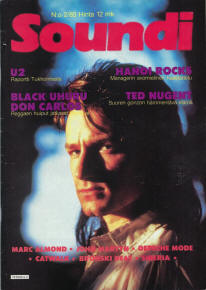 1985 February
No. 2
Frank Zappa "Them Or Us"
By Hannu Tervaharju, pp 72-73
---
Automatic translation: Santa Claus is a sharp guy when he thought of bringing me Zappa's latest, but his coordination with Soundi doesn't seem to work - he should have known that the boys would postpone the same product for me. Well, maybe the goat only reads Album Reviews and not so much the reader's column where Zappa analyzes of our local are always announced. Thanks brother. (read more)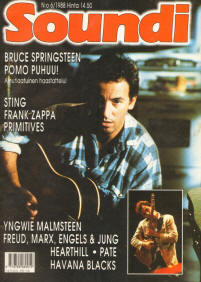 No. 6
Olenko minä muka tyranni?
By Hannu Tervaharju, pp 120-125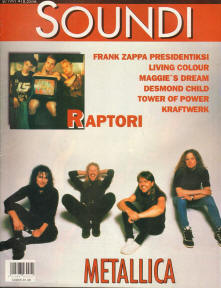 No. 8
Frank Zappa presidentiksi! (Frank Zappa for president!)
By Waldemar Wallenius, pp 48-52

The Best Band You Never Heard In Your Life
Make A Jazz Noise Here
You Can't Do That On Stage Anymore Vol. 4 (review)
By Waldemar Wallenius, p 74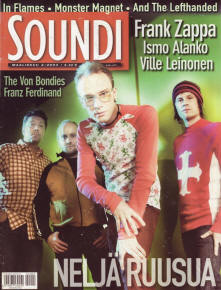 2004 February
No. 2
Frank Zappa: Real Mother
By Charles Shaar Murray, pp 32-39