Il Mucchio Selvaggio
Il Mucchio Selvaggio ("The Wild Bunch") was a music and cinema monthly founded in 1977. EXTRA was their special issue published quarterly. Il Muccio Salvaggio was started in October 1977 as a monthly publication, became weekly in 1996, returned to monthly in 2005 and finally ceased in 2018.
---

Google translate: Zappa in Italy is known for his bizarre and extravagances, his continuous outrage towards modern institutions, his concerts full of madness, always unpredictable and provocative. But do you realize the real importance of an artist like Zappa in the development of all the music of the last 15 years? (read more)
Source: Fulvio Fiore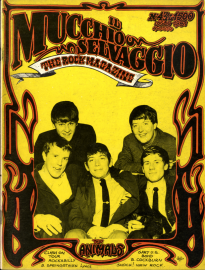 1981 July / August
No. 43
Frank Zappa - Tinsel Town Rebellion
By Maurizio Petitti, p 4
---

Google translate: For now let's say that the record has not completely satisfied us, that we find it a little repetitive. But this feeling of having already been heard is perhaps forgivable (justifiable?) (read more)
Source: Fulvio Fiore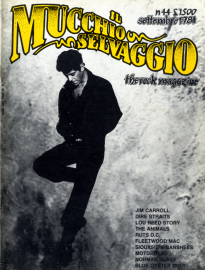 1981 September
No. 44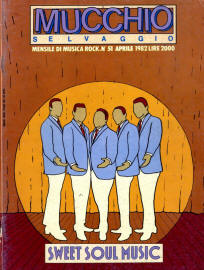 No. 51
Libri
By Maurizio Bianchini, p 17
---

Some Italian books on Zappa reviewed. The highest praise received Frank Zappa by Riccardo Bertoncelli. As the worst one the book by "El Topo" was named.
Source: Fulvio Fiore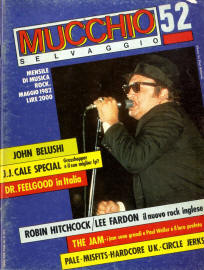 No. 52
Libri
By Maurizio Bianchini, p 26
No. 63
Frank Zappa "The Man From Utopia"
By Maurizio Bianchini, 1 p
---

Google translate: Let's start with the title: The Man of Utopia. Nothing to do, of course. with the Zappa himself. The type is one of those who have always laughed beautifully at utopias, palingenesis and messianic expectations. Could there be, then, according to the character's habits, "a subtle desecrating intent", or even a "controversial vein discovery?" (read more)
Source: Fulvio Fiore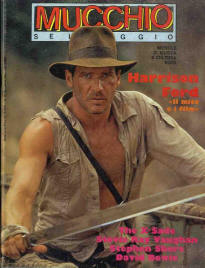 1984 November
No. 82
Frank Zappa: Naviga gli ottanta
By Paolo Bertrando, pp 14-17, 59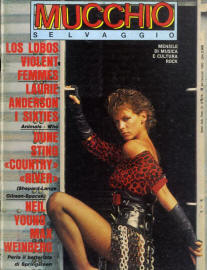 No. 84
Boulez Conducts Zappa "The Perfect Stranger"
By Maurizio Favot, p 63
---
Google translation: In reality, Zappa's usual desecrating sarcasm, expressed this time by the funny little squares mentioned above, must not mislead, nor must it deceive the definition of style proposed by the Baltimore musician ("Pre-posterously non-modern, let alone!): here we get serious and in order to sketch an analysis of the new Zappian compositions, it is necessary to bother illustrious names and crucial phases of contemporary musical events. (read more)
Source: Fulvio Fiore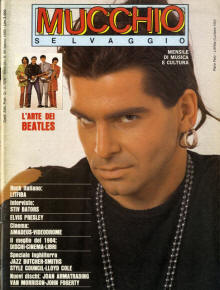 No. 86
Frank Zappa "Thing-Fish"
By Marco Del Vecchio, p 68
---

Google translate: 'Thing-Fish' is the diabolical work of a servant of Satan; it is the light-hearted method with which the Zappian allegory continues to survive. A triple album, somewhat difficult to find, where the guitar ardor of "Them Or Us" gets "screwed" (just to stay in jargon) to give way to an incredibly cultured musical writing, not at all moderate and .. unorthodox. (read more)
Source: Fulvio Fiore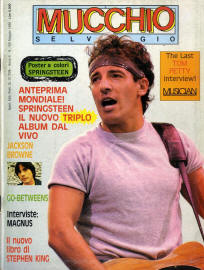 No. 100
Frank Zappa "Does Humour Belong In Music?"
By Steve Soriano, p 27
---

Google translate: And we got there! Even the old, dear uncle Frank comes out on CD, but that's not enough: this live collection by the Californian guitarist is only available on CD, because the homonymous video contains different songs (it is, of course, at this point, that the most avid Zappian fans will have already purchased both products). (read more)
Source: Fulvio Fiore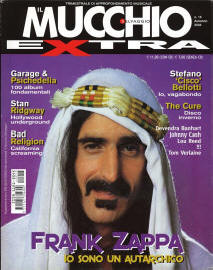 No. 15
Frank Zappa: Io sono un autarchico
By Marco Drago & John Vignola, pp 22-30, 32, 34

Zappografia
By Marco Drago & John Vignola, pp 31, 33, 35

Intervista con Frank Zappa Hollywood, 11 agosto 1989
By Veniero Rizzardi, 36-41
---
This special issue is supplement to Il Mucchio Selvaggio No. 592 from 21 September 2004. Includes a previously unpublished interview from 1989.
Google translate: These listeners can't stay interested in a given musical topic for more than seven minutes, you can't go any further. The measure of two and a half minutes, three minutes is the preferred one: they want an event completed in the space of two and a half minutes, three, because they have been trained in this measure by the radio, and so on. For them this is a song. The exception might be Stairway To Heaven , which lasts nine minutes - it's a song, but it's an epic song. The longest piece I wrote - and which could still hold attention - is Billy The Mountain , twenty-two / twenty-three minutes, but there was some choreography, it was divided into different sections, there was a story, many ideas. (read more)
Source: slime.oofytv.set