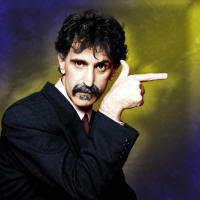 The purpose of this site is to provide a little help to those that are looking for written material about Frank Zappa.
afka (at) afka.net
Zappa Books
New Entries.
17 April. Creem, May 1978. Funny short article on Zappa playing Leather in KROQ station for everybody to tape this album.

16 April. Torontian Beetle, Spetember 1971. "The phone rings. It's Frank Zappa from California. He wants to talk about his new album."

12 April. More Creem. March 1977 and Zoot Allures review.

11 April. Creem, November 1982, containing article on Moon and Frank Zappa.

9 April. Next issue of Ptolemaic Terrascope, Summer 1993, including Don Preston interview.

8 April. Nice British Ptolemaic Terrascope, Spring 1993, with a Bunk Gardner interview. Don Preston comes next.

4 April. The Signal from Georgia State University, October 1977, with a funny Zappa interview inside.

3 April. Los Angeles Free Press, June 21, 1968. Contains long full page article "Mother Is A Mother Is A Mother Is A Mother".

31 March. Danish music monthly Zonk, presumably from January 1974, containing 2 page article on Zappa.

28 March. British Uncut, April 2014, includes article on Lowell George with some Zappa references and short story "Who was Neon Park?"

27 March. Very nice 12-page Zappa special - German edition of Classic Rock, March 2014.

24 March. Third and last Superlove in this row, August 1969.

23 March. Another Superlove from April, 1969, with recognizable cover.

22 March. Danish monthly hippie and underground magazine Superlove, May 1968.

18 March. Dutch Mojo's Music Magazine, April 2005, two short articles to introduce Zappa Plays Zappa and Frank Zappa.

17 March. Delizie Freak, Italian book by Epìsch Porzioni, containing playlist of 30 songs from all periods of Frank Zappa's oeuvre.

16 March. First part of the 5-hour interview with FZ - Dutch Vinyl, December 1986.

15 march. Playboy, Dutch edition, August 1993, with local translation of a well-known 6-page interview.

14 March. First book on Zappa published in 2014. La filosofia di Frank Zappa by Stefano Marino. An Adornian view of the genius and work of Frank Zappa.

13 March. German prog rock magazine Eclipse, December 2009. Includes article on "Bobby Brown"and German translation.

12 March. Frank e il resto del mundo - Italian book by Alessandra Izzo, published in December 2013. Contains interviews with Patrice "Candy" Zappa, Bunk Gardner, Essra Mohawk, Fabio Teves, Claudio Trotta, Massimo Bassoli, Ed Mann, Pamela Des Barres, Rutger Hauer, and Ike Willis.

11 March. Musician, July 1995, including best sections of five interviews with Frank Zappa.

10 March. Another Good Times calendar – 2011. Zappa featured in November.

8 March. Estonian weekly Eesti Ekspress, November 2013, with an interview with Dweezil made before first ever ZPZ concert in Tallinn, Estonia

7 March. Playboy, German edition, May 2009, contains a very good picture of Moon Unit.

6 March. Guitar Player, June 1998 – short article on how Shut Up 'N Play Yer Guitar was made.

5 March. German Good Times magazine 2014 calendar. Zappa featured in March.

4 March. Spanish Ozono, April 1979, containing 3 pages with the review of the two shows that FZ performed in Madrid on March 14, 1979 with the title of "Three Hours & A Half With Frank Zappa".

3 March. German rock and pop culture magazine Spex, August 1991, with an article on Zappa's political activities in these years.

2 March. Dutch Vinyl, January 1987. Part 2 of the 5-hour interview with FZ. Part 1 is already on the way and will be posted soon.

1 March. The once popular magazine Guitar One, March 2007, containing articles on Frank Zappa and Mike Keneally.

28 February. TONEAudio magazine, January 2014 issue.

26 February. Relix, April 1994, "Forever Frank: An Appreciation".

25 February. German edition of High Society, February 1991.

24 February. A Low Budget Discography compiled by Russell Anixter for WBAI, radio station in New York City.

23 February. British Prog, February 2014, has review on Uncle Meat / Roxy & Elsewhere vinyl editions.

20 February. Punk zine Yellow Submarine from 1994, including obituaries.

17 February. Zendik Tribe zine reprinted in 1994 interview with FZ "Artist As Genetic Design Flaw".

16 February. The Observer, March 28, 1971, containing 6-page article with many pictures on "British first film rock opera" - 200 Motels.

15 February. WSCRscene, July 1968, a local version of Discoscene magazine.

10 February. French Carabina Slim, March 1972.

9 February. The first Spectacular Spider-Man magazine issue in July 1968 had full page We're Only In It For The Money ad.

8 February. Ptolemaic Terrascope from Autumn 1992 has 3-page interview with Jimmy Carl Black.

6 February. Two consecutive issues of Guitar World from July and September 1987 with two-part article "Zappa's Whole Life" and some other interesting pages and ads.

5 February. Jazziz, March 1987, article on Jazz From Hell.

4 February. German Playboy, August 1993, printed translation of the well-known Playboy interview originally published in US in April.

3 February. French weekly paper Pop Music, July 1970, with an article on Summer festivals in France.

2 February. Italian Rolling Stone had nice 12-page Zappa special in December 2013. In DoAndroidsdance.com was once posted: "The Italian edition of Rolling Stone focuses more on rock music than what's sold in stores in the Unites States, covers much less electronic music, and doesn't seem to give a fuck about what the parent company is doing."

1 February. German free monthly Intro, September 1995, containing part I of the 3 part article reviewing all Zappa albums reissued by Ryko.

31 January. "The Satirist Is Silenced", Zappa remembered in Down Beat, March 1994. (BTW. The Rage And The Fury was due out in 1994.)

28 January. Down Beat, September 1994 – Frank Zappa entering DB Hall Of Fame – "Legacy Of A Cultural Guerilla".

27 January. Het Beste Uit Hitweek 1965-1969. United Mutations: "this book is some sort of "best of" of the dutch underground magazine "hitweek" that got published from 1965 until 1969. hitweek was the first dutch magazine that talked about zappa & the mothers of invention. a couple of these articles are in this book."

25 January. German "pop culture and style magazine" Max, April 1992. Six pages on Zappa including some nice full page pictures.

24 January. From 1977 two issues of Billboard: March 5 and November 5, containing articles on Zappa suits against Warner Bros.

23 January. Pomona College Magazine, Fall 2012 – "A Carefully Calculated Caper" (The real story behind the great Zappa prank of 1975.)

21 January. Estonian quarterly Kitarr, Winter 2013, with article on FZ early years.

20 January. First Irish magazine in our list! Hot Press from April 1993 with exclusive interview "A Mother Of Invention" – one of the last interviews given by FZ.

16 January. German Der Spiegel, December 1993, Zappa obituary.

12 January. Mexican monthly Mosca, December 2013, with great cover and a lot of articles inside on Frank Zappa.

11 January. Hitweek again. Two issues from September 1967.

10 January. Dutch Hitweek, November 1968, containing some kind of an interview with FZ.

8 January. Musica Da Non Consumare - Music for non-consumers, essential discography of the 70s, by Riccardo Bertoncelli & Franco Bolelli. In Italian, printed in 1979.

6 January. Belgian weekly Humo, October 1974, with 4-page exclusive interview.

5 January. Estonian newspaper Postimees, November 26, 2013, containing interview with Dweezil Zappa.

4 January. German record collector's magazine Oldie-Markt, January 2000. Part I of Zappa's discography.

3 January. German Gitarre & Bass, December 2003, including articles and transcription primers on Zappa and Zappa's bassist Scott Thunes.

2 January German Musikexpress, December 2003, presenting a list of 10 essential Zappa albums for beginners. Roxy & Elsewhere got the highest grade.

1 January. German special interest magazine Soundcheck, November 1988 issue, with pictures and description of Frank Zappa's equipment on stage.

HAPPY NEW YEAR!

31 December. British Prog magazine, December issue. Includes a 12-page Zappa special – two articles and reprint of the last interview. If you don't have it yet, maybe you can find it somewhere.

29 December. Mexican Music: life, December 2013, containing nice Zappa special. BTW, this issue is still available at ebay, if you need it.

27 December. Same concert, 200 Motels – The Suite, featured in Performances Magazine, October 2013.

23 December. Concert program. 200 Motels - The Suite (world premiere), October 23, 2013, in Los Angeles.

22 December. Inkanish Publications are pleased to announce that For Mother's Sake, the epic, blockbuster of a memoir from the one and only "Indian of the Group", the unforgettable Jimmy Carl Black, will be available from November 1st to commemorate the 5th anniversary of Jimmy's sad demise.

19 December. Icons Of Rock – encyclopedia in two volumes published in 2008 – contains a 26-page chapter on Zappa written by Chris Cocker.

18 December. At the right time! Zappa calendar 2014, limited edition of 700 pcs.

17 December. Russian edition of Classic Rock, March 2013 issue, contained translation of Mick Wall article on Zappa from British Classic Rock, December 2013. The original was 8 pages, the translation is 10 pages long. Cool!

16 December. Uncut, December 2013. Review on Trout Mask Replica and short interview with vaultmeister Joe Travers – "Some day there will be fabulous compilation of stuff found in the vault that contain various nuggets of things from all eras of Zappa & Beefheart's time together."

15 December. Czech weekly magazine Reflex, November 2013, with 5 pages of Zappa content.

14 December. Daily newspaper Dnes (Today) from Czech Republic, December 3 issue, containing full page article "Fenomén Zappa".

13 December. Russian bimonthly Distortion, December 2013, with 19-page Zappa special.

12 December. Classic Rock, December 2013, containing two short interviews with Dweezil Zappa. First one about Frank Zappa-AC/DC connection; the second one on Roxy & Elsewhere tour.

11 December. British Total Guitar, Winter 2013 issue, including "The A-Z Of Prog Guitar".

10 December. Guitar Legends #109, 2009. Article "1969 - The Greatest Year Of Rock" contains reviews on Uncle Meat and Trout Mask Replica.

9 December. Another American magazine, Avant Garde from May 1970, with Zappéd album ad.

8 December. American Ramparts magazine from October 1970 with Absolutely Free ad.

7 December. It is truly amazing nowadays, but some glossy printed magazines started in 2013. Italian Outsider is published since June and the September issue was a Zappa special.

6 December. Something from Japan. Monthly music magazine Jam, September 1980, with funny Zappa drawing as centerfold.

30 November. Portuguese Almanaque, presumably printed in 1994.

29 November. Updated Rock. La música. Los interpretes, new scans.

19 November. German NMI, December 1990, celebrating Frank Zappa's 50th birthday.

17 November. De nieuwe pop-muziek, Dutch edition of Das Buch der neuen Pop-Musik by Rolf-Ulrich Kaiser (1970).

16 November. Two issues of Greece underground publication Tyflomyga, from November 2011 and July 2012.

15 November. Tuesday, October 29, 2013, London, Royal Festival Hall – Frank Zappa: 200 Motels – concert programme.

14 November. Italian quarterly of "other music", Musiche, Autumn 1994, with article on Ensemble Modern (including The Yellow Shark project).

7 November. Esculpiendo Milagros, October 1993. This Argentinian monthly contains in a series of "Essential discography" a review on Hot Rats.

6 November. German Musikexpress/Sounds, November 1984, containing an exclusive 4-page interview.

5 November. Another magazine from Baltic states. Kitarr (Guitar) is a quarterly from Estonia, containing nice ad on ZPZ, who is first time ever visiting Estonia.

25 October. Guitar World, August 1998, review of the FZ Ryko catalog.

24 October. German underground magazine Song, #8 1968. Contains interview with Zappa and articles on counterculture, underground, hippies, Fugs, interview with Tuli Kupferberg etc. etc. One of the most interesting German sources from these years.

22 October. Billboard, September 1970. Small announcement that Zappa is suing Playboy and Esquire. The Dexter Funky Shoes ad containing "unauthorized likeness of the Mothers of Invention leader" is also presented.

21 October. Premier Guitar, November 2013 issue has article on Son of Kong – a device created by Zappa's UMRK technician Arthur "Midget" Sloatman.

10 October. Bilingual Canadian La Scena Musicale, October 2013, with Zappa cover story.

5 October. German Fachblatt Musik Magazin, May 1978. What is very special here – reader's letter answered by Frank Zappa himself!

4 October. Funny "special Christmas issue for cultural collectors" from Sweden – Jukebox, December 1983.