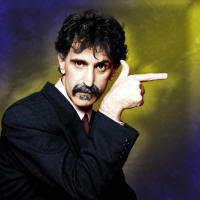 The purpose of this site is to provide a little help to those that are looking for written material about Frank Zappa.
afka (at) afka.net
Zappa Books
New Entries.
22 November. Russian edition of Classic Rock, July-August 2015. Contains review of Dance Me This.

21 November. The last Stony Brook concert review – Statesman, November 7, 1984.

20 November. The continuing story of Stony Brook concerts – Statesman, October 29, 1980.

9 November. We continue the Stony Brook saga to see how concert reviews in one university changed over the years. Statesman, October 18, 1978.

6 November. Bernd Kretzschmar, the creator of Frank's Chronicles, sent a nice comment.

6 November. Rhythm Presents 100 Drum Heroes. Rhythm, the UK's biggest selling drum magazine, presents 100 Drum Heroes featuring the greatest drummers of all time interviewed and profiled. Includes interviews with Vinnie Colaiuta, Terry Bozzio and Aynsley Dunbar. All 3 are great reads!

5 November. Zappa was in Stony Brook in December 1, 1973. Two issues of Stony Brook Statesman with preview and review articles – November 30 and December 3.

4 November. Two next Statesman issues more, October 19 and 22, 1971.

3 November. Stony Brook Statesman, October 15, 1971. Concert preview article "Zappa: In it for the Money".

2 November. Underground paper from Milwaukee Kaleidoscope, October 1971. Contains concert review and interview: "Zappa: Vieved / Interviewed".

31 October. The Music Of Frank Zappa 1966-1976. A guide to the albums released by Frank Zappa between 1966 and 1976, both solo and with the Mothers of Invention. Features pictures, album reviews from Freak Out to Zoot Allures and interviews with those who worked with him, including Pauline Butcher, Tony Palmer, Randy Brecker, Chester Thompson, Bruce Hampton, Carol Kaye and Dr Demento. Published in August 2015.

27 October. Czech bi-weekly Epocha, September 26, 2015, contained nice 2-page overview titled "Frank Zappa: Guru of the modern music".

26 October. Japanese Rockin'f, April 1977, has one page devoted to FZ.

25 October. Greek monthly magazine Monterno Tragoudi (Modern Song) featured Frank Zappa on the cover in October 1972. This magazine included "phonetic Greek" versions of the French and English language songs. Unfortunately there was no FZ content inside.

20 October. Frankie & Bobby, book by Bob Zappa. Published in the end of September 2015. Bob Zappa: "If you thought you knew Frank from other sources, you will find that this book provides a new dimension to his unique personality. I hope you enjoy reading it."

19 October. Chicago Tribune, May 7, 1970. Contains rare concert review of the so called "MOI reunion tour", where the band was Frank Zappa, Ray Collins, Jeff Simmons, Aynsley Dunbar, Billy Mundi, Ian Underwood, Don Preston and Motorhead Sherwood.

16 October. Short-living Greek music monthly 18, May 1978.

15 October. The Canberra Times, July 14, 1978, a review of Zappa In New York from down under.

14 October. Triangle Productions Concert Program. Covering 1970-1971 season in Auditorium Theatre, Chicago.

13 October. French Jazz Magazine regularly publishes 20+ pages Frank Zappa Dossiers. Past releases were December 2003, June 2008 and December 2012. Current October 2015 issue contains already 4th FZ dossier titled "Frank Zappa refuses to die". Great issue. All my friends have already bought this magazine.

12 October. Datebook, December 1990. "Maverick Zappa Takes on the World".

11 October. Polish Glissando, December 2007, printed voluminous essay by James Borders – "Form and the Concept Album: Aspects of Modernism in Frank Zappa's Early Releases".

2 October. Premier Guitar, October 2015. Seven-page article "Forgotten Heroes: Denny Walley".

28 September. Did you knew that in 1988 FZ was interested in forming a kind of world music band? Guitar & Bass, October 2015.

27 September. Uncut, November 2015. "This autumn sees the opening of two major Van Vliet exhibitions by the Michael Werner Gallery – only the second and third since his death in December 2010. Body Shop is at the Michael Werner Gallery in London, September 30 to December 5; Don Van Vliet: Beatle Bones N' Smokin Stones is at Michael Werner Kunsthande in Cologne, September 5 until October 24."

25 September. Glissando, March 2005. Glissando is "new music magazine from Poland - with Eastern Europe profile - and no genre limits". Contains interesting "Dialogue of atonality, polyrhythm and poodles".

24 September. Playboy, Polish edition, November 1993.

24 September. Billboard, March 22, 1986. Contains two PMRC/RIAA/Senate Hearing related articles. Full text available.

23 September. Portuguese weekly Blitz from January 1987 contained nice centerfold poster.

21 September. Andrzej Rogowski: "This is probably the best article on Zappa written in Polish." Rock'n'Roll, December 1990.

20 September. Jazz Rytm i Piosenka, March 1972. Contains article about new protest songs, with some Zappa references.

18 September. French edition of Rolling Stone, October 2015, has a two-page article about new Frank Zappa documentary by Alex Winter.

17 September. Jazz Rytm i Piosenka, June 1977 issue contains Zoot Allures review titled "Frank Zappa - niezmordowany" (Tireless Frank Zappa).

16 September. Polish Jazz Rytm i Piosenka, November 1971. Half-a-page article on FZ.

15 September. Polish Jazz Forum #29, published in September 1974, contains an exclusive interview "Frank Zappa: just another kind of music". Read it with Google translate, indeed an interesting interview.

14 September. Jazz Rytm i Piosenka, October 1973. Pop and rock oriented supplement of Polish monthly magazine Jazz.

13 September. Current September 2015 issue of British Guitar & Bass includes two short and nice opinions on FZ albums by Darran Charles.

12 September. Very interesting Polish artistic and literary quarterly Rita Baum, 2001 Summer, contains article about dada. One chapter is devoted to FZ.

11 September. Third issue of Jazz, May 1978. Included is 3-page article on Jean Luc Ponty.

10 September. Polish classical music bi-weekly Ruch Muzyczny, August 2000. Contains cover story about Holland Festival 2000.

7 September. Previous issue of Polish Jazz, July 1978. Here you can find an article about Frank Zappa - "Frank Zappa Kontestator".

6 September. Polish monthly Jazz, August 1978. Contains a 2-page article on Captain Beefheart, with Zappa references as usual. Watch out, there is more to come from Poland.

4 September. Classic Rock, Summer (June) 2015. Article titled "American Graffity". "Throughout the 1970s, Frank Zappa hated the hippies as much as he did the establishment, loved jazz as much as rock and played dumb with incredible technical prowess, making his music thrillingly unique. "


27 August. Japanese monthly Music Magazine, March 1987. Contains an interview with FZ by Hanafusa Koichi made in FZ's house in November 23, 1986. Article is posted with excellent comments by TAN Mitsugu.

24 August. Dutch monthly Muziek Parade from January 1968. Contains four pages on Zappa and the Mothers Of Inventions with nice pictures.

23 August. Verona Contemporanea Festival 2009, program and handbill.

14 August. Czech underground quarterly Voknoviny, Summer 2015. Contains cover story about Frank Zappa's impact on Czech group The Plastic People Of The Universe.

13 August. Dance performance "Fountain of love. Frank Zappa tribute" by Balletto di Toscana within Festival Fabbrica Europa 1999.

23 July. I hope you have not forgotten. This magazine you are obligated to buy. I hope it is still on sale. Prog #57, July 2015 issue. FZ cover story: Zappa and Beefheart, his greatest prog tunes and the final album (Dance Me This, of course).



22 July. Italian New Rock Magazine, May 1990, with 6-page cover story and The Real Frank Zappa Book review.

20 July. Second part of Zappa special, Axe, April 2001.

15 July. Italian monthly for guitarists, Axe, March 2001. First part of Zappa special, 20 pages, containing articles, album reviews and interviews with Adrian Belew, Mike Keneally and Dweezil Zappa.

12 July. Tamburo Sotterraneo (Underground Drum) is a compilation of works for counterculture magazines and fanzines by Stefano Tamburini.

10 July. More from Finland. Musa, May 1975. Contains two relevant articles. One on Captain Beefheart; and 2nd on Don Sugar Cane Harris.

9 July. Soundi, March 1976. Three articles on Zappa visiting Finland. The overall impressions are quite negative. The concert in February 26 was a flop and press conference was a farce.

8 July. Suosikki, November 1974 issue with 3rd and last part of 3-part article on FZ.

7 July. Suosikki, October 1974. Second of a 3-part article about FZ and interview with Captain Beefheart.

6 July. Italian edition of Classic Rock, July 2015. Very nice Zappa special, contains much more than in regular UK issue, 16 pages in total. Hurry up, maybe you can find it in bay auctions.

5 July. Finnish Suosikki, September 1974. First of a 3-part article about FZ.

4 July. Soundi, February 1981, from Finland. Issue includes 5-page Dali De Clair interview with Captain Beefheart.

2 July. WUM, 1993 #4 with Zappa obituary.

1 July. Finnish quarterly music paper WUM or Wanha & Uusi Musa (old and new music), 1992 #1. Contains sizable review of Läther, Zappa In New York, Studio Tan, Sleep Dirt, and Orchestral Favourites.

30 June. One more Dolly, October 1984.

28 June. Italian teenage girl magazine Dolly, May 1983.

15 June. Rat Subterranean News, March 1968. BTW. 'It seems probable that Frank Zappa was inspired by a sign painted on the front window of Rat‍ '​s 14th Street office, originally the previous tenant's advertisement reading "photostats made while you wait," now neatly altered to proclaim "Hot Rats made while you wait," in early March 1969; Zappa's first solo album appeared in October with that title in similar typography.'

9 June. The Great Speckled Bird from Atlanta, Georgia, March 1973. In this newspaper you can find an article about the Mothers' show in Atlanta Municipal Auditorium, February 26, with Dr. Hook as a warm-up act.

31 May. Weekly Go Magazine, January 1968, containing short article "New Mothers' LP Sleeve The Wildest Yet".

22 May. Rytmi, April 2003. Contains article about Zappa and jazz, FZ-related comics and review of a record, where Finnish band UMO is playing Zappa's music.

20 May. Finnish weekly Apu, April 2009.

18 May. Finnish Rytmi, December 1996. In this magazine we found 10th !! part of series "Zappa's estate". In the issue is a 4-page article about singers in Zappa's bands.

16 May. Another Musa, January 1977. Included are two-page interview with FZ and Sleep Dirt review.

16 May. Finnish Musa, November 1975. Contains interview with Captain Beefheart made in Helsinki, where CB is very friendly to FZ after the Bongo Fury tour.

14 May. Finnish Soundi, August 1991. Five-page article "Zappa For President!" and again thorough reviews of three Zappa albums.

13 May. Missing page scans added to Jazz & Pop September and October 1967 issues. Containing Frank Kofsky interviewing Frank Zappa. One of the best readings you can find in this site.

13 May. Finnish Soundi, April 1979. Long and thorough two page review on Sleep Dirt and Sheik Yerbouti by Mikael Wiik..

10 May. Two booklets by Marco Zoffoli from 1996 festival and exhibition "FRANK ZAPPA - 30 years of contemporary music".

4 May. German Musik Express, March 1977. Two articles, "Zappa On The Road" and "LSD and CIA".

2 May. Two issues of German weekly Rocky.
- August 1978. Short article on Frank Zappa by well-known writer of music books Siegfried Schmidt-Joos.
- July 1979. Rocky visiting Zappa's home. Good pictures!

30 April. Japanese music monthly Rockin' On, March 1979.

30 April. One Music Life issue more - September 1970. Contains article with many pictures of Bath Music Festival.

29 April. Two issues of Japanese monthly Music Life. December 1969 issue lets us know that The Mothers are disbanded. August 1970 issue contains nice photos, review of UK press conference and interview with Frank Zappa.


22 April. Joe's Literage is privately in Germany published book in two volumes, containing articles on and interviews with Frank Zappa. First volume is covering years 1962-1979, second volume years 1980-1993. In total about 1150 pages in nice hardcover binding. Limited print in only 50 copies.


19 April. Musica Viva program booklet. Ensemble Modern performed Greggery Peccary & Other Persuasions in Muffathalle, Munich in June 6, 2000.

15 April. Pelo, July 1976. Very influential Argentinean magazine with article on Bongo Fury tour and album.

14 April. Argentinean cultural weekly Ñ, December 18, 2004. Translated and reprinted article on Frank Zappa originally published in The New York Times.

13 April. Algún Día from Argentina. November issue, 1974. Included is a three-page article "Travesias de un musico insolito", which contains excerpts from interviews with Frank Zappa and descriptions of the Rome & Udine concerts in September 1974.

11 April. Monthly paper Music Report from Buenos Aires, March 1966. With The Lost Episodes review.

10 April. Argentinean annual magazine Bongo, #3, June 1995, issued in city La Plata. Contains 2nd part of Frank Zappa Dossier.

6 April. Two issues of British rock weekly Kerrang! from October, 1984. #78 contains an interview with Frank Zappa, #79 Hammersmith Odeon concert review.

5 April. Zappa's Universe - Official Souvenir Program. 1991. Envelope full of stuff by Cal Schenkel.

4 April. Mexican Clan, August 1972.

3 April. German Der Metzger, February 1975. Contains detailed report of Zappa & The Mothers Germany tour by Walter Hartmann. Very, very interesting read - "Win A M.O.I. Dream Date". In German, but Google translate helps. Included is a letter from Urban Gwerder to Dick Barber.

31 March. German magazine for professional photographers Photo Technik International, May/June 2003.

30 March. French monthly Extra, February 1972. Contains nice poster. In the Top 30 list on position 15 is 200 Motels album.

28 March. French comics magazine Pilote, May 1976. Two pages of comics with Frank Zappa.

27 March. Quarterly magazine Gray Areas, Fall 1992, with excerpt from interview "They're Doing the Interview of the Century", first published in Society Pages, June 1990.

24 March. British lifestyle magazine Flux, October 2010, with article about "Frank Zappa at the Roundhouse" event.

22 March. Finnish monthly Musa, October 1973. Includes 3rd part of four-part series of articles about Zappa.

21 March. Two issues of Danish weekly Børge, 1967. September 14 issue contains exclusive interview with Frank Zappa made before the Denmark visit ("Youth is power"). October 19 issue has exclusive interview with Frank, Ray Collins, Billy Mundi and Roy Estrada, made during their Denmark visit ("It's all cold business").

20 March. Short-living music monthly Rock City from Denmark, February 1977 issue. Nice cover and 2-page Zappa story. Plus an article on Eddie Jobson, a new member of Zappa's band.

16 March. We're Only In It For The Money Japan booklet.

15 March. ZigZag #25, 1972. Contains an interview with Mark Volman and Howard Kaylan. Plus, as you can often find in ZigZag, a rock family tree which this time is about "just a few more bands from L.A.".

14 March. Music, Mind and the Serious Zappa: The Passions of a Virtual Listener is a doctoral dissertation by Ulrik Volgsten, published in 1999 and again in 2009.

13 March. Danish weekly Børge. Two issues from October and November 1967 with great pictures and review on Falkoner Centret concerts in October 1. Early concert was a real disappointment and late concert absolutely excellent.

12 March. The very last issue of the Danish underground paper Superlove – March 1970.

11 March. British popular music magazine Shindig!, September 2014. This is a LA Special issue, containing 10-page article "Maternal Flame" about Frank Zappa and the Mothers.

10 March. Two issues of MM Japan, or Melody Maker Japan, from 1975. Both containing the same article on Frank Zappa.

9 March. TeenSet, November 1966. 3-page article "Hollywood Group Scene". Bands reviewed in this article are The Mothers, The Association, Buffalo Springfield, Everpresent Fullness and Love.

8 March. TeenSet, January 1967. Contains a four-page "fan" questionnaire "Fifty-Four Fab, Boss Questions", a quite peculiar article. Inside the issue you can also find a contest to win a personal telephone call from Frank.



7 March. The Music Of Captain Beefheart is a 90 page book by Chris Wade, published in February 11, 2015. As you may guess this book contains several references to Zappa.

6 March. Another Guitar Magazine from Japan, March 1994. Nice 14-page Zappa special.

2 March. Japanese Guitar Magazine, October 1993. "Can't Afford No Shoes", transcribed by Maruyama Masamichi.

27 February. British Nuggets, April/May 1977. Includes "an exclusive transcript of an American radio programme in which Francis Vincent Zappa discourses about the CIA, youth, drugs and his idea of a woman". Page thoroughly updated.

26 February. Finnish monthly Musa, November 1973. Includes the fourth and final part of articles about Frank Zappa. The missing 3rd part is also coming soon.

25 February. German rock magazine Eclipsed, September 2014. Contained interview with famous photographer Baron Wolman.

24 February. One of my all time favorite magazine covers – Rockin'f July 1980. The page is totally updated.

24 February. Two Frank Zappa interviews printed in Japan, tentatively placed some years ago to Scrapbook section, found their proper place. The Music Life issues March 1976 and June 1982.

23 February. Japanese guitarists magazine Player, December 1990. Includes 13-page Zappa special. Player was founded in 1968. Still alive and living well. Another great 23-page Zappa special was published in January 1995.

22 February. "The 100 Greatest Prog Albums" was the cover story of Prog magazine #48, August 2014. Hot Rats was #74.

22 February. Something important. Circus magazine #141, issued in October 12, 1976, had an interview with Frank Zappa ("Zappa's Zoot Allures!: DiscReet Charm From Un-Bourgeois Z"), where Frank is presenting Zoot Allures test pressing as a double-LP. Detailed descriptions of songs are included.

19 December. Japanese Keyboard magazine, December 1994. Includes 8-page article on Zappa's keyboard players, translated from US Keyboard magazine.

18 December. Another Pop, February 1971, with a full page FZ photo.

17 December. Swiss monthly magazine Pop, December 1970, had a full page MOI photo and German concert dates.

16 February. Probably the most important book on Frank Zappa published in 2014 – Zappa I Norge. This big book in LP format contains over 300 previously unpublished photos of Frank Zappa's nine concerts in Norway. Two editions, printed in November and December 2014.

15 February. Portuguese weekly Se7e, January 1992. Two-page article "Frank Zappa: Mr. President"

14 February. Frank Zappa. Rock come prassi compositiva (Rock as compositional practice) is a new book written by musicologist Giordano Montecchi. This book is in Italian and was published in November 2014.


7 February. Good old Crawdaddy, May 1971, containing two articles, one by Miles ("Alchemy, Hagiography & Hieroglyphics vs. The Teenage American Archetypal Theme") and another one by Duck Lupoff ("Mothers Day With The Mothers").

2 February. German zine Rockmusik, July 1979, containing review of two Zappa concerts and long article about (very much Zappa influenced) Czechoslovakian underground.

1 February. Swiss Good News, June 1980, containing article in German and French introducing Frank Zappa before two 1980 gigs in Switzerland – June 21, Patinoire des Vernets, Geneva and June 22, Hallenstadion, Zurich.

24 January. Filling the gaps. "Frank And Moon Zappa Go Am" – article on Frank and Moon based on interview with them. Printed in Creem, November 1982.

22 January. Escapade was a high circulation competitor of Playboy that featured major authors like Nelson Algren and Ray Bradbury. November 1967 issue has two articles of interest. "Pop Music: Two Edges Of The Outer Limits" is about the Beatles and MOI. "The Mothers Of Invention" includes three pages of nice pictures of the Mothers at The Garrick Theater.

21 January. "What I Am, See, Is I'm an Appliance – an Ugly Reminder" – article published in Datebook, June 1968.

19 January. Filling the gaps. Very enjoyable reading by F.P. Tullius – "Zubin And The Mothers". Printed in Playboy, April 1971.

18 January. Another interview from the Digger, June 1973, – "Here, anybody want to do it with this giraffe?"

17 January. "Zappa Talks Movies" – an interview, made in London late 1972 and published in Australian Digger, June 1973.

13 January. French Rock & Folk, February 1971, containing two articles on Zappa.

3 January. In Uncut, April 2010, John Cale presented next to his favorite albums also "The Record That Made Me Hate Frank Zappa".



2 January. Turkish 1992 book Rock Dünyasında Kenardaki Milyonerler (Millionaires In The Rock World), containing a chapter on Frank Zappa. First Zappa-related book in Turkish on this site.

2015

25 December. Article "Censorship And Zappa", based on an interview, printed in The Note, March 1989.

23 December. Music Maker, monthly color supplement of popular Melody Maker, printed in October 1967 one of the first interviews with Frank Zappa in British magazines.

22 December. One of the earliest articles on the MOI in British press – "The 'Unbelievably Awful' Mothers of Invention". Good reading, printed in Beat Instrumental, December 1966.

19 December. Capitol weekly magazine from April, 1984, with a cover story about Frank Zappa. He was coming to Columbus to have his famous speech at the annual conference of university composers.

11 December. Uncut, December 2014. Article on Captain Beefheart album reissues including interview with Art Tripp.

10 December. 200 Motels Press Kit. Great artifact. Including seven pages of information, four pages questions and answers and seven pages script. Part of this kit was also published in Circular magazine.

9 December. Guitar Player, December 2014. Contains article "Shut Up & Look at this Guitar" plus reprint of "Putting Some Garlic In Your Playing".

5 December. The Yellow Shark Press Kit.

2 December. Danish weekly youth magazine Børge, September 1967. One page announcing new LP Absolutely Free.

1 December. Israeli cinema weekly Olam Hakolnoa (עולם הקולנוע) from September 1975.

30 November. In October 2014 the long awaited Spanish translation of The Real Frank Zappa Book was published. La verdadera historia de Frank Zappa is very nicely designed hardcover book. Spanish translation by Manuel de la Fuente & Vicente Forés.

28 November. Dutch record collectors' magazine Platenblad, May 1995. Nice cover featuring We Are In It For The Money. Unfortunately not much Zappa content inside. Only a two page article about Beatle covers where FZ and WOIIFTM are mentioned.

28 November. German recent Gitarre & Bass, November 2014, contains a lot of information on Frank Zappa. Five-page overview article "Bandleader, Guitarrist, Legende" and three-page article and transcription of song "Dirty Love."

26 November. Happening Orange County, April 1983. Part II of the three part interview.

23 November. Turkish weekly Rock Kazani, October 1994. One page devoted to FZ.



21 November. Another Foxtrot, November 1976, containing interview "One Too Many Motels With Frank Zappa" and Zoot Allures review.

20 November. Foxtrot, free music paper from Buffalo State College, September 1976. Long article about rock humor, including chapters on The Fugs, Mothers Of Invention, Flo & Eddie, etc.

15 November. Another 1976 concert review – October 14, Tampa, Florida. This review is interesting because there is no recording known of this event. Music Media, December 1976.

3 November. Swedish only once in a year (!) published magazine Popen idag, 1976/1977.

2 November. Spanish daily newspaper La Razón, October 26, 2014, on recently published Spanish translation of The Real Frank Zappa Book.

1 November. Japanese edition of Esquire, March 1993. Six-page article about The Yellow Shark concerts.

27 September. Japanese music quarterly Marquee Moon published a 12-page article on Zappa and MOI in issues ## 9 and 10 in 1982.

26 September. Very cool Danish underground paper Love from August 1967, containing interview and some interesting ads.

24 October. Japanese subculture magazine Takarajima, June 1979, 6-page article on Zappa.

21 October. Spanish weekly supplement La Cartelera announced in October 10, that hopefully next Monday Spanish edition of The Real Frank Zappa Book will be on sale.

19 October. Japanese monthly Music Magazine, January 1994. Zappa obituary.

11 October. The Guitar Player Book (1983), contains 9-page article and interview with Frank Zappa.

10 October. We Are The Other People – 25 anniversary book of the Zappanale festival.

8 October. Over a long period of time, we updated the German fanzine Arf Dossier page, adding issues from last years. One question - issues ##64, 66 and 68 are still missing. If you have to sell them, please contact afka (at) afka.net

8 October. Scott Parker has written another book on Frank Zappa (7th in a row, if I'm right!) called A Freak Out In The Making. This book is available since August 2014 and in two formats, paperback or Kindle e-book.

5 October. Spanish edition of Argentinian progressive rock magazine Mellotron, September 2010. Contains 8-page article on FZ.

4 October. Finnish Suosikki, September 1973. Includes nice article about Zappa, "one of the most important cultural geniuses of the XX century next to Salvador Dali, Pablo Picasso and Gustav Mahler".

26 September. Norwegian music paper Puls, June 1994. Very nice Zappa special issue containing a list of articles.

25 September. American magazine for men Cavalier, October 1967. Five-page picture story "Claudia [Cardinale] On The California Pop Circuit". These pictures were first printed in July 1967 in Italian magazine Epoca. Unfortunately Cavalier published only a small selection of these nice pictures.

24 September. Cavalier, December 1966. Two-page Freak Out picture story. "It was Freak Out, Son of GUAMBO (the Great Underground Artists' Masked Ball and Orgy) and of necessety the Mothers of Invention were on hand with their big band electronic sound, and The Factory, and others."

23 September. Some examples of Frank Zappa's music scores distributed by Munchkin Music. Includes arrangements for wind quintet, scores for piano, drum set etc.

22 September. Concert program - October 26, 1980, Stony Brook, NY.


21 September. Arf! is a collection of essays published in Italy in December 2003 to mark the 10th anniversary of Frank Zappa's death. This book is some kind of precursor of Academy Zappa, which was compiled by Ben Watson and printed in 2005.

20 September. The Big Note, compiled, designed and written by Michael Brenna, was back in the 80s one of the main Zappa sources and was referenced many times in other Zappa-related publications. This book was issued by Norwegian Frank Zappa Society in 1985.

8 September. Californian free bimonthly paper "for the active musician" – M.I., November/December 1979. Contains very interesting Frank Zappa interview "Pop Music's Central Scrutinizer" written by Dan Forte. The list of good interviews seems to be never ending.