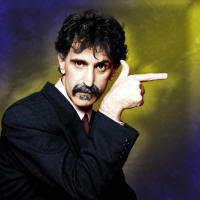 The purpose of this site is to provide a little help to those that are looking for written material about Frank Zappa.
afka (at) afka.net
Zappa Books
New Entries.
24 April. Rare professional article about Frank Zappa's stage equipment – "Frank Zappa Live". Appeared in Studio Sound, September 1978.

23 April. German Eclipsed, March 2017 and February 2018, containing reviews of reissued FZ albums.

22 April. The Times Literary Supplement (TLS), November 17, 2017, with article on Frank and Dweezil Zappa "Complicity in the vaudeville".

21 April. Frank Zappa visited Soviet Union several times (five ?) in 1989. This article is about the first visit in February 1989 – "Frank Zappa in Moscow?!", published in Siberian rock paper NSK.

19 Two issues of Yugoslavian Politikin Zabavnik from 1973 and 1974.

19 April. Russian New Hot Rock, January 1995, containing chapters 1-7 of The Real Frank Zappa Book.

16 April. "Right Or Wrong", interview with Frank Zappa. Published in Happening magazine, March to May, 1983.

15 April. Two erotic magazines from former Yugoslavia. Čik #3 and #41 from 1972, containing articles on Rainbow theatre incident and new band Hot Rats.

14 April. American skating magazine Steez, May 2014, containing interview with Dweezil Zappa.

13 April. Two issues of French Rock & Folk.
- February 2017, with a review of several FZ album reissues
- April 2018, containing review of the 3-disc compilation album L'Avant-Garde 1888-1970, which contains music of Stravinsky, Varèse, Boulez, Sun Ra, Moondog, Yoko Ono etc. Included also is a song by Frank Zappa "Dear Jeepers".

10 April. Italian Classic Rock, August and September, 2016, containing several FZ album reviews.

9 April. Australian Roadrunner, a rock magazine published in Adelaide between 1978-83. All issues are archived and available online. Here we featured seven of them, containing reviews on Frank Zappa or Captain Beefheart.

7 April. Two issues of Rock Scene, photo magazine from New York.
- May 1973, containing article on Captain Beefheart
- May 1979, with a picture of FZ reading Naked Lunch at Nova Convetion.

6 April. Italian Classic Rock, May and June, 2016. Issues contain articles on Riccardo Bertoncelli, author of several books on Frank Zappa.

3 April. Interviews with Scott Thunes are always excellent read on music. One of them, "No More Heroes", published in British Guitarist, December 1989, is unnecessarily forgotten.

3 April. Italian Classic Rock, March 2016.

1 April. "Frank Zappa Interview", published in February 1990 in Overseas!, lifestyle magazine for U.S. military community stationed throughout Europe.

1 April. Four Russian Classic Rock issues added:
- October 2002
- January 2011
- December 2011
- November 2013

31 March. One of the first Russian rock magazines was Fuzz, founded in 1991 and ceased in 2009.
- #11, 2003 contains chapter 7 from The Real Frank Zappa Book
- #12, 2005 has FZ as a man of the month
- #10, 2008 contains article on PMRC.

30 March. This month's Czech magazine Rock & All where FZ is featured on the cover with the text "Zappa is alive". Zappa special part includes some really interesting articles.

25 March. Italian Classic Rock, April 2016. Contains reviews of Zoot Allures and The Lost Broadcast.

25 March. Melody Maker, October 7, 1967. "Out of sheer curiosity I decided to go to the Mothers Of Invention concert at the Albert Hall, fully expecting an evening of meaningless noise. I could not have been more wrong. The Mothers produced the most original music that I have heard from a pop group."

21 March. Last of the famous UK music weeklies, New Musical Express, ceased this month with final a printed issue in March 9, 2018. One old issue added, September 1, 1973, which contained full-page Over-Nite Sensation ad.

20 March. Los Angeles Free Press, May 1, 1970. Issue contains Zubin Mehta and Frank Zappa concert ad.

18 March. We added 10 (!) different issues of Czechoslovakian Jazz magazine, dated from 1974 - 1979. Magazines containing articles on Frank Zappa, Captain Beefheart, Mothers Of Invention, Ian Underwood etc.

17 March. The Dig was a very cool Japanese quarterly. Two Frank Zappa Specials scanned and presented, 54 pages in total:
- #2, August/September 1995
- #26, Autumn 2001.

16 March. JazzTimes, May 2017, with article on Ed Palermo.

13 March. Czech monthly magazine Xantypa, December 2008, with a 5-page article "15 Years Without Frank Zappa".

13 March. Czechoslovakian Jazz, December 1978. Contains interview with FZ translated from Down Beat.

11 March. Pop, December 1973. Issue contains 3 articles on Zappa's Europe tour, including "Mit Schneewittchen und den 7 Zwergen auf Yurrip-Expedition" (With Snow White and the 7 Dwarfs on Yurrip Expedition) by Urban Gwerder. Full text and translations available.

11 March. Pop, February 1972. "Zappa und das Feuer von Montreux" - great article on fire accident in Montreux Casino by eyewitness journalist Elias. Full text and translations available.

10 March. We continue posting issues of the vintage cool Swiss magazine Pop.
- December 1969 issue contains 2-page article with latest news about FZ and the Mothers.
- September 1970 issue has a 4-page article with many pictures on Bath festival and a full-page Frank Zappa poster.

10 March. American JazzTimes. Two issues contating Ed Palermo Big Band's CD reviews:
- May 2016 One Child Left Behind
- March 2018 The Adventures Of Zodd Zundgren

9 March. Frank Zappa's Musical Language by Kasper Sloots is a comprehensive study of the music of Frank Zappa containing many note examples and transcriptions. Last, 4th edition, is available as a PDF file at Kasper's site www.zappa-analysis.com.

8 March.
- Russian Classic Rock, #109, October 2012. Review of We're Only In IT For The Money.
- Russian Classic Rock, #119, October 2013. Review of 200 Motels.

7 March. Mojo, January 2018. Hello Goodbye feature article about Gary Lucas' time with Captain Beefheart.

7 March. Two issues of the British avant garde music monthly Wire:
- May 2013. Review of Finer Moments.
- September 2015. Review of Dance Me This.

6 March. Two issues of the legendary Soviet and later Russian underground paper NSK. This monthly newspaper was published in Novosibirsk, Siberia. Today we added issues #5, February 1991, and #36, December 1994.

4 March. Australian student newspaper Woroni, August 2, 1973. Nice overview article on Frank Zappa and the Mothers.

3 March. Bizarre Pages updated.

3 March. Mojo, March 2018. Contains several FZ references.

2 March. Rock History is a Czech bimonthly. January 2018 issue is devoted to year 1967. Included is article on Captain Beefheart.

2 March. Longest-running Zappa fanzine, Arf Dossier from Germany. Issued quarterly, in March, June, September, December. Issue #95 just arrived.

28 February. Greek music monthly Mousiki, May 1981.

28 February. Two issues of the Swiss magazine Pop from 1968:
- November issue containing two important articles:
1) interview with Frank Zappa made by Rolf-Ulrich Kaiser in Zappa's home and
2) overview article on international festival in Essen (IEST 1968), first big festival in Germany with the Mothers Of Invention and The Fugs as headliners.
- December issue with FZ on the back cover.

26 February. Greek Mousiki, February 1980, with review and lyrics of Joe's Garage trilogy.

25 February. Zappa and "Hot Rats Orchestra" in Berlin, September 15, 1972. Concert review from Swiss Pop, November 23, 1972.

25 February. Italian ebook by Massimo Del Papa, Zappa en Regalia: Vita complicata di un Genio. Massimo Del Papa: "The title of the book is Zappa en regalia - tormented life of a genius: I wanted to say just that."

25 February. Very rare Greek underground magazine Mousiko Auti, November 1978.

24 February. Greek Mousiki, November 1978, with an 8-page article on FZ.

24 February. Greek avalanche is continuing - two issues of Hxos & Hi-Fi, November and December 1975, containing Zappa overview article.

24 February. Greek Pop & Rok, May 1980, containing translated Rolling Stone's review of Joe's Garage.

23 February. Frank Zappa and his songs (Frank Zappa και τα τραγούδια του), printed in 1980 book containing Greek translations of songs from We're Only In It For The Money to Joe's Garage Acts II & III.

23 February. Greek monthly Mousiki, October 1982, containing review of Ship Arriving Too Late to Save a Drowning Witch.

22 February, The Wire, April 2012, including two reviews:
- Captain Beefheart And The Magic Band Bat Chain Puller
- From Straight To Bizarre: Zappa, Beefheart, Alice Cooper And LA's Lunatic Fringe (DVD)

21 February. Singing My Life - Book about legendary throat singer Kongar-ool Ondar. Contains chapter on four meetings/recording sessions with Frank Zappa.

20 February. "Those Mothers Can Really Play" from San Franciso Chronicle, December 2, 1968.

19 February. German movie and entertainment magazine Hollywood, double issue July/August 1988. Contains two original interviews:
- with the Father, FZ, "Zappa per Zufall"
- with the Son, Dweezil, "Nicht nur Vaters Sohn"

18 February. Interview with FZ "Zappa – Mother Of 20", from Disc, September 2, 1972.

18 February. Page scans added to Compute!, Juanuary 1986. Contains interview with FZ: "The Computerized Musician".

18 February. Dutch comic weekly Pep, December 23, 1967. Containing short article on The Mothers Of Invention.

17 February. German Popfoto, July 1970, with full page picture of FZ playing drums.

17 Febryary. La mia vita con Frank Zappa, Italian translation of Freak Out! by Pauline Butcher.

17 February. Belgian women's weekly magazne Bonne Soirée, July 1970. Short article on two films about Amougies festival with pictures of FZ + Pink Floyd and Captain Beefheart.

16 February. Sunday supplement of El Correo Catalán, June 13, 1971, with article on Ringo Starr and 200 Motels..

16 February. Over a while an article on Captain Beefheart. Sounds, August 6, 1977,, review of then not issued Bat Chain Bullet, based on Virgin demo tape.

15 February. Finnish Intro, April 1976. Two pages are on Zappa. When all the previous Zappa concerts in Helsinki were very successful, then this time both, Zappa and the audience were disappointed.

15 February. Finnish magazine for record collectors, Rare, #20, 1996.

15 February. German underground paper ELDA, 1972.

14 February. Concert program 2017-05-28 20th Century Mavericks: Zappa and Varèse – Jay Pritzker Pavilion, Millenium Park, Chicago.

14 February. The Daily Indie is a Dutch free alternative music zine. Issue #24, September 2016 contains a 3-page article on FZ.

13 February. Two issues of Cash Box:
- October 3, 1981, containing short notice "Album Breakout Of The Week - You Are What You Is"
- December 18, 1993, Remembering Zappa.

13 February. Two issues of Audio magazine containing album reviews:
- July 1987, Jazz From Hell, Shut Up'n Play Yer Guitar
- March 1990, You Can't Do That On Stage Anymore, Vol. 3

13 February. Page scans added to Synapse issues May/June 1978 and January/February 1979.

12 February. Hullabaloo, September 1967. One page about the Mothers Of Invention plus some ads.

12 February. Review of We're Only In It For The Money – "Zappa masterminds a Mothers' masterpiece", from Melody Maker, June 15, 1968..

11 February. Very interesting find – short-lived Mexicanized version of the Rolling Stone - Piedra Rodante. In total only 8 issues in 1971-72. We found Zappa-related articles in 4 of them: on groupies, John and Yoko with Frank in New York, Zappa in London etc. After a naked girl was featured on the cover the magazine was forced to close.

11 February. Page scans added to British Let It Rock, June 1975. Issue contains 3 articles on FZ.

11 February. Grand Wazoo concert review (Berlin, September 15, 1972) – "Frank Zappa and Hot Rats Orchestra in der Deutschlandhalle". From German music monthly Sounds, November 1972.

10 February. Another Petit Wazoo concert review – "Frank Zappa and the Mothers of Invention", The Citizen-Advertiser, November 3, 1972.

10 February. Grand and Petit Wazoo concerts review – "Music like mothers used to make". Taken from the student magazine Argus, November 1972.

9 February. American Audio, November 1967. Nice Absolutely Free review – "Jazz, Blues And The Mothers""

9 February. Portuguese Blitz, January 1985, with a striking cover.

8 February. Student paper MSU Reporter, August 1984, with concert review "'Mothers to modern' – Zappa concert revives old, reveals new".

8 February. We continue with Portuguese staff.
- Música & Som, #14, August 1977
- Música & Som, #35, July 1978
- Musicalissimo, #20, February 1981

7 February. Rock Final is a Portuguese book/fanzine based on the radio program "Rolls Rock" which aired in 1981. Two chapters are on Frank Zappa.

7 February. Two issues of High Fidelity with album reviews:
- June 1968 We're Only In It For The Money
- March 1969 Cruising With Ruben And The Jets

5 February. Student newspaper The Eagle, February 15, 1988. "Zappa: A Review/Interview".

5 February. Page scans added to Blue Suede News, #24, 1994.

4 February. Mundo da Canção, #29, 1972, from Portugal, containing a review of 200 Motels.

4 February. Two issues of Portuguese Música & Som:
- October 1977. Contains a comprehensive review of Zoot Allures.
- December 1982. Review of You Are What You Is..

3 February. Page scans also added to short-living Music U.K., issue 30 from June 1984. This issue contains an interview by Steven Rosen.
When did yo first take up the guitar?
I began when I was eighteen, but I started on drums when I was twelve...

3 February. Page scans added to Jazzwise, December 2003. Frank Zappa special issue with articles, interviews, reviews.

30 January. Page scans added to Keyboard, June 1980. This issue contains interviews with Frank Zappa, Tommy Mars and Peter Wolf.

29 January. The Wire, October 2012. Contains a very critical article on reissued 1966-1971 albums.

29 January. First Uruguayan magazine in our collection – Rock de Primera, December 1993.

28 January. Zappa Cover, French book by Dominique Dupuis, is a book of Zappa album covers. Nice hardcover book published in September 2017.

20 January. Modern Recording, February/March 1977, containing Zoot Allures review.

17 January. The Wire, July 2012. "Frank Zappa & Ray Collins "Fountain Of Love"

16 January. Best-selling Czech rock magazine Spark, December 2017. Contains overview article on FZ titled like "Nuclear reactor of musical fusion".

16 January. Article about Zappa's manager Bennett Glotzer – "Zappa's Manager Branching Out". Taken from Music Connection, September 1981.

15 January. Greek newspaper Ellada Semera, December 7, 1993, with Frank Zappa obituary.

14 January. Maryland Musician Magazine, March 1988. Includes "Frank, You Mother ... a retrospective and beyond".

13 January. Japanese Marquee Moon, December 1982, containing 3rd part of the FZ overview article by Ryuichi Enomoto.

13 January. German left-wing Spontan, March 1969. Contains article about underground, mostly about the Mothers and the Fugs.

12 January. "No Commercial Value" is an article about Zappa as a producer. Interesting read about Permanent Damage, An Evening With Wild Man Fischer and Trout Mask Replica. Taken from Crawdaddy, March 1970.

11 January. L.A. Free Press, December 30, 1977. "Zappa takes aim for the New Year" is a good overview article about Zappa versus Warners case, including several quotes from FZ.

10 January. Two issues of Daily Kent Stater:
- May 3, 1973, interview with Zappa and concert review
- November 29, 1973, concert review

7 January. Guitar World, January 2018. Adrian Belew discusses Gizmodrome, Parker Guitars and auditioning for Frank Zappa.

7 January. British Vintage Rock, #32, November-December 2017. "Top 40 Classic Rockers" by Alan Clayson contained also "Fountain Of Love" and Complete Works Of Edgard Varèse, Vol. 1.

2018

2 December. Fifth Estate, June 3, 1971. Review of the concert at Oakland University.

1 December. Two ebooks by Charlie Freak, from a 150-book series Lightning In A Bottle, published in November 2017.
- Lightning In A Bottle #17 WOIIFTM
- Lightning In A Bottle #69 Hot Rats

30 November. Second New University issue, November 13, 1970, containing well written article on Zappa´s creative sources by Bill Betts – "Zappa Et. Al.".

25 November. New University, March 11, 1970, with the review of the concerts at the Olympic Auditorium ( March 7, 1970),

25 November. Another Fifth Estate, November 28, 1968. Very nice issue got from Javier Marcote: "It´s a surprise; I would call it 'Proto-200 Motels Script' dated in 1968 where the writer Tony Reay, quotes FZ visualizing the project of one hour for Granada TV !!!"

24 November. Fifth Estate is probably the longest running English language anarchist publication in North America. June 4, 1968 issue had an article based on interview with Frank Zappa – "[Head Mother Frank Zappa ...]"".

23 November. Ann Arbor Argus, June 19, 1969. Contains "Zappa Interview", which is about TV differences in USA and Europe, record industry conventions, warning stickers on albums etc. etc.

19 November. Bolero Film, January 27, 1968. With pictures of The Mothers (with Pamela Zarubica onstage) from the European tour in 1967.

18 November. Record World, January 21, 1978. Interview "Frank Zappa On His Current State Of Affairs""

17 November. Two good articles from The Crimson White, University Of Alamaba's newspaper:
- July 17, 1972 - Waka-Jawaka review
- July 17, 1974 - review of the two untaped concerts and snippets from FZ interview

12 November. One of the first Dutch underground publications Alice D Day, #1, 1967. The rear cover features a photomontage of Frank Zappa and the Mothers of Invention, photographer Arpad Schuur.

10 November. Frank Zappa's speech in the First International Music Industry Conference, held in April 20-23, 1969, Paradise Isle Hotel, Paradise Island, Nassau, Bahamas. Billboard, May 10, 1969.

9 November. Crawdaddy issues #11 and #16 containing Absolutely Free and We're Only In It For The Money ads.

5 November. 60s teen magazine In, July 1968.

3 November. "Frank Zappa Doin' The Hand Jive". Creem, September 1974.

2 November. Interview with Frank Zappa about Baby Snakes. Interviewer Ed Naha. Published in Genesis, June 1980.

1 November. British Classic Rock, November 2017. Live preview – Dweezil Zappa.

29 October. Interview (?) with Frank Zappa and Captain Beefheart – "Penguins In Bondage". Taken from Creem, January 1976.. Depressing.

28 October. Compositions by Frank Zappa, by Heikki Poroila. This book is published today and is available as a free PDF download. "Non-commercial use, copying, downloading, sharing and linking of this publication for free is fine as long as the author and source are mentioned."

28 October. Time, October 31, 1969. "Mephisto in Hollywood."

27 October. Circus, July 1969. "Rock And Revolution" – round table with John Kay, Country Joe McDonald, Phil Ochs, and Frank Zappa.

26 October. Interview quoted many times in the web and books: "Frank Zappa vs. The World". Published in BAM, October 5, 1979.

23 October. Interview with Frank Zappa: "Formula Perfecto". Published in Musician's Guide, August 1977.

22 October. The Wire, December 2015. Zappa Plays Zappa and Grandmothers Of Invention concert reviews.

21 October. Discorporate! Frank Zappa in the Studio 1966-1967. This book by Scott Parker is about Frank Zappa's studio work from September 1966 until September 1967, recording sessions of We're Only In For The Money, Absolutely Free and Lumpy Gravy.

20 October. The Waldo Scrapbooks. A collection of articles about Frank Zappa from the collection of Walt Quadrato.

2 October. The Wire, January 2017. Includes Meat Light review.

1 October. Melody Maker, September 30, 1967. Royal Albert Hall concert review "Mothers – Almost A Freak Out, Not A Love In, Definitely A Send-up!"

1 October. National Lampoon, January 1973, with a Grand Wazoo full page ad.