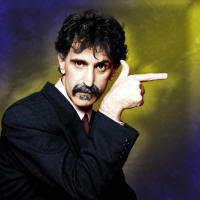 The purpose of this site is to provide a little help to those that are looking for written material about Frank Zappa.
afka (at) afka.net
Zappa Books
New Entries.
17 January. The Wire, July 2012. "Frank Zappa & Ray Collins "Fountain Of Love"

16 January. Best-selling Czech rock magazine Spark, December 2017. Contains overview article on FZ titled like "Nuclear reactor of usical fusion".

16 January. Article about Zappa's manager Bennett Glotzer - "Zappa's Manager Branching Out". Taken from Music Connection, September 1981.

15 January. Greek newspaper Ellada Semera, December 7, 1993, with Frank Zappa obituary.

14 January. Maryland Musician Magazine, March 1988. Includes "Frank, You Mother ... a retrospective and beyond".

13 January. Japanese Marquee Moon, December 1982, containing 3rd part of the FZ overview article by Ryuichi Enomoto.

13 January. German left-wing Spontan, March 1969. Contains article about underground, mostly about the Mothers and the Fugs.

12 January. "No Commercial Value" is an article about Zappa as a producer. Interesting read about Permanent Damage, An Evening With Wild Man Fischer and Trout Mask Replica. Taken from Crawdaddy, March 1970.

11 January. L.A. Free Press, December 30, 1977. "Zappa takes aim for the New Year" is a good overview article about Zappa versus Warners case, including several quotes from FZ.

10 January. Two issues of Daily Kent Stater:
- May 3, 1973, interview with Zappa and concert review
- November 29, 1973, concert review

7 January. Guitar World, January 2018. Adrian Belew discusses Gizmodrome, Parker Guitars and auditioning for Frank Zappa.

7 January. British Vintage Rock, #32, November-December 2017. "Top 40 Classic Rockers" by Alan Clayson contained also "Fountain Of Love" and Complete Works Of Edgard Varèse, Vol. 1.

2018

2 December. Fifth Estate, June 3, 1971. Review of the concert at Oakland University.

1 December. Two ebooks by Charlie Freak, from a 150-book series Lightning In A Bottle, published in November 2017.
- Lightning In A Bottle #17 WOIIFTM
- Lightning In A Bottle #69 Hot Rats

30 November. Second New University issue, November 13, 1970, containing well written article on Zappa´s creative sources by Bill Betts – "Zappa Et. Al.".

25 November. New University, March 11, 1970, with the review of the concerts at the Olympic Auditorium ( March 7, 1970),

25 November. Another Fifth Estate, November 28, 1968. Very nice issue got from Javier Marcote: "It´s a surprise; I would call it 'Proto-200 Motels Script' dated in 1968 where the writer Tony Reay, quotes FZ visualizing the project of one hour for Granada TV !!!"

24 November. Fifth Estate is probably the longest running English language anarchist publication in North America. June 4, 1968 issue had an article based on interview with Frank Zappa – "[Head Mother Frank Zappa ...]".

23 November. Ann Arbor Argus, June 19, 1969. Contains "Zappa Interview", which is about TV differences in USA and Europe, record industry conventions, warning stickers on albums etc. etc.

19 November. Bolero Film, January 27, 1968. With pictures of The Mothers (with Pamela Zarubica onstage) from the European tour in 1967.

18 November. Record World, January 21, 1978. Interview "Frank Zappa On His Current State Of Affairs"

17 November. Two good articles from The Crimson White, University Of Alamaba's newspaper:
- July 17, 1972 - Waka-Jawaka review
- July 17, 1974 - review of the two untaped concerts and snippets from FZ interview

12 November. One of the first Dutch underground publications Alice D Day, #1, 1967. The rear cover features a photomontage of Frank Zappa and the Mothers of Invention, photographer Arpad Schuur.

10 November. Frank Zappa's speech in the First International Music Industry Conference, held in April 20-23, 1969, Paradise Isle Hotel, Paradise Island, Nassau, Bahamas. Billboard, May 10, 1969.

9 November. Crawdaddy issues #11 and #16 containing Absolutely Free and We're Only In It For The Money ads.

5 November. 60s teen magazine In, July 1968.

3 November. "Frank Zappa Doin' The Hand Jive". Creem, September 1974.

2 November. Interview with Frank Zappa about Baby Snakes. Interviewer Ed Naha. Published in Genesis, June 1980.

1 November. British Classic Rock, November 2017. Live preview – Dweezil Zappa.

29 October. Interview (?) with Frank Zappa and Captain Beefheart – "Penguins In Bondage". Taken from Creem, January 1976. Depressing.

28 October. Compositions by Frank Zappa, by Heikki Poroila. This book is published today and is available as a free PDF download. "Non-commercial use, copying, downloading, sharing and linking of this publication for free is fine as long as the author and source are mentioned."

28 October. Time, October 31, 1969. "Mephisto in Hollywood."

27 October. Circus, July 1969. "Rock And Revolution" – round table with John Kay, Country Joe McDonald, Phil Ochs, and Frank Zappa.

26 October. Interview quoted many times in the web and books: "Frank Zappa vs. The World". Published in BAM, October 5, 1979.

23 October. Interview with Frank Zappa: "Formula Perfecto". Published in Musician's Guide, August 1977.

22 October. The Wire, December 2015. Zappa Plays Zappa and Grandmothers Of Invention concert reviews.

21 October. Discorporate! Frank Zappa in the Studio 1966-1967. This book by Scott Parker is about Frank Zappa's studio work from September 1966 until September 1967, recording sessions of We're Only In For The Money, Absolutely Free and Lumpy Gravy.

20 October. The Waldo Scrapbooks. A collection of articles about Frank Zappa from the collection of Walt Quadrato.

2 October. The Wire, January 2017. Includes Meat Light review.

1 October. Melody Maker, September 30, 1967. Royal Albert Hall concert review "Mothers – Almost A Freak Out, Not A Love In, Definitely A Send-up!"

1 October. National Lampoon, January 1973, with a Grand Wazoo full page ad.

30 September. Melody Maker, September 23, 1967. Contains a picture of the Mothers Of Invention with two Suzy Creamcheeses arriving UK, Absolutely Free ad and Stevie Winwood reviewing single "Big Leg Emma".

23 September. The Wire, April 2014. Zappa cartoon by Savage Pencil.

22 September. Finnish Rytmi, January 1996.

21 September. Arf Dossier #93 September 2017. Ferman quarterly fanzine. Contains overview of this years Zappanale Festival.

18 September. Melody Maker, September 9, 1967. Contains September 23 Royal Albert Hall concert ad and some funny stuff more.

17 September. The Hot Flash, May 1974. Contains interview, concert review, drawings, pictures.

14 September. One "blind date" or "invisible jukebox" more. This time Louis Moholo-Moholo is reviewing records and he's telling a good story how he, Archie Shepp, Frank Zappa and other musicians jammed together at Amougies festival, 1969. "Invisible Jukebox. Louis Moholo-Moholo". Printed in The Wire, #400, June 2017.

10 September. New Musical Express, December 18, 1993. Frank Zappa Remembered section contains reprint of the interview first printed in April 26, 1975. This interview was made by Mick Farren, who in the 60s led a Mothers-styled band The Deviants.

9 September. Melody Maker, October 5, 1968. Contains one of the first Zappa interviews in British press – "Reviled Revered Mother Superior" and very interesting "The Frank Zappa Blind Date", where Frank reviews records.

31 August. Korkealta ja kovaa (High and hard) – Finnish hardcover book of rock pictures from the 70s. Zappa's part contains some interesting and previously unseen pictures.

30 August. Probably the best book written by a former Zappa band member – Of Course I Said Yes! by Arthur Barrow.
Arthur Barrow: "SURPRISE! I wrote a book called Of Course I Said Yes! It's about my life in music from my earliest memories up to the present. A lot of it is about my time with Zappa, so you FZ fans are gonna love it! I also talk about my experiences with Giorgio Moroder, Robby Krieger and much more."

29 August. Melody Maker, February 19, 1977. Includes an interview ("F.Z. Blues") and concert review ("Caught In The Act - Frank Zappa").
It was a splendid and thoroughly convincing return for Frank, and afterwards many London musicians were saying it was the best concert seen in years. But would we hear or see such things on TV or radio?

28 August. Finally available in English - book by Daniel Schröder Frank Zappa - The Composer. The introduction is available for download as pdf file.
Where exactly in the vast field of New Music of the 20th century do we encounter the composer Frank Zappa and who else do we happen upon in his works besides the omnipresent Edgard Varèse? ... What was conventional about Zappa's music, and what was innovative? And, did Zappa really refuse to die?

27 August. Rolling Stone #91, September 16, 1971. Contains interview "Kaylan: Mother Was A Turtle".

26 August. "Any Resemblance is Purely Conceptual", interview by Miles, printed in New Musical Express, December 4, 1976.
Frank's new group is called 'Zappa'. He changed the name from The Mothers because "any resemblance between this group and the original Mothers Of Invention is purely conceptual. The kind of things we're doing now are very different."


26 August. Los Angeles Times Magazine. October 30, 1988. "Democracy's Pitchman", interview by Joe Morgenstern.

25 August. Three special issues of Italian Classic Rock -
50 Grandi Chitarristi - incl. Steve Vai, Frank Zappa
50 Grandi Frontmen - incl. Frank Zappa
50 Grandi Batteristi - incl. Terry Bozzio, Vinnie Colaiuta, Aynsley Dunbar

25 August. Italian edition of Prog, #13, July 2017. Contains interview with Massimo Bassoli and "Zappa Top Ten" by Guthrie Govan.

24 August. Czech monthly UNI, August 2017. Cover story is about Zappa family current affairs.

23 August. Frank Zappa was one of the speakers in 2nd Annual Billboard Radio Programming Forum, June 19-22, 1969. Article on his presentation "The New Trends in Music" in Billboard, July 12, 1969.

21 August. Short-lived bimonthly from New York - STROBE, November 1969. Contains interview with Frank Zappa. Page scans added.

20 August. "Extortion, Pure And Simple ..." - an open letter written by Frank Zappa to music trade publication Cash Box. Printed in Cash Box, August 31, 1985.

19 August. Poet and artist Urban Gwerder has sadly passed away on the 4th of July. Press release/announcement from 1973 of his famous fanzine Hot Raz Times added.

19 August. Czech bimonthly Rock History, year 1975, printed in July 2017.

18 August. Wellesley News, April 27, 1967, containing interview with Frank Zappa made after performance at American Music Festival.

18 August. Three issues of British Melody Maker from first half of 1967 mentioning Mothers – February 11, March 4 and June 24.

17 August. DISCoveries magazine for record collectors. Page scans added to all four issues.

14 August. Friends, December 12, 1969. Contains interviews with Frank Zappa and Captain Beefheart. Page scans added.

14 August. French rare underground weekly IX, June 20, 1969.

12 August. East Village Other, January 5, 1968. Review on MOI concerts in Town Hall, New York, December 1967. Ruth Komanoff quartet was a warm-up band.

12 August. Page scans added to Circus Raves magazine.

10 August. Italian Classic Rock, August 2015. Dance Me This review.

6 August. Italian edition of Prog, #2, September 2015. Contains 12 pages on FZ, translated from original English Prog.

6 August. Classic Rock, Italian edition, January 2016, containing article on PMRC and Dance Me This revue.

4 August. Frank Talk: The Inside Stories Of Zappa's Other People, second book by Andrew Greenaway on FZ, is out now.

31 July. NME exactly 40 years later remebering the issue from April 26, 1975.

30 July. Important interview "'What is a groupie?' asked his Lordship..." from New Musical Express, April 26, 1975.
"... I have written a song about Nixon."
Son of Orange County?
"No, another one. It's called 'Dicky's Such An Ass-hole' or 'San Clemente Magnetic Deviation'."
"Aviation pilots stay away from the San Clemente area. There is a deviation from the earth's normal magnetic field around San Clemente island. That's not actually where Nixon lives, but it's very close."

28 July. Hard Core Love by Jim Pons, published in March 2017, has about 10 pages about playing in Zappa's band.

25 July. Newport Jazz Festival 1969 - cool program from '69 with mothers, roland kirk etc .... forward mentions the boston jazz festival where kirk jammed with the mothers.

17 July. Dutch fortnightly magazine OOR. Over 30 pagescans added to different issues 1980-1994.

9 July. Relix, March 2017 - "Securing Zappa's Vault". Lars Sutton spoke with the archive's current gatekeepers and offers a deep dive into Zappa's seemingly infinite well.

8 July. Zappa(s) by Tony Adam, published in April 2017. Zappa(s) takes a thematic approach to Frank Zappa's work and approaches him as a satirist, Postmodernist, guitarist, composer, outsider and influence on other (European) musicians.

1 July. Essays on the Closing of the American Mind, 1989. Collection of essays on Allan Bloom's The Closing of the American Mind. Contains Frank Zappa's "On Junk Food for the Soul".

27 June. Overview of Zappanale festival and interview with Dweezil Zappa as a part of summer festivals preview in German Eclipsed, June 2017.

26 June. Frankie & Bobby: The Rest of Our Story, second book by Bob Zappa is out now.

25 June. British Beat Instrumental, April 1967. Includes review of British, one album version of Freak Out!

24 June. Cerphe's Up by Cerphe Colwell, renowned rock radio broadcaster, containing a previously unpublished in printed media 1985 interview, where "Frank talks with me about radio, his accomplishments, and his opinions." Hardcover book printed in November 2016.

21 June. You can preorder Frank Talk by Andrew Greenaway. Scheduled publication date - 21 July, and this book will be presented at Zappanale #28 festival.
"Following his highly successful previous book, Zappa The Hard Way, Frank Zappa specialist Andrew Greenaway's second tome on the influential cult artist is something completely different! Frank Talk: The Inside Stories of Zappa's Other People is compiled from over 40 interviews Greenaway has conducted during the past three decades, with the people who knew and worked with the legendary composer and musician."

20 June. Another reprint by Hal Leonard editions - The Frank Zappa Songbook vol.1. First (1973) and second (March 2017) editions are identical in content.

19 June. Idiotbastard.com: "Charles Ulrich's long-awaited Zappa book (likely title, The Big Note) will finally be published in May 2018 by New Star Books. An extract can now be viewed (*cough*) absolutely free online."

19 June. New Arf-Dossier, issue #92, June 2017, from Arf Society, organizers of Zappanale festival. This year's Zappanale headliner is Dweezil Zappa. Festival will take place from July 14 to 16, 2017, at the racecourse of Bad Doberan, Germany.

19 June. Second edition of The Frank Zappa Guitar Book, March 2017, with new introduction by Steve Vai.

18 June. Newsweek, October 9, 2015 - "Parental Advisory Forever: An Oral History Of The PMRC's War On Dirty Lyrics".

11 June. "Stern Words In Knightsbridge" by Paul Ramboli. Published in New Musical Express, January 28, 1978.

11 June. Fresh 4th Italian edition of The Real Frank Zappa Book. Published in April 20, 2017.

10 June. The Capitol Record Club magazine Keynotes, September 1968 issue, with We're Only in it for the Money advert.

4 June. Rare interview with Tom Wilson - "'The biggest talent I have ever come across' says ex Dylan producer Tom Wilson of Frank Zappa", from Record Mirror, November 11, 1967.

31 May. One of the first interviews in British press - "Frank Zappa of the Mothers of Invention – the Hard Guy who doesn't radiate love ...", printed in Record Mirror, September 2, 1967.

29 May. "Zapparap: Miles talks to Frank" was first first printed in 1969 in The International Times, August 26, and thereafter in Fusion, September 5.

27 May. "Unholy Mother", interview by David Mead, printed in Guitarist, June 1993.

27 May. Mojo '60s n9 - Keith Moon Special, arrived in March 2017. Contains posters of Frank Zappa and Captain Beefheart.

9 May. "The Mothers Are Something to See", article from Los Angeles Times, October 4, 1966.

30 April. "The Frenzied Frontier of Pop Music" by Tom Nolan. Printed in Los Angeles Times WEST magazine, November 27, 1966. "Finally, Frank Zappa and his Mothers of Invention bound on stage and start tuning up. Frank is wearing flowered bellbottoms, a matching top and dirty sneakers. Behind the Mothers is a twelve-piece band, with saxophones, tympani, brass. Each of these union musicians is wearing his "working" black tux, which he bought to wear at gigs like the Starlite Room of the Roosevelt Hotel, and here he is working a job like this, playing for all these freaks!"

30 April. The Baltimore Sun, May 9, 1980, contained two interesting stories.
"When Zappa got off on Stravinsky" by Stephen Cera is how he, later a concert pianist, then Pomona student, performed Stravinsky and Chopin as a warm-up act before Mothers' concert.
"Frank Zappa has a famous rock cousin" is a story on several Zappa relatives living in Baltimore.

29 April. "Frank Zappa Zapped By 'Late Show'", article from Los Angeles Times, June 12, 1987.

29 April. Italian Classic Rock, March 2017. Interview with Gary Lucas on Captain Beefheart.

28 April. Very important article by Frank Zappa: "On Junk Food for the Soul. In Defense of Rock and Roll." Printed in New Perspectives Quarterly back in 1988. Also reprinted in Social Pages fanzine and made available in several online sites.

24 April. Uncut, January 2017. Eat That Question, film review.

23 April. Student newspaper The Manitoban, July 14, 1971. Winnipeg, Canada concert review "Zappa And The Horse". Setlist includes "Billy The Mountain", "King Kong" etc. Warm-up band was Crazy Horse.

23 April. Classic Rock, Italian edition, February 2017. Review of Chicago '78/Little Dots.

16 April. Russian Classic Rock, January 2013. Review of Understanding America.

16 April. Free monthly Illinois Entertainer, February 2017, with review of vinyl reissues.

15 April. Popular Serbian weekly magazine Politikin Zabavnik, December 9, 2011.

14 April. Harper's Magazine, April 1988. "Meeting Zappa" is an absolute top story by Nicolas Slonimsky, pianist, composer, musicologist, conductor and friend of Igor Stravinsky and Edgard Varèse. Story how they met in 1981 at Zappa's home and few days later Slonimsky performed in Zappa's concert.

12 April. French Rock & Folk, December 1967. Second part of an early and important interview by Philippe Rault – "Au secours! Voila les Mamans !!!".

9 April. British weekly Disc, March 10, 1973. Contains interview "Frank Talk".

8 April. New bimonthly almanac from Czech Republic – Rock History. First issue, devoted to 1968, appeared in March 2017.

7 April. Hungarian rock periodical Rockinform, January 1994.


3 April. The Big Note, 2nd edition, 1990. The Big Note, compiled, designed and written by Michael Brenna, was back in the 80s one of the main Zappa sources and was referenced many times in other Zappa-related publications.

1 April. Belgian rock magazine Backstage, January 1994, with several obituaries.

26 March. Two German Musikexpress issues, February and April 2017. Contaning reviews of reissued on vinyl FZ albums and Eat That Question DVD.

24 March. Full text of "Frank Zappa Interview" by Bob Marshall (Bob Dobbs). This very good and well-known interview was once printed in Apocrypha booklet.

20 March. French pop music weekly Superhebdo / Pop Music, n56, April 1971.

19 March. British free bimonthly JazzUK, November/December 2006. Contains article about album by Colin Towns & NDR Big Band – Frank Zappa's Hot Licks.

18 March. Revised and thoroughly updated – two issues of the Tower Records magazine Pulse!, both with FZ interviews.
- 1988 Special Indie Issue
- 1993 August

12 March. Finnish pregressive rock magazine Colossus, issue 12, February 2000. Contains overview of FZ albums issued after death.

12 March. Free Italian monthly Coolclub.it, February 2009. Contains nice short essay on Zappa's music.

11 March. Cultural supplement of the Mexican weekly Hojas Políticas - Comunicante, December 5, 2014. Article about Zappa and Lennon.

11 March. Since January 2017 4th edition of Cosmik Debris by Greg Russo is available. The new book is called "The Return Of The Son Of Revised" Edition. This book is much larger than before, with a revised format. It is available as paperback book or downloadable pdf file.

10 March. Penthouse, May 1989. "The Porn Wars". This article by Frank Zappa was three years later included into The Real Frank Zappa Book as chapter 15.

9 March. El Chamberlin n17, May 2016, containing Zappa Plays Zappa concert review.

8 March. Spanish progressive rock magazine El Chamberlin, n13, November 2014, with some album reviews.

8 March. The revised 3rd edition of Candy Zappa's My Brother Was A Mother is available from Crossfire Publications.

7 March. Rock monthly from Switzerland, RCKSTR Mag, issue #97, December 2012. Contains overview of FZ best albums.

2 March. Updated The Nation, March 19, 1990. Page scans added.

26 February. Zappostrophe, fanzine of the Czech Zappa Fan Club, is the oldest Zappa fanzine still in print. Issue #1 was printed in 1986. Current issue is #135, published in 2016. A lot of cover pictures from last years added.

23 February. Small A5-format progressive rock fanzine from Spain – Lunar Waves, issue 8, 2002. Contains One Size Fits All review.

22 February. Argentinian La Rockeria #18, August 2011. 16-page overview article on FZ.

21 February. "Yes, I Am A Rich Man: The Sheraton Hotel Press Conference, Oslo", printed in Norwegian fanzine Society Pages, August 1988. Referenced many times, but hard to find. Good read.

20 February. Frank and Dweezil Zappa double interview "Zappa & Son" from Guitar Player, January 1987. We had the scans. Now full text is added for your pleasure. Another part of the Corneliussen's site Packard Goose rescue.

19 February. British NME, January 16, 1971. Contains article on Zappa's 200 Motels press conference in London.

18 February. Two exhibition guides added – Zappanale #23 and Zappanale #24.

16 February. Famous by design German youth magazine Twen, April 1971, containing short essay "Music I like: Frank Zappa - and the reflection on the toilet".

15 February. Spanish classical music monthly Scherzo, January 2016. Article "Frank Zappa: counterculture and contemporaneity" (in Spanish).

14 February. Another Rock & Folk, March 1979, with 8-page overview of all FZ albums.

13 February. French monthly Rock & Folk, March 1977, containing interview with Frank Zappa after concert in Pavillon de Paris, February 2, 1977.

12 February. Portuguese daily newspaper's supplement Som 80, June 9, 1981. Poster and two-page article "Un bobo na corte dos reis cegos" (A fool in the court of the blind kings).

11 February. French magazine Actuel #9, Amougies festival special issue printed in November 1969. Very important publication with a lot of pictures.

10 February. German rock monthly Eclipsed, September 2006. Issue contains translation of "My Guitar Wants To Kill Your Mama" lyrics and explanatory article.

9 February. Nice contribution by Ramón Muniz – Brazilian monthly VIP, September 2016. Contains article about Zappa family affairs.

8 February. Cyberculture quarterly Mondo 2000, Winter 1991. Includes interview "Frank Zappa for President". This interview was first printed in RockHEAD, Summer 1990.

7 February. Primo Times, December 1977 updated, page scans added. This issue contains interview "Frank Zappa Vs. The Bleeding Gums".

1 February. From Chicago Psyche Pscene News, June 7, 1971, with short after concert interview.

31 January. Record Collector magazine, Christmas 2016. Contains 6-page article "Putting The Eyebrows On It", which is about Zappa's singers. For this article author Alun Hamnett interviewed Mark Volman, Napoleon Murphy Brock, Ray White and Ike Willis. Added is FZ UK collectables records list.

30 January. Uncut, March 2017. Article "101 Weirdest Albums Of All Time" contains among other records:
– Trout Mask Replica, #11,
– Lumpy Gravy, #24,
– An Evening With Wild Man Fischer, #86

28 January. French monthly Rock En Stock, July/August 1982.

27 January. Interview "Unfolding the Cosmic Truth", printed in Collage, December 1979.

19 January. Estonian cultural weekly Sirp, November 25, 2016, containing interview with Thorsten Schüttle about his documentary Eat That Question.

16 January. KPFA Folio, February 1986. On February 10, 1986, as part of it's fund raising marathon, KPFA dedicated an entire day of programming to the music of Frank Zappa. Four hour segment, when FZ was in studio with Charles Amirkhanian is available to listening.

15 January. Radio program guide KPFA Folio, June 1984. Containing article "The Berkeley Symphony Plays Frank Zappa".

14 January. Oakland Tribune, June 18, 1984. Article about A Zappa Affair – "Zappa Pokes Into The Fine Arts".

13 January. San Francisco Chronicle, February 11, 1983. Article on Varèse and Webern: One Hundredth Anniversary Celebration – "Opera Crowd Whoops For Zappa".

10 January. Prog, January 2016 issue contains list of "100 Greatest Artists Of All Time"

9 January. Guitar World, April 1984. Added full text of the interview "Zappa's Inferno".

8 January. Mix, January 1986. Two page article by Rip Rense: "Mr. Z Goes to Washington".

6 January. Local Memphis music paper River City Review, May 1974. Contains excerpt of from the upcoming book by Bruce Pollock: In Their Own Words: Lyrics and Lyricists 1955-1974.

3 January. Russian biannual publication Guitars Magazine. Issue #4 in 2006 was a Steve Vai special issue containing many Zappa references.

2 January. The Wire, April 2002. Article by Jerry Hopkins, the kook-booker of 60s Steve Allen show.

2 January. The Wire, July 1995. Includes review of reissued by Rykodisc back catalogue.

1 January. Japanese Music Magazine, February 1994. Contains a memorial article from the translator Mogi Takeshi, who was involved with FZ's Japanese releases at the time.
TAN Mitsugu:
"It has an interesting episode: When MSI got the deal with Barking Pumpkin to distribute CDs, FZ appointed Simon Prentis to be the "Semantic Scrutinizer", overseeing Mogi's translation. If Prentis or Mogi had any question, FZ would give them answers, sometimes ended up explaining much more than they expected. This process inspired FZ to start preparations for a kind of "dictionary" of his own idioms. (Unfortunately, the project never saw the light of day.)"