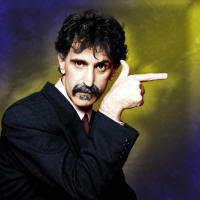 The purpose of this site is to provide a little help to those that are looking for written material about Frank Zappa.
afka (at) afka.net
Zappa Books
New Entries.
25 July. Newport Jazz Festival 1969 - cool program from '69 with mothers, roland kirk etc .... forward mentions the boston jazz festival where kirk jammed with the mothers.

17 July. Dutch fortnightly magazine OOR. Over 30 pagescans added to different issues 1980-1994.

9 July. Relix, March 2017 - "Securing Zappa's Vault". Lars Sutton spoke with the archive's current gatekeepers and offers a deep dive into Zappa's seemingly infinite well.

8 July. Zappa(s) by Tony Adam, published in April 2017. Zappa(s) takes a thematic approach to Frank Zappa's work and approaches him as a satirist, Postmodernist, guitarist, composer, outsider and influence on other (European) musicians.

1 July. Essays on the Closing of the American Mind, 1989. Collection of essays on Allan Bloom's The Closing of the American Mind. Contains Frank Zappa's "On Junk Food for the Soul".

27 June. Overview of Zappanale festival and interview with Dweezil Zappa as a part of summer festivals preview in German Eclipsed, June 2017.

26 June. Frankie & Bobby: The Rest of Our Story, second book by Bob Zappa is out now.

25 June. British Beat Instrumental, April 1967. Includes review of British, one album version of Freak Out!

24 June. Cerphe's Up by Cerphe Colwell, renowned rock radio broadcaster, containing a previously unpublished in printed media 1985 interview, where "Frank talks with me about radio, his accomplishments, and his opinions." Hardcover book printed in November 2016.

21 June. You can preorder Frank Talk by Andrew Greenaway. Scheduled publication date - 21 July, and this book will be presented at Zappanale #28 festival.
"Following his highly successful previous book, Zappa The Hard Way, Frank Zappa specialist Andrew Greenaway's second tome on the influential cult artist is something completely different! Frank Talk: The Inside Stories of Zappa's Other People is compiled from over 40 interviews Greenaway has conducted during the past three decades, with the people who knew and worked with the legendary composer and musician."

20 June. Another reprint by Hal Leonard editions - The Frank Zappa Songbook vol.1. First (1973) and second (March 2017) editions are identical in content.

19 June. Idiotbastard.com: "Charles Ulrich's long-awaited Zappa book (likely title, The Big Note) will finally be published in May 2018 by New Star Books. An extract can now be viewed (*cough*) absolutely free online."

19 June. New Arf-Dossier, issue #92, June 2017, from Arf Society, organizers of Zappanale festival. This year's Zappanale headliner is Dweezil Zappa. Festival will take place from July 14 to 16, 2017, at the racecourse of Bad Doberan, Germany.

19 June. Second edition of The Frank Zappa Guitar Book, March 2017, with new introduction by Steve Vai.

18 June. Newsweek, October 9, 2015 - "Parental Advisory Forever: An Oral History Of The PMRC's War On Dirty Lyrics".

11 June. "Stern Words In Knightsbridge" by Paul Ramboli. Published in New Musical Express, January 28, 1978.

11 June. Fresh 4th Italian edition of The Real Frank Zappa Book. Published in April 20, 2017.

10 June. The Capitol Record Club magazine Keynotes, September 1968 issue, with We're Only in it for the Money advert.

4 June. Rare interview with Tom Wilson - "'The biggest talent I have ever come across' says ex Dylan producer Tom Wilson of Frank Zappa", from Record Mirror, November 11, 1967.

31 May. One of the first interviews in British press - "Frank Zappa of the Mothers of Invention – the Hard Guy who doesn't radiate love ...", printed in Record Mirror, September 2, 1967.

29 May. "Zapparap: Miles talks to Frank" was first first printed in 1969 in The International Times, August 26, and thereafter in Fusion, September 5.

27 May. "Unholy Mother", interview by David Mead, printed in Guitarist, June 1993.

27 May. Mojo '60s n9 - Keith Moon Special, arrived in March 2017. Contains posters of Frank Zappa and Captain Beefheart.

9 May. "The Mothers Are Something to See", article from Los Angeles Times, October 4, 1966.

30 April. "The Frenzied Frontier of Pop Music" by Tom Nolan. Printed in Los Angeles Times WEST magazine, November 27, 1966. "Finally, Frank Zappa and his Mothers of Invention bound on stage and start tuning up. Frank is wearing flowered bellbottoms, a matching top and dirty sneakers. Behind the Mothers is a twelve-piece band, with saxophones, tympani, brass. Each of these union musicians is wearing his "working" black tux, which he bought to wear at gigs like the Starlite Room of the Roosevelt Hotel, and here he is working a job like this, playing for all these freaks!"

30 April. The Baltimore Sun, May 9, 1980, contained two interesting stories.
"When Zappa got off on Stravinsky" by Stephen Cera is how he, later a concert pianist, then Pomona student, performed Stravinsky and Chopin as a warm-up act before Mothers' concert.
"Frank Zappa has a famous rock cousin" is a story on several Zappa relatives living in Baltimore.

29 April. "Frank Zappa Zapped By 'Late Show'", article from Los Angeles Times, June 12, 1987.

29 April. Italian Classic Rock, March 2017. Interview with Gary Lucas on Captain Beefheart.

28 April. Very important article by Frank Zappa: "On Junk Food for the Soul. In Defense of Rock and Roll." Printed in New Perspectives Quarterly back in 1988. Also reprinted in Social Pages fanzine and made available in several online sites.

24 April. Uncut, January 2017. Eat That Question, film review.

23 April. Student newspaper The Manitoban, July 14, 1971. Winnipeg, Canada concert review "Zappa And The Horse". Setlist includes "Billy The Mountain", "King Kong" etc. Warm-up band was Crazy Horse.

23 April. Classic Rock, Italian edition, February 2017. Review of Chicago '78/Little Dots.

16 April. Russian Classic Rock, January 2013. Review of Understanding America.

16 April. Free monthly Illinois Entertainer, February 2017, with review of vinyl reissues.

15 April. Popular Serbian weekly magazine Politikin Zabavnik, December 9, 2011.

14 April. Harper's Magazine, April 1988. "Meeting Zappa" is an absolute top story by Nicolas Slonimsky, pianist, composer, musicologist, conductor and friend of Igor Stravinsky and Edgard Varèse. Story how they met in 1981 at Zappa's home and few days later Slonimsky performed in Zappa's concert.

12 April. French Rock & Folk, December 1967. Second part of an early and important interview by Philippe Rault – "Au secours! Voila les Mamans !!!".

9 April. British weekly Disc, March 10, 1973. Contains interview "Frank Talk".

8 April. New bimonthly almanac from Czech Republic – Rock History. First issue, devoted to 1968, appeared in March 2017.

7 April. Hungarian rock periodical Rockinform, January 1994.


3 April. The Big Note, 2nd edition, 1990. The Big Note, compiled, designed and written by Michael Brenna, was back in the 80s one of the main Zappa sources and was referenced many times in other Zappa-related publications.

1 April. Belgian rock magazine Backstage, January 1994, with several obituaries.

26 March. Two German Musikexpress issues, February and April 2017. Contaning reviews of reissued on vinyl FZ albums and Eat That Question DVD.

24 March. Full text of "Frank Zappa Interview" by Bob Marshall (Bob Dobbs). This very good and well-known interview was once printed in Apocrypha booklet.

20 March. French pop music weekly Superhebdo / Pop Music, n56, April 1971.

19 March. British free bimonthly JazzUK, November/December 2006. Contains article about album by Colin Towns & NDR Big Band – Frank Zappa's Hot Licks.

18 March. Revised and thoroughly updated – two issues of the Tower Records magazine Pulse!, both with FZ interviews.
- 1988 Special Indie Issue
- 1993 August

12 March. Finnish pregressive rock magazine Colossus, issue 12, February 2000. Contains overview of FZ albums issued after death.

12 March. Free Italian monthly Coolclub.it, February 2009. Contains nice short essay on Zappa's music.

11 March. Cultural supplement of the Mexican weekly Hojas Políticas - Comunicante, December 5, 2014. Article about Zappa and Lennon.

11 March. Since January 2017 4th edition of Cosmik Debris by Greg Russo is available. The new book is called "The Return Of The Son Of Revised" Edition. This book is much larger than before, with a revised format. It is available as paperback book or downloadable pdf file.

10 March. Penthouse, May 1989. "The Porn Wars". This article by Frank Zappa was three years later included into The Real Frank Zappa Book as chapter 15.

9 March. El Chamberlin n17, May 2016, containing Zappa Plays Zappa concert review.

8 March. Spanish progressive rock magazine El Chamberlin, n13, November 2014, with some album reviews.

8 March. The revised 3rd edition of Candy Zappa's My Brother Was A Mother is available from Crossfire Publications.

7 March. Rock monthly from Switzerland, RCKSTR Mag, issue #97, December 2012. Contains overview of FZ best albums.

2 March. Updated The Nation, March 19, 1990. Page scans added.

26 February. Zappostrophe, fanzine of the Czech Zappa Fan Club, is the oldest Zappa fanzine still in print. Issue #1 was printed in 1986. Current issue is #135, published in 2016. A lot of cover pictures from last years added.

23 February. Small A5-format progressive rock fanzine from Spain – Lunar Waves, issue 8, 2002. Contains One Size Fits All review.

22 February. Argentinian La Rockeria #18, August 2011. 16-page overview article on FZ.

21 February. "Yes, I Am A Rich Man: The Sheraton Hotel Press Conference, Oslo", printed in Norwegian fanzine Society Pages, August 1988. Referenced many times, but hard to find. Good read.

20 February. Frank and Dweezil Zappa double interview "Zappa & Son" from Guitar Player, January 1987. We had the scans. Now full text is added for your pleasure. Another part of the Corneliussen's site Packard Goose rescue.

19 February. British NME, January 16, 1971. Contains article on Zappa's 200 Motels press conference in London.

18 February. Two exhibition guides added – Zappanale #23 and Zappanale #24.

16 February. Famous by design German youth magazine Twen, April 1971, containing short essay "Music I like: Frank Zappa - and the reflection on the toilet".

15 February. Spanish classical music monthly Scherzo, January 2016. Article "Frank Zappa: counterculture and contemporaneity" (in Spanish).

14 February. Another Rock & Folk, March 1979, with 8-page overview of all FZ albums.

13 February. French monthly Rock & Folk, March 1977, containing interview with Frank Zappa after concert in Pavillon de Paris, February 2, 1977.

12 February. Portuguese daily newspaper's supplement Som 80, June 9, 1981. Poster and two-page article "Un bobo na corte dos reis cegos" (A fool in the court of the blind kings).

11 February. French magazine Actuel #9, Amougies festival special issue printed in November 1969. Very important publication with a lot of pictures.

10 February. German rock monthly Eclipsed, September 2006. Issue contains translation of "My Guitar Wants To Kill Your Mama" lyrics and explanatory article.

9 February. Nice contribution by Ramón Muniz – Brazilian monthly VIP, September 2016. Contains article about Zappa family affairs.

8 February. Cyberculture quarterly Mondo 2000, Winter 1991. Includes interview "Frank Zappa for President". This interview was first printed in RockHEAD, Summer 1990.

7 February. Primo Times, December 1977 updated, page scans added. This issue contains interview "Frank Zappa Vs. The Bleeding Gums".

1 February. From Chicago Psyche Pscene News, June 7, 1971, with short after concert interview.

31 January. Record Collector magazine, Christmas 2016. Contains 6-page article "Putting The Eyebrows On It", which is about Zappa's singers. For this article author Alun Hamnett interviewed Mark Volman, Napoleon Murphy Brock, Ray White and Ike Willis. Added is FZ UK collectables records list.

30 January. Uncut, March 2017. Article "101 Weirdest Albums Of All Time" contains among other records:
– Trout Mask Replica, #11,
– Lumpy Gravy, #24,
– An Evening With Wild Man Fischer, #86

28 January. French monthly Rock En Stock, July/August 1982.

27 January. Interview "Unfolding the Cosmic Truth", printed in Collage, December 1979.

19 January. Estonian cultural weekly Sirp, November 25, 2016, containing interview with Thorsten Schüttle about his documentary Eat That Question.

16 January. KPFA Folio, February 1986. On February 10, 1986, as part of it's fund raising marathon, KPFA dedicated an entire day of programming to the music of Frank Zappa. Four hour segment, when FZ was in studio with Charles Amirkhanian is available to listening.

15 January. Radio program guide KPFA Folio, June 1984. Containing article "The Berkeley Symphony Plays Frank Zappa".

14 January. Oakland Tribune, June 18, 1984. Article about A Zappa Affair – "Zappa Pokes Into The Fine Arts".

13 January. San Francisco Chronicle, February 11, 1983. Article on Varèse and Webern: One Hundredth Anniversary Celebration – "Opera Crowd Whoops For Zappa".

10 January. Prog, January 2016 issue contains list of "100 Greatest Artists Of All Time"

9 January. Guitar World, April 1984. Added full text of the interview "Zappa's Inferno".

8 January. Mix, January 1986. Two page article by Rip Rense: "Mr. Z Goes to Washington".

6 January. Local Memphis music paper River City Review, May 1974. Contains excerpt of from the upcoming book by Bruce Pollock: In Their Own Words: Lyrics and Lyricists 1955-1974.

3 January. Russian biannual publication Guitars Magazine. Issue #4 in 2006 was a Steve Vai special issue containing many Zappa references.

2 January. The Wire, April 2002. Article by Jerry Hopkins, the kook-booker of 60s Steve Allen show.

2 January. The Wire, July 1995. Includes review of reissued by Rykodisc back catalogue.

1 January. Japanese Music Magazine, February 1994. Contains a memorial article from the translator Mogi Takeshi, who was involved with FZ's Japanese releases at the time.
TAN Mitsugu:
"It has an interesting episode: When MSI got the deal with Barking Pumpkin to distribute CDs, FZ appointed Simon Prentis to be the "Semantic Scrutinizer", overseeing Mogi's translation. If Prentis or Mogi had any question, FZ would give them answers, sometimes ended up explaining much more than they expected. This process inspired FZ to start preparations for a kind of "dictionary" of his own idioms. (Unfortunately, the project never saw the light of day.)"

2017 – Happy New Year!

30 December. Three issues of Japanese Record Collectors' Magazine:
- December 1996
- August 2004
- February 2014

29 December. Monthly magazine from San Francisco – San Francisco, June 1984. Here we have article by music and dance critic William Huck "Zappa And The Symphony Set", based on interviews with Kent Nagano and FZ.

29 December. Lifestyle magazine from Los Angeles – Angeles, October 1990.

26 December. Rolling Stone, November 1986 with interview by David Fricke: "Frank Talk". Updated and corrected.

26 December. Japanese audiophile monthly magazine Stereo, April 1976. Contains a "different" interview, which English translation is available: "Hello Goodbye: Guest of the Month - Frank Zappa"

25 December. Updated and corrected – Q, December 1989, including interview "Frank's Wild Years"

25 December. Magazine EQ, March 1994. Contains one interview – "Absolutely Frank" and three interesting smaller articles more on FZ from sound engineers.

22 December. Two issues of The Wire, August and September 1991, containing "two-part guide to the complete recorded works of the freaked-out guitarist/composer who still wants to kill Middle America".

22 December. British classical music magazine Gramophone, November 2014. Contains review of Goebbels and Zappa album Perfect Strangers.

21 December. Rescued from the Packard Goose site – "1970-04 What Ever Happened To The Mothers Of Invention?" by Frank Zappa.

20 December. "It Just Might Be Frank", inte rview from RockBill, November 1984.

19 December. British short-living monthly for musicians and recording engineers Sound International, issues April & May, 1979. These issues contained long interview with FZ, which we think wasn't previously available elsewhere – "2000 Mots".

17 December. Updated Melody Maker, August 25, 1973, with article "1973-08 Zappa: Past Flops And Future Shocks".

16 December. Another new book from Czech Republic – Fenomén Zappa by Vladimír Papoušek and David Skalický. This book is about Frank Zappa's influence and reception in Czechoslovakia.

15 December. Expanded 4th edition of the legendary book in Czech by Petr Dorůžka – Šuplik plny Zappy.

15 December. Two issues of San Francisco Foghorn, containing record reviews:
- 1971 September 10 - Mothers and Turtles
- 1979 April 27 - Sheik Yerbouti

14 December. College paper San Francisco Foghorn, October 9, 1970. Contains a FZ concert review and .. er.. interview.

13 December. The Gavin Report, April 13 1990.

12 December. Fifth book from Guy Darol on Frank Zappa. Biography in French published in October 2016. Small format paperback, 352 pages text plus some with pictures.


12 December. New Year is approaching. Time to buy new calendars. Since 1992 Zappa calendars are published in Czech Republic and distributed mostly in Germany. First years the print-run was 1000 pcs. Since 2012 the print-run was reduced to 700 numbered copies. New 2017 calendar is available at auction site and still printed in 700 pcs.

11 December. One of the best interviews with FZ is the one made by Batya Friedman and Steve Lyons, which was printed several times in various forms and edits:
- The Progressive (November 1986) – added today
- Wire Magazine (Dec 1986/Jan 1987 issue) – added today
- Option Magazine (Jan/Feb and Mar/Apr 1987) – we had them already.


10 December. Over a while a magazine with FZ cover story. Italian monthly Rockerilla, which is active since 1978. September 2016 issue.

9 December. British Sound On Sound, September 2004, with article " Dweezil Zappa: 64-bit Computing & The Frank Zappa Archive".

9 December. BBC Music Magazine, November 2016. "Z is for Zappa", as a part of "An A-Z of American Music".

8 December. Last printed issue of Russian Classic Rock, November 2016. Contains review of Freak Out!

7 December. American alternative GI newspaper Enlisted Times, July 1980. Contains interview – "Frank Zappa: Too Weird Even for Los Angeles?". Another short article in this issue is "Record company zaps draft song".

4 December. The Big Note page updated with author's comments.

3 December. Hustler, January 1984. Short article by Frank Zappa – "It's About Mr. Flynt". Christopher Ekman in alt.fan.frank-zappa: "I think this article is very interesting because Zappa lays out the rationale for his "bad taste" and "bad attitude" in a way I've not seen elsewhere."

3 December. "Frank Zappa: America's Weirdest Rock Star Comes Clean" – this interview was printed in High Times, March 1980.

3 December. British alternative music paper Sun Zoom Spark, #1, January 1994.

2 December Part 2 of "He's A Human Being. He Has Emotions, Just Like Us.". Taken from Society Pages #7, September 1991. Last dozen sentences about death is the only part of this monster interview available previously (at Packard Goose site).

1 December. "The Interview Of The Century" by Den Simms, Eric Buxton and Rob Samler is well-known. This sizable interview was made in December 22, 1989, and published in issues 1-3 of fanzine Society Pages. Den Simms and Rob Sampler had second interview in January 12, 1991, published in Society Pages #6 and #7. We could not find ever this interview text anywhere in the web. Here it is – "He's A Human Being. He Has Emotions, Just Like Us. Part 1". Part 2 will follow soon.

30 November. "Frank Zappa – Trading Partner" – interview printed in weekly The Nation, March 19, 1990.

29 November. "Drowning in the News Bath" is an interview made by Jon Winokur in 1992. This interview was printed in several Curmudgeon-series books. For years most part of the interview was available at Packard Goose site. We updated the interview and added some feedback from Jon Winokur.

19 November. Two issues of German bimonthly Good Times.
- April/May 2004. A Zappa special.
- October/November 2016. Article on Punky Meadows' band Angel.

18 November. The Dallas Times Herald, October 19, 1975. Contains a distinctive interview "Wielding words 'like chemicals'".

13 November. Underground weekly paper from Dallas, Iconoclast, March 15, 1974. Contains very good interview with FZ made by film student Mark Rodgers – "Zappa: The Composer Speaks".
Iconoclast

13 November. Guitarist, October 2016. Contains interview with Mike Keneally.

12 November. Circus, September 1970 – "Zappa Reforms Mothers For Money-Making Tour"

5 November. Frank Zappa FAQ, a book by John Corcelli. Good reading. This is a real book, not a compendium of web clippings like some other books in these days.

4 November. German underground paper of literature, culture and music - Yaksha, #2, 1971.

18 October. In April 2016 published Italian book by Riccardo Bertoncelli – Topi Caldi. Frank Zappa e altri bei malanni. (Hot rats. Frank Zappa and other ailments.) One chapter on Zappa and Beefheart.

15 October. "One Size Fits All" – interview with Zappa, printed in British weekly Disc, April 26, 1975. Zappa was in Britain to appear in court, but was also spending time talking to the press.

14 October. ThroTTle magazine from Richmond. Issue #5, November/December 1981. Exclusive Zappa's self-portrait on the cover and accompanying letter on page 3.

9 October. Dutch underground music paper Hitweek, November 15, 1968.

8 October. "I care about music, not about middle-age", printed in USA Today, October 18, 1985. Interview mostly on Zappa's kids names and toilet poster, but some other good answers included too in this interview. Good drawing of friendly Zappa family added.

2 October. Frank And Gail Zappa Auction Catalog. This coffe table style printed book can be obtained at Julien's Auctions in October 2016. You can also download it for free as a pdf file. The book is definitely one of the best Zappa books ever, containing a lot of never before seen pictures for everybody interested in conceptual continuity.

29 September. Zappan perikunta posting is finished. Last missing part, #15, about Vinnie Colaiuta, was published in Rytmi, 1998/8.
Zappan perikunta (Zappa's heirs) series by Juha Romppanen was published from 1995/1 to 2000/7. In total series consisted of 22 parts, all posted here with a help from Juha Romppanen and Heikki Poroila. Juha Romppanen lost all the original manuscripts together with computer in the beginning of 2000s and this here is the only place you can see full series Zappan perikunta.

28 September. The Music Of Frank Zappa 1976-1993, 2nd part of album guides by Chris Wade. Contains also interviews with Lou Marini, Warren Cuccurullo, Arthur Barrow, Mike Keneally, Scott Thunes and Malcolm McNab.

26 September. Rock, Counterculture and the Avant-Garde, 1966-1970 is a book by Doyle Greene, published in February 2016. "This book focuses on the Beatles, Frank Zappa, and the Velvet Underground from 1966 to 1970, concentrating on the Beatles' later years, Zappa's work with the original line-up of the Mothers of Invention and his early solo albums, and the course of the Velvets' career trajectory."

24 September. Guitar Techniques, issue 254, April 2016. "Martin Cooper looks at the genre-blending style of a formidable musician and a unique guitarist: the Mother of Invention, Frank Zappa."

19 September. British Prog, issue 67, July 2016. "See For Miles" is article about psychedelia transitioning into progressive rock. Trout Mask Replica references included.

17 September. Mojo '60s The Jimi Hendrix Special contains 8-page article "The Surreal People".

15 September. Rolling Stone, August 11, issue 1267. "Zappa Vs. Zappa" by David Browne. The children of the pioneering art rocker are locked in a feud over his estate and legacy – and the story goes back decades.

3 September. Knebworth House Open Air Festival, Stevenage, UK, program – September 9, 1978. Zappa. Zappa had a 1,5 hour concert there as a part of 1978 World Tour.
First on the bill was Zappa band, thereafter The Tubes, Peter Gabrial, Boomtown rats etc.

23 August. A set of Los Angeles Free Press issues from 1966:
July 15
July 22
August 5
August 19
September 16
September 23
November 11
Containing mostly Guambo ads and comments. The Mothers of Invention related content in Freep 1966 is now more or less complete.

22 August. Two very limited edition books (20 pcs) containing collection of interviews and articles appeared in Zappanale 2016 festival – Bizzare Pages.

21 August. One part more just arrived:
1996/7 - Bruce Fowler

20 August. Five Zappa's heirs parts published in 2000:
2000/2 - George Duke
2000/3 - Bob Harris
2000/5 - On the road
2000/6 - Ruth Underwood 1
2000/7 - Ruth Underwood 2

18 August. Two articles more from Rytmi:
1999/1 - Mark Pinske
1999/7 - Terry Bozzio

17 August. Zappan perikunta continues:
1997/3 - Ed Mann
1997/6 - Warren Cuccurullo
1997/8 - Denny Walley

16 August. Next three parts of Zappan perikunta:
1996/1 - Classical music
1996/3 - Mats & Morgan
1996/6 - Tommy Mars

14 August. Hello again. This summer's task was to collect all parts of Zappan perikunta (Zappa's heirs), magnum opus by Finnish writer Juha Rompponen. Between 1995 and 2000 not less than 24 articles were published in magazine Rytmi.
The task is almost complete – we have got 20 parts out of 24, of course with a help of our Finnish friends.
Today we added first 5 parts of this series:
1995/1 - Mike Keneally
1995/3 - Grandmothers
1995/5 - Steve Vai
1995/7 - Rykodisc
1995/9 - Jazz virtuosos

24 July. Frank Zappa was in Helsinki, Finland in September 21-24, 1974. Article and interview with FZ were printed in Intro, November 1974. The interview contains some unique info – Zappa met (again, 1st time it was a year ago) with Finnish bass player Pekka Pohjola, was very impressed by him and they planned to meet again in Christmas time to record new Zappa solo album.

22 July. "Frank Zappa likes Stravinsky: an interview", printed in November 23, 1973, The Varsity.
"In the early days I kept a bunch of people in the group 'cause I liked them and because they had good spirit in spite of the fact that they weren't great musicians. Jimmy Carl Black's one of them. He's not the greatest drummer that ever happened but he had a great spirit and he added a lot to the group. Don Preston used to make mistakes all the time in his parts but he also has one of those personalities that was just so right for the band. But I don't like to maintain that attitude anymore, I've been doing this for so long, I've been waiting for so long to get the right notes played every time, that I'm looking for people that not only have the right spirit, but get up there and do it – really play the notes."

19 July. One important interview added more. "Poetic Justice", Musician, November 1991.
MUSICIAN: You don't miss playing guitar?
ZAPPA: Not really. I'm faced with a bit of a dilemma which is going to smack me right in the face on Thursday. I'm going to Czechoslovakia and Hungary, and I've been invited because they're having big celebrations. The last Russian soldier leaves Czechoslovakia on the 24th and Hungary on the 30th, and they want me to bring my guitar over and play. And I haven't touched it for years. I don't have any calluses! I don't know what to do with that fucking thing. And if I don't take it along with me I know a lot of people will be disappointed, but I know if I plug it in they're going to be even more disappointed, [laughs] 'cause I can't play anymore.

17 July. Probably the last interview with FZ. Cutting Edge, August, 1993. Once this interview was available at Packard Goose site. Now corrected and updated text is here – "Just when you thought it was safe".
Editor Jerry Ewing:
Cutting Edge was a magazine myself and Philip Wilding worked together on back in 1993, when we were younger and the world was a different place. Somehow we managed to persuade Frank's UK PR to grant us an interview, which was duly assigned to Philip, the magazine's resident Zappaphile. It would prove to be the great man's final interview (although a noted music magazine would later run one conducted previously, claiming it to be Zappa's final words). I recall the profound emotional effect it had on Philip, not least Frank's parting words, which still send a shiver of emotion through me to this day. This piece meant a lot to us back then. It still does today. I hope you enjoy it.

16 July. Continental Profiles, May 1990. Issue contains an 8-page article "Das Capitalist" about FZ as a businessman. Page updated, full text added.

15 July. Two Yugoslavian Džuboks issues, #72, September 1979 and #90, June 1980.

13 July. "Zappa: rock's futurist still having fun", interview made before concert in Maple Leaf Gardens, Toronto. Printed in The Globe And Mail, November 16, 1976.
"You don't see me selling used cars, do you?"
Frank Zappa replied with a slight smile of tolerance on his face when asked if, after 12 years and more than 20 albums, he was finding life as rock music's most uncompromising futurist a little tedious.

12 July. Yugoslavian Džuboks, August 1980, with Stadthalle, Vienna, Austria, June 27, 1980 concert review.

10 July. Portuguese Musicalíssimo, September 1979. Contains 8-page article "A felicidade musical de um ideólogo infeliz" (The musical happiness of an unfortunate ideologist).

9 July. Syndicated in Canada article "Zappa Still Baffles His Fans". Taken from Montreal Gazette, December 26, 1973.
"There are four things you need to know to understand my music," Frank Zappa said. "You have to know about rhythm 'n' blues. You have to have a working knowledge of all Western art music over the past 100 years. You have to have a complete working knowledge of all my albums since 1964. And you have to have seen at least one of my shows at least once a year."

7 July. British fanzine RDH Comix, September 1971. Featuring article by composer Robert Carrington – "200 Motels".
Zappa is preoccupied with music-theatre techniques reminiscent of John Cage e.g. Water Music and Music Walk. Here the whole process of musical performance is parodied and taken to absurd excesses. The act of pulling the bow across the strings of a violin becomes a ritualistic act. Thus theatre and concert hall are brought together by the fact that the musician is called upon to play two roles, the actor and the musician. It is this dual role which can transform a rather sterile and dead event into something more alive and exciting. It is this fact that Zappa is exploiting in his concerts. It is not the music he is poking fun at, but the dead serious aura of mystique which surrounds a musical performance. It becomes one in which the musician becomes too overawed with his own importance and loses his humanity.

6 July. Journal of Musicology, Spring 2015. Contains an article by Andre Mount about avant-garde and Los Angeles Free Press, including several pages on Frank Zappa.
The summer of 1966 marked a point of transition for the Los Angeles cultural scene, as evidenced by the pages of the Free Press. Despite the apparent success of the Concert Happening and the Homage to Arnold Schoenberg, the broader appeal of GUAMBO was more in line with Kunkin's ambitions for the newspaper and community. The cultural torch was being passed to Zappa, much to the chagrin of various artmusic composers.

5 July. "Mothers Invent Sounds Worse Than Music" – one of the very first interviews with Frank Zappa. Published in Los Angeles Herald-Examiner, July 24, 1966. Here with original page scan and correct date.
They call themselves the Mothers of Invention. Consensus, a form of Group Confucius, has it that this alone will set Necessity back a few years. The Mothers advocate a form of music currently alien to all except members of the United Mutations of Los Angeles, whose congregation is a delicatessen on Fairfax Avenue.

4 July. Freak Out! review by Pete Johnson, "Popular Records: Pass Aspirin, Please". Printed in Los Angeles Times, August 7, 1966.
The Mothers of Invention, a talented but warped quintet, have fathered an album poetically titled 'Freak Out' (Verve V-5005-2) which could be the greatest stimulus to the aspirin industry since the income tax.

3 July. "The Mother of All Interviews, Part 1" and "Part 2, Belgian Waffles in Plastic" added. Of course you can find them anywhere else, but it is more convenient to find them here too with sitesearch.

2 July. "Frank Zappa (1988)" - interview by Kurt Loder, made for Rolling Stone and known as "Rolling Stone interview", was actually never published there. We got it from Packard Goose site and made some edits.

1 July. Radical Philosophy, July/August 2016. Review on CD Dance Me This by Ben Watson.

30 June. "Fuck Unions is what I got to say", the interview held by Co de Kloet Jr. in Sonesta Hotel, Amsterdam, on May 16th 1982.

29 June. One late interview – "Make A Zappa Noise Here" – from January 1992. Printed in Canadian Music Express.

28 June. One well-known interview more – "Sample This!", From Keyboard, February 1987.

27 June. Two well-known interviews from Guitar Player. Rescued from vanished Packard Goose site.
- February, 1983 "I'm Different"
- June 1986 "The Sin In Synclavier"

26 June. Two syndicated articles/interviews:
- September 10, 1968, "The Mothers' Musical Message Called Meaningful And Warped"
- October 19, 1975, "Frank Zappa: Blazing New Trails"

23 June. Review on Freak Out!, July 23, 1966, Courier-Post. Every article from 1966 is an interesting read.

22 June. One of the earliest articles/interviews here. "If You Get Headache", Loraine Alterman interviewing Frank Zappa, Detroit Free Press, July 15, 1966.

22 June. Very interesting clipping of The Dallas Times Herald, October 19, 1975. Contains main part of the article "Wielding words 'like chemicals'", based on exclusive interview with Frank Zappa.

19 June. "Little Band We Used To Play In" – Frank Zappa, Tommy Mars and Peter Wolf interviewed by Keyboard.

16 June. Three concert reviews from different years:
- The Lantern, November 21, 1974
- The Lantern, October 7, 1977
- The Lantern, September 21, 1978

11 June. Mix, January 2003. An 8-page article "We are the Mothers...and This Is What We Sound Like!"