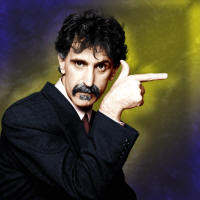 The purpose of this site is to provide a little help to those that are looking for written material about Frank Zappa.
afka (at) afka.net
Frank Zappa – Bing News
Zappa Books
New Entries.
25 January. Record Collector News, October/November 2015. Short article on Roxy The Movie premiere.

24 January. Mojo, February 2020. Includes The Hot Rats Sessions review and short interviews with Ian Underwood and Ahmet Zappa.

23 January. Some British music magazines more with The Hot Rats Sessions reviews:
- Classic Rock, January 2020
- Long Live Vinyl, February 2020
- Record Collector, January 2020

22 January. Dutch Gitarist, January 2020.

21 January. Zappa obituary by Ben Watson "Spanner in the works". Published in the Socialist Review, January 1994.

21 January. Russian Rock Fuzz, July 1994.

17 January. On December 30, 2019 another great book from Backbeat Books appeared (recently we got Zappa Gear). This time a deluxe hardcover book by Bill Gubbins - The Hot Rats Book. A lot of unique pictures inside and it is a good read. This is an official Zappa book produced with cooperation with ZFT.

16 January. Rolling Stone, January 2, 1975. "Roxy & Elsewhere".

16 January. Rolling Stone, June 6, 1974. "Apostrophe (')"

15 January. For our German readers, The Hot Rats Sessions reviewed:
- German Classic Rock, January 2020
- German Rolling Stone, January 2020

15 January. First Indian magazine in our list - Rolling Stone, September 2016.

12 January. You can find The Hot Rats Sessions reviewed in many magazines. Here are some:
- Goldmine, February 2020
- Guitarist, January 2020
- Prog, January 2020
- Shindig, January 2020
More to come.

11 January. Rolling Stone, December 20, 1973. "Over-Nite Sensation".

11 January. Rolling Stone, February 1, 1973. A rare exception - very prising review on Zappa's album in Rolling Stone. "The Grand Wazoo".

10 January. Rolling Stone, October 12, 1972. "Waka / Jawaka".

9 January. Rolling Stone, June 8, 1972. "Just Another Band From L.A."

7 January. Rolling Stone, September 30, 1971. Review by Lester Bangs -"Fillmore East".

6 January. Rolling Stone, October 1, 1970. "Weasels Ripped My Flesh".

6 January. Rolling Stone, December 21, 1968. Cruising With Ruben & The Jets reviewed.

5 January. Austrian music monthly Rennbahn Express, January 1990, with Zappa obituary.

4 January. Rare MOI 1966 Balloon Farm concert poster. Record Collector, October 2018.

4 January Modern Drummer, January 1990. "Ed Mann" - interview with percussion setup schemas.

3 January. Guitarist, December 2019. "Mission Impossible" are the guitar stories behind 1969 classic Hot Rats.

2 January. Czech bimonthly Rock History - year 1979. Article about Sheik Yerbouti and Baby Snakes.

1 January. The Arf Dossier, issue 102. Published in December 2019.

2020

28 December. Zappa Gear by Mick Ekers. The long awaited book about Zappa's guitars, amplifiers, effect units, keyboards and studio equipment.

26 December. Modern Drummer, May 1982. The interview is "Aynsley Dunbar".

25 December. Modern Drummer, December 1988. Contains long interview with Chad Wackerman.

24 December. From New Zealand, Real Groove, September 1995. "The Plateful Dead" is on massive 53 album reissue, plus ten essential albums recommended.

23 December. Yugoslavian entertainment weekly Čik, March 1968, with FZ profile article.

22 December. I Wanna Be Your Dog, #4, 1977. French fanzine of the Iggy Pop Fan Club, containing concert review.

21 December. Frank Zappa 1966 to 1979: Every album, every song by Eric Benac. This is in-depth album guide with song by song analysis. A brand new book, published in November 2019.

20 Dezember. Short-living German music monthly Musiker & Tontechnik, July 1980. Coincidently had Santana and Zappa both gig in Sporthalle Cologne on the same day, Juni 7 1980. They were separate shows, first Santana, thereafter Zappa. Both shows reviewed in this issue.

7 December. "Chad Wackerman: Enjoying All Challenges", from Modern Drummer, May 1983.

3 December. "Mother Follower Of Edgard Varèse" by Ralph J. Gleason, from Datebook, December 1968.

1 December. Frank Zappa Adult Coloring Book - an unlicensed coloring book printed in two editions in 2018 and 2019.

27 November. Modern Drummer, #37, November 1982. 12-page interview "Vinnie Colaiuta".

25 November. Modern Drummer, #35, August/September 1982. Here we have a 9 pages long interview "Ed Mann: Expanding Percussion".

24 November. Modern Drummer, #28, November 1981, contains 7 pages long interview "Terry Bozzio: Burnin'".

24 November. Polish music monthly Magazyn Muziczny, July 1987 and July 1988.

23 November. Zappa Coloring Book by Fantoons. Published in November 5, 2019. The only officially licensed Zappa coloring book today. We will present soon some unofficial coloring books too.

19 November. Prog issue 103, November 2019. "Dweezil And The Time Machine". On reworking Hot Rats for a new era, and ignoring his dad's comedy songs.

10 November. Polish weekly Best, February 24, 1991.

10 November. Polish music monthly Magazyn Muziczny, June 1988.

7 November. Polish music monthly Magazyn Muziczny, October 1991.

3 November. Great Pop Things comic strip - The Frank Zappa story in four parts printed in LA Weekly, June and July 1991.

2 November. British iconic punk fanzine Sideburns, January 1977, contained not only the famous three chord punk manifesto but also surprisingly good Zoot Allures review.

29 October, Vintage Guitar, 3 issues from 2002, 2016 and 2018 containing articles on Dweezil and Frank Zappa.

28 October. Another remarkable article by Diedrich Diederichsen on Captain Beefheart - German Spex, Juni 1985.

27 October. Very good article by Diedrich Diederichsen on Captain Beefheart in German Sounds, January 1981.

26 October. The Cedar Rapids Gazette, September 26, 1977, containing concert review.

25 October. The Cedar Rapids Gazette, July 31, 1987. This weekend edition contains an article with FZ interview snippets "Master of the musically absurd" and another one with several album reviews.

21 October. "Good For A Few Yawns - Frank Zappa", comics in the most famous punk magazine Punk, March 1977.

20 October. "Zappa Plans World Orchestra" is a short article published in Music & Media, April 22, 1989.

14 October. French Jazz Magazine, October 2019. Article about Orchestral Favourites album.

13 October. Jazz Magazine, May 2019. In this issue you can find a 10-page file about Frank Zappa and The Brecker Brothers.

12 October. Jazz Magazine, April 2019. Zappa In New York Deluxe edition reviewed.

11 October. Jazz Magazine, August 2019. This issue is devoted to "the fantastic year 69" and contains an artcile about Amougies festival, with nice pictures of Archie Shepp & FZ, Don Cherry & FZ.

1 October. Mexican biweekly Ritmos Y Canciones, January 1969.

29 September. The biggest Scandinavian pop magazine of the 70's was Poster, which was published in Sweden in 1974-1980. The magazine was founded by German Hans Hatwig, who also took many of the magazine photos himself (but not the Zappa pictures). We found 3 issues from 1974, 1977 and 1978 containing Zappa posters.

27 September. Swedish music monthly GO, August 1974.

26 September Swedish Hej!, November 1968, containing nice MOI poster.

26 September. Swedish pop idol magazine Tiffany, September 1974.

24 September. "Mothers of Prevention" by Rip Rense. Printed in Spin, January 1986.

23 September. Circus, March 1979. Short note that L.Shankar signed to Zappa Records.

22 September. Crawdaddy, June 1978. Zappa in New York reviewed - "Plastic Man".

21 September. The Arf-Dossier issue 101 is out. As always, every three months on 40 pages it includes reviews of new albums and books, rare pictures gallery, back in time section, news from Belgium etc.

13 September. Zappa Bootz - Da Sources, a fan project edited by Burkhard Schempp. This hardcover book was published in Summer 2019.

11 September. UK edition of Prog, August 2019. Contains a nice article by Iron Maiden manager Rod Smallwood on Zappa.

8 September. Italian edition of Prog, November 2016, including Roxy & Elsewhere review.

7 September. In July the compilation album Mothermania was reissued as a LP with the original cover. On the back cover is German article "Die Spielsachen sind alle kaputt" (All the Toys Are Broken), taken from West-Berlin newspaper Der Abend, October 17, 1968. We posted here both full texts, original German and English translation.

5 September. Russian quarterly Music Box, 1997, issue 8. Contains a 6-page article on FZ.

3 September. Swiss newspaper Die Tat, February 3, 1978, including article "Zappa - Karajan des Rock".

1 September. Bay Area Reporter, June 21, 1984. "Berkeley Symphony Does Zappa".

28 August. From DDR - Melodie und Rhythmus, December 1988.

21 August. Finnish Suosikki, January 1976. Zappa is coming to Finland again.

16 August. Record Collector #205, September 1996. Contains article "Zappa In Läther".

15 August. Dutch underground paper Aloha, two numbers from 1971. #10 with Fillmore East – June 1971 album review, #18 with 200 Motels ad.

14 August. Record Collector #191, July 1995. Contains article on the latest mass reissue of Frank Zappa's catalogue, and another article on recent collectible promos.

13 August. Danish GO, January 1970, with FZ on the cover.

12 August. Finnish teen magazine Suosikki, January 1994, with Frank Zappa obituary.

12 August. Fifty years on from Trout Mask Replica - the weird album's weird album - MOJO finds its cast nearly recovered: "There was so much hell emotionally."

11 August. Czech bimonthly Rock History - year 1988. Article about Zappa's last tour.

6 August. British satirical magazine Private Eye, December 17, 1971, including 200 Motels ad.

5 August. Some issues of Czechoslovakian music monthly Melodie - 1982 May, July, August and 1983 April.

4 August. British rock monthly Cream - page updated.
1971 November issue added
1972 January issue, page scans added.

3 August. British counterculture weekly Ink, August 7, 1971, with Fillmore East – June 1971 ad on the back cover.

1 August. Analyzing Zappa - music theory essay on select compositions by Frank Zappa, written by Stefan Ullmann. This paperback is available in German and English.

31 July. NME, September 18, 1982. Kristine McKenna meets The Captain of the Mojave Desert. This is the interview where Captain Beefheart called Zappa "The guy who looks like a fly's leg".

29 July. Curiosity - "Jean's West" ad with Frank Zappa. Appeared in Italian progressive culture magazine Gong, October 1975. If Zappa had known that ...

28 July. Very first Ukrainian magazine in our list - Galas, #1, 1996.

27 July. Advance copies of The Zappa Tour Atlas were available at Zappanale #30. This deluxe hardcover book provides a comprehensive listing of all Zappa concerts and venues, including maps and a lot of tour statistics. Also included are reviews of Zappa's 111 official albums.

27 July. Pretty harsh review of "Valley Girl", NME June 26, 1982.

26 July. Years around 1968 can be named the free-thinking years in Czechoslovakia. Pop Music Expres was a monthly magazine published in 1968 and 1969, 23 issues in total. Many issues of the magazine contained drawings by the famous Czech comic artist Kája Saudek. One of them, the poster of the Mothers Of Invention, was on the back cover of the October 1969 number.

21 July. Melody Maker, January 26, 1980. Frank Zappa was in London to promote Baby Snakes. Karl Dallas interviewed him and they talk mostly about Joe's Garage - "Enjoying the glandular arena".

19 July. Czech cultural-political weekly Tvorba, February 1990, with a cover picture, reportage, interview and translated lyrics.

19 July. Jazz Special, February/March 2004, a monthly music magazine from Denmark.

18 July. Jazz, June 1967. "The Joyful Noise" is article about emerging new music which, among other things, describes the MOI performance at the Garrick Theater.

18 July. MTV To Go from the MTV Record Club, January 1990.

18 July. International music monthly Rock World, German edition, September 1992. Contains an article by Chric Welch.

17 July. Italian weekly TV Sorrisi e Canzoni from December 1993 with Frank Zappa obituary.

16 July. Dutch Zappa Songbooks. "In the mid seventies a rare series of lyric books of rock groups was published in the Netherlands. Copies were sold at alternative book shops, independent record stores and fashion shops. The books contains the original lyrics of all records of the artists till publication of the book. No publishing company was mentioned. It remains a secret who is behind this series..."

15 July. Der Spiegel (German for "The Mirror") is Europe's biggest and Germany's most influential weekly magazine. We added 14 issues from 1968 to 2011 containing FZ references.

13 July. Canadian punk fanzine Teenage News, May 1977.

11 July. Polish weekly Angora, May 5, 2019, with an article on hologram shows.

10 July. Einmal Zappatown und zurück by Stefan Kleber is a German book about visiting Zappanale festival in 2018. Very nice!

10 July. Three issues of the Czechoslovakian music monthly Melodie - June, September and October 1980.

9 July. Sounds, December 18, 1976. Contains interview "Could a man who stamps on poodles and sings about lonely person devices become president of the US?", which is about Zoot Allures lp, NY Felt Forum concerts, Terry Bozzio's drumming style, orchestra musicians etc.

7 July. Sounds, September 9, 1978. This interview "I hate playing in England" includes the often quoted "Black Sabbath story".