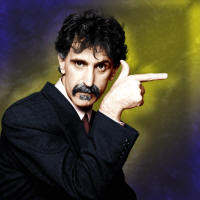 The purpose of this site is to provide a little help to those that are looking for written material about Frank Zappa.
afka (at) afka.net
Frank Zappa – Bing News
Zappa Books
New Entries.
3 December. Monster interview with Frank Zappa by Lars Esselius published in three consequtive issues of Norwegian music magazine Puls - December 1986, January and February 1987. Full text with translations available.

1 December. Current German Good Times, December/January issue. Included are FZ profile and article on Pauline Butcher's book Freak Out.

1 December. Two issues of Norwegian monthly Puls, February and June 1980. Both containing articles on FZ.

30 November. Frank Zappa and the MOI concert tour and albums ads, Melody Maker, 6 November 1971.

29 November. Czech rock monthly Rockshock, May 2005, containing long exclusive interview with Gail Zappa.

28 November. Czechoslovakian monthly magazine Zvon, April 1990. Interview with Frank Zappa visiting Prague. "How did Prague receive you? Without exaggeration, I must say that in twenty-five years I have not received such an acceptance as here. Many thanks for them."

27 November. Zappa by Alex Winter is a limited printing collector's picture book. This book was sent in these days to about 2000 backers of the project WHO THE F*@% IS FRANK ZAPPA? all over the world. The corresponding documentary Zappa was released in North America today, 27 November.

25 November. Record Collector News, November/December 2020. Feature article and interview: "A new Frank Zappa documentary from director Alex Winter mines archival footage to examine the musician's private side"

24 November. Norwegian bimonthly music paper Backstage, #3 2003, containing article on groupies.

23 November. Australian Go-Set, 21 April 1973. Interview with Frank Zappa reprinted from British NME.

22 November. 60s Norwegian music magazine POP-Revyen. Introduced with four issues from 67-68 containing most interesting Zappa-related articles. Even one exclusive interview with Frank Zappa.

22 November. Zappa had a concert in Oslo in 2 March 1979. Two issues of Puls monthly - March and April - covered this event. A lot of pictures included.

22 November. Norwegian youth magazine Pop Nytt, March 1968.

21 November. Norwegian monthly magazine Beat. Three issues containing articles on FZ: March 1991, January 1994 and May 1996.

20 November. "200 Motels Can Make You Crazy" by Matt Groening. Printed in Cooper Point Journal, 29 April 1976. "The essence of 200 MOTELS is very difficult to capture. Frank Zappa's 1971 feature-length movie operates on so many levels that isolating any element will not do it justice. It is a musical/visual/comic extravaganza that compresses time and space into a 99-minute pulsating lump, combining real incidents and Zappa's fantasies into a surrealistic documentary unlike any other movie ever seen."

17 November. Captain Beefheart and Cal Schenkel art exhibition review by Matt Groening: "Portrait of the Mutants as Young Artists". Cooper Point Journal, April 1976. From 1972 to 1977, Matt Groening attended The Evergreen State College in Olympia, Washington. He served as the editor of the campus newspaper, the Cooper Point Journal, for which he also wrote articles and drew cartoons.

13 November. Interview with Herb Cohen "Is Herb a father to the Mothers?". He talks about Wild Man Fischer, Captain Beefheart and GTOs. Melody Maker, 13 November 1971.

10 November. Lester Bangs interviewing Captain Beefheart in Boulevards magazine, May 1981.

7 November. A small book printed in Italy in 1982 - I trasgressori (The offenders). Contains chapters on the following artists: Jimi Hendrix, Frank Zappa, Captain Beefheart, Velvet Underground, Fugs, Iggy Pop, MC5. What a list!

6 November. Spot the errors contest in 16 magazine, September 1967.

2 November. Another laudatory review of Hot Rats. "This is the best fucking, ballsy, brilliant, ambitious, masterful, funky, down home, dynamic, motherfucker of an album I have ever heard." Los Angeles Free Press, 5 December 1969.

1 November. "Yes, Greater America may have Nixon, cold cream, and vacuum-pack lima beans, but we at Reprise are now allied with Frank Zappa and his Merry Pranksters. And from them we have a disgusting new album called Uncle Meat." This ad ppeared in the Los Angeles Free Press, 16 May 1969.

1 November. Short but completely exhaustive and excellent review by Chris Welch – "Hot Rats - hot Zappa!". Melody Maker, 4 April 1970.

31 October. Finnish Suosikki, March 1977. Frank Zappa inteviewed by Freeman, Finnish number one singer in these days. Full text w translation available.

30 October. The Chicago Seed, August 1970. Mike Gold on several FZ and MOI albums.

29 October. Los Angeles Free Press, 28 August 1970. Albums review by Nigey Lennon "Adderly blows but Zappa's at the wheel".

25 October. Good read. Captain Beefheart meets Kristine McKenna. Ian Wright illustrates. NME, 9 August 1986. "As far as my career in music, I think I'm in pretty good stead and that I did what I wanted to do - which is not to say that I'm finished with music. The only thing that stops a composer from thinking about music is: rigor mortis - and I still compose all the time."

21 October. Canadian fanzine Pop-See-Cul, Autumn 1967. Frank Zappa was interviewed during MOI two-week engagement in Montreal.

20 October. Two issues of New Musical Express:
September 9, 1967 - containing Royal Albert Hall concert ad
September 30, 1967 - with a Royal Albert Hall concert feedback

17 October. Captain Beefheart by Riccardo Bertoncelli. This book in Italian was printed in April 2020 as a supplement to the music magazine Blow Up.

16 October. Finnish music magazine Back Beat, #2 1980. Joe's Garage 1, 2, 3 review.

15 October. The Rocket, February 1986. Free beweekly newspaper from Seattle.

13 October. New Musical Express, September 23, 1967. "The Mothers of Invention - tame but really great". A review of the "Big Leg Emma" single.

13 October. New Musical Express, April 6, 1974. Beefheart's UK concert dates announced.

11 October. Italian music monthly Outsider, issue 14, June 2014. Roxy By Proxy.

10 October. Very interesting avant-garde music quarterly from Japan – G-Modern. Two-part Beefheart biography and Zappa obituary in 1993 issues #4 and #5.

9 October. Disc & Music Echo, March 23, 1968. We're Only In It For The Money reviewed. "A record like this transcends all boundaries, provoking thought at all levels ... A staggering record, highly recommended to freaks of all ages! "

8 October. Weasels Ripped My Flesh presented in Disc & Music Echo, September 19, 1970.

7 October. Pop-musiikin vuosisada (The pop music century), the book printed in Finland in 1968, was one of the first books with some pages about Frank Zappa.

5 October. German magazines on The Mothers 1970:
- Audio, August 2020
- Gitarre & Bass, August 2020
- Good Times, August/September 2020
- Rolling Stone, August 2020

4 October. More reviews of The Mothers 1970, now from British press:
- Classic Rock, August 2020
- Record Collector, August 2020
- Shindig! July 2020

3 October. After some break, here we go again. American Goldmine, August 2020. "Mothers & Others" contains The Mothers 1970 review.

12 September. Arf Dossier #105 is out now.

8 September. More from Japan. Record Collectors' Magazine, July 1990.

7 September. Japanese Music Magazine, March 1985. For this issue, the editors of the magazine asked Kojima Sachiho, the leader of Japanese all-girl rock band Zelda, to write an article on FZ.

5 September. Japanese Record Collectors' Magazine, April 2020. Contains extensive over 20 pages feature on Hot Rats, which comprises several articles by the magazine's regular contributors.

30 August. British Rave, September 1967, on the underground groups - "The Big Pop Movement".

29 August. British weekly music paper Top Pops, May 24, 1969. Mothermania - a good Album which will sell well to aware people.
Plus Dutch edition of Top Pops, November 2 1968, with a FZ interview.

27 August. Stereophile, June 1989. Part IV of Richard Lehnert's exploration of the recorded world of this iconoclastic composer – "The Old Masters".

26 August. Stereophile, November 1991. Many new releases reviewed: "15 new Zappa CDs, 10 new LPs".

25 August. Small Zappa bit in EC Rocker, February 7, 1990.

19 August. Mojo #321, August 2020, with a 10-page FZ special has usually Paul Weller on the cover. But there is another version for collectors with the Frank Zappa cover.

17 August. The first Soviet rock paper was Ivanov. Its last issue #6, 1994 contained FZ obituary.

16 August. Soviet newspaper Pop-Avtograf, issued in small Siberian city Blagoveshchensk in 1991.

15 August. New Musical Express, May 7, 1977. "Zappa sues previous licensees of Rainbow".

14 August. "The literary rock'n'roll project of united underground, overground and neverground" - Sovsem Drugaya Muzyka (Completely Different Music) #4, October 2000.

13 August. An independent music paper from Kiev, Ukraina - Aut, January 1994.

13 August. Melody Maker, June 19, 1971. Al Aronowitz reports on a weird jam session at New York's Fillmore East: "The ballad of John, Yoko and Frank Zappa".

12 August. German Stereoplay, September 2020. Review of The Mothers 1970.

11 August. Music Connection, October 1986. "Dweezil Zappa, Self-Made Boy."

10 August. Issue 14 of the Ray Gun magazine included a full page Zappa portrait.

25 July. Modern Drummer, December 1984. Contains interview with Terry Bozzio and some FZ rhythm examples.

23 July. Frank Zappa by Harry Lime is just another cheap print-on-demand book about Frank Zappa. Nothing new here.

21 July. True Soviet time underground samizdat paper from Kiev, Ukraine – Guchnomovets, April 1988.

21 July. Prog UK, July 2020. The Mothers 1970 review.

18 July. Italian newspaper Corriere della Sera, July 16, 2020. Contains article "Rock and mosquitoes" on the concert at Parco di Redecesio, Segrate, Italy on July 7, 1982.

17 July. Arf Dossier #104 is out now. Don't forget to visit Zappanale festival live streaming site 17.-19. July.

14 July. Melody Maker, April 8, 1978. Zappa In New York review – "Double dose of declining Zappa".

13 July. Italian monthly Blow Up, October 2002. Five reviews of Freak Out! from five critics.

12 July. New version 2.0 of Compositions by Frank Zappa by Heikki Porila, a music librarian from Finland. First version published in 2017 had 315 pages. This new updated and expanded version has 403 pages. The book is available for free as a downloadable PDF file! Recommended!

11 July. British Disc and Music Echo, November 19, 1966. "Freak Out!" by the fearsome-looking MOTHERS OF INVENTION hasn't been released over here yet, and if it is a lot of people are going to wish it hadn't been. The way they can make you scream with laughter and give you the horrors at the same time is compellingly evil. If psychedelic music can exist (debatable) this is it.

8 July. Liberator, May 1970, underground paper from West Virginia. Attractive cover, but no Zappa/Mothers content inside.

8 July. Disc & Music Echo, September 23, 1967. "Big Leg Emma" single reviewed by Penny Valentine. "I just think it's rather sad that a man of – so I have heard – such intelligence and ability as Frank Zappa should feel the call to do the things he does."

8 July. A rare magazine from Boston, New England Scene, January 1968.

7 July. Recommended read - "Uncle Meat" review by Richard C. Walls. Taken from a vintage Creem, Vol. 2 #1, June 1969.

6 July. Sounds, February 4, 1978. Zappa's concert in London's Hammersmith Odeon reviewed.

6 July. The Polytechnic, February 27, 1975. Roxy & Elsewhere review "Zappa and crews live album showcases bizarre brilliance".

5 July. From Philadelphia - The Drummer, November 9, 1976. "Zappa, Mike & J.J. - A Token of Their Extreme" is on Frank Zappa in Mike Douglas show.

5 July. Good Times it is the oldest music and entertainment newspaper in USA, established in 1969. July 11, 2017 issue contains article "Dweezil Zappa Calling His Own Shots In Westhampton Beach".

4 July. New York Free Press, March 28, 1968. This issue contains a We're Only In It For The Money review - "Leader Of The Mothers".

4 July. Danish music monthly MM, April 1988. Article on FZ titled "The Einstein of music" and London Symphony Orchestra Vol. II review.

3 July. Melody Maker, September 16, 1978. Knebworth festival.

1 July. The Frank Zappa Vinyl Bootleg Compendium by Burkhard Schempp. This exclusive edition is limited to 100 copies. It was intended to be available at Zappanale 2020 Exhibition. Because of the corona pandemic the book is available directly from the author at www.vivavincent.de.

31 June. The Polytechnic, November 19, 1969. Hot Rats review "Motherless Child's Latest Invention".

30 June. Down Beat, July 13, 1978. Review by Chip Stern - "Zappa In New York".

29 June. Sounds, November 20, 1976. Zoot Allures review "Zoot Suits".

27 June. Vibraciones #9, June 1975. Zappa mentioned several times in this issue.

26 June. Uncut, August 2020. Mothers 1970 reviewed.

25 June. Mojo, August 2020. "The Tao Of Zappa". Under the off-colour 'folklore' and mind-blowing polyrhythms, what made rock's ultimate refusenik tick? Mark Paytress asks family and bandmates.

19 June. German Musikexpress, July 2020, with a 6-page article "Frank Zappa. Always a freak."

18 June. Vibraciones #6, March 1975 from Spain. Roxy & Elsewhere reviewed.

10 June. Les Extravagantes Aventures de Frank Zappa Acte 2 by Christophe Delbrouk. The second volume of the Frank Zappa trilogy.

7 June. Classic Rock, July 2020. Brighton Centre, April 16, 1988 concert review.

6 June. Stereophile, May 2020. Recording Of The Month: Frank Zappa - The Hot Rats Sessions.

6 June. NME, April 13, 1985. Thing-Fish reviewed.

30 May. British Disc and Music Echo, September 30, 1967. This issue contains an interview "Lennon was right, says 'Mother' Frank Zappa" and Royal Albert Hall concert review "Mothers of Invention: best rock sound since Beatles!".

24 May. KRLA Beat, September 10, 1966. Article on psychedelic music. Frank Zappa: "I don't play psychedelic music. It's for dopers. I don't want to be labelled that way. We call our music the "new free music." . . . Yes, I really do think this will be the next big influence on the pop acene . . . music is now freed from the past."

23 May. This is quite rare - new edition of The Real Frank Zappa Book. In April 15 2020 was the new, very nice and solid hardcover Polish edition premiered - Prawdiwy Frank Zappa.

22 May. British teen pop weekly Fabulous 208, September 9, 1967. A summary of a phone call with Frank Zappa.

22 May. Disc and Music Echo, September 2, 1967. Short, but high prising review of the Absolutely Free.

19 May. Another British music paper with "It Can't Happen Here" single review - Record Mirror, November 19, 1966.

18 May. New Musical Express, November 4, 1966. "It Can't Happen Here" single review. The 2nd oldest British entry on this site.

17 May. Frank Zappa - the Hitler of song, says Eric Burdon. Record Mirror, December 16, 1967.

17 May. Vibraciones #4, January 1975 from Spain. Apostrophe reviewed.

11 May. American quarterly L.A. Record, Fall 2015. Contains unpublished parts from a 1972 interview - "The Holloway Files. Frank Zappa (1972)"

10 May. La Jornada Semanal, January 20, 2019. "Frank Zappa: concierto para dos bicicletas"

9 May. Mexican weekly La Jornada Semanal, January 26, 2020, with a great cover story.

6 May. Spanish Música y Tecnología, March/April 1986.

3 May. Record World, March 8 1969. Bizarre inks 5 acts.

2 May. Here we have an interview with FZ and a concert review, both by Philip Elwood, published in the San Francisco Examiner in December 1975.
- A 'Blacklisted Genius' Zaps The S.F. Sound (interview)
- An Old Flame Flickers Low (concert review)

1 May. The Best Of The Music Makers: from Acuff to Ellington to Presley to Sinatra to Zappa and 279 more of the most popular performers of the last fifty years, hardcover book printed in 1979.

30 April. Mexican Marvin, February 2019. Article on Captain Beefheart.

29 April. From Spain - Vibraciones #38, November 1977. Great cover and cover story "Los Guitarras del Rock". Missing scans added.

28 April. JazzTimes, April 2020. The Hot Rats Sessions review.

27 April. French monthly for music fans and collectors Jukebox, February 2006. "Frank Zappa & Les Mothers Of Invention."

25 April. British Rhythm, April 2017. Terry Bozzio's six favourite drum recordings (incl. Bongo Fury).

24 April. Rolling Stone #495, March 12 1987. Jazz From Hell review by David Fricke.

24 April. Czech underground paper Mašurkovské Podzemné, #22 1999. Contains a 5-page article on Captain Beefheart.

23 April. Student samizdat paper Přetlak (Overpressure) was printed 1989-1990 during the Czechoslovakian Velvet Revolution in Palacký University, Olomouc. Issue #33 had the cover story "Frankie Goes to Prague".

22 April. Czech music monthly Rock Report, January 1998.

20 April. Czech edition of Playboy, July 1993, with famous Playboy interview.

20 April. Czech rock magazine Spark, December 1997. Article on 200 Motels.

18 April. Interview with Zappa visiting Italy. Italian Ciao 2001, October 28, 1984.

18 April. More from Czechia. Rock & Pop, May 2006 issue contains interviews with Gail, Ahmet and Dweezil Zappa.

15 April. Rock Revue was a short-living magazine in Prague, Czechoslovakia. Issue 2/1990 contains article on FZ recent visit to Czechoslovakia.

13 April. Teen magazine from Czechoslovakia - FILIP. Two issues from 1992 and 1994 containing articles on FZ added.

13 April. German Eclipsed, December 2015. Includes profile article and Halloween In The Big Apple review.

11 April. New Musical Express, February 12, 1972. Contains the 2nd part of the interview with Zappa by Keith Altman: "Concluding Frank Zappa on Death Rock Writers Money", not previously available online. Also in this issue is an interview with Captain Beefheart, whose full text you can find on CB Electricity site:
"Svengali Zappa and a horrible freak called Beefheart".

10 April. Finnish Helsingin Sanomat Kuukausiliitte, December 1988. Great cover story "America's good enemy".

10 April. Two issues of the Australian bi-monthly Rhythms.
- 2020 January/February, Hot Rats review
- 2020 March/April, article on Dweezil Zappa

10 April. Record Collector, January 2018. Summer Of '82: When Zappa Came To Sicily (review).

9 April. Modern Drummer, February 2008. Contains interview "Zappa Plays Zappa's Joe Travers The Vaultmeister"

7 April. Spanish Vibraciones #1, October 1974. Interview with FZ. Page scans added. Plus Vibraciones #2, November 1973 with several FZ-related articles and news, including Badalona concert review.

5 April. Mexican Conecte #510, 1988. Article "On Tour After Four Years of Absence".

4 April. French Jazz Magazine, November 2016. Interview by Sting contains some nice words about Frank Zappa.

3 April. Rolling Stone #396, May 26 1983. The Man From Utopia reviewed.

2 April. Finnish bi-weekly UM. Uusi Maailma, February 22 1968. Includes article about the Mothers of Invention based on an inteview with FZ.

1 April. Finnish youth monthly Help, March 1977. Usually Frank Zappa liked to be in Finland. When elsewhere he often did not leave the hotel, while in Finland he visited many social events, even dance parties and weddings.

31 March. Rolling Stone #311, Februay 21 1980. Baby Snakes movie review.

30 March. Worlds oldest jazz magazine, French Jazz Hot, May 1972. This special guitar issue contains article on Hendrix, Zappa, Corryel and McLaughlin.

30 March. Argentinian music oriented supplement No, July 1993.

29 March. Melody Maker, March 21 1970. Chris Welch reviews Hot Rats and Burnt Weeny Sandwich.

28 March. Shakin' Street Gazette, October 10 1974, with Roxy & Elsewhere review.

27 March. Argentinian El Musiquero, February 1994. Nice cover and a 7-page article. Page scans added now.

26 March. Spanish magazine of art and thought Bostezo #1 2008.

25 March. German Musikexpress, February 2020. The Hot Rats Sessions review, what else.

25 March. The Wire, February 2020. The Hot Rats Sessions (review)

25 March. Life goes on - The Arf Dossier #103 is out!

22 March. Brazilian Cover Guitarra, December 2003. Frank Zappa 7-page special "O pai da invenção".

21 March. Dutch Muziek Parade, August 1968. Includes Zappa poster.

21 March. Shakin' Street Gazette, May 1974, with Apostrophe review.

19 March. Another music publication from Buffalo State - Eggz, April 19, 1978.

19 March. Free Shakin' Street Gazette from Buffalo State, October 1, 1974. Contains the story of Bizarre/Straight Records.

18 March. Select was the main Britpop magazine in the 90s. We collected a list of FZ album reviews from different Select issues:
- The Best Band You Never Heard In Your Life
- Roxy And Elsewhere
- The Perfect Stranger
- The Music Of Francesco Zappa
- Have I Offended Someone?

18 March. Argentinian Expreso Imaginario, February 1980.

17 March. Rolling Stone, May 3, 1979. Sheik Yerbouti reviewed by David Fricke.

16 March. Concert Magazine from Philadelphia, Fall / Winter 1972.

12 Mach. French rock monthly Best, November 1974. Paris, September 27 1974 concert review.

8 March. The Aquarian Weekly, October 25, 1995. Contains two articles: "Zappa's Political Connection" and "Saint Zappa, Halloween Idyll".

7 March. Mexican lifestyle magazine NANU!, January/February 2009.

7 March. Mexican long running rock magazine Conecte, May 1981.

7 March. Brazilian youth magazine Pop, May 1975.

6 March. Lifestyle magazine YAM, January / February 2020. Maestro Christian Kluxen and the Victoria Symphony take on the irreverent work of two of the music's biggest non-conformists, Frank Zappa and Edgard Varèse.

6 March. From Brazil - Música do Planeta Terra, #3, 1975.

5 March. Rolling Stone, December 30, 1976. Zoot Allures reviewed by Robert Duncan.

5 March. Brazilian Música, #25 1978.

4 March. Argentinian news weekly Confirmado, March 3, 1971. A short article about FZ on the release of the album Chunga's Revenge.

3 March. El Musiquero, June 1987, Argentinian music monthly contaning some articles on Zappa.

2 March. Rolling Stone, January 1, 1976. Bongo Fury reviewed by Gordon Fletcher.

2 March. Mordisco, April 1977, a rock paper from Argentina.

1 March. El Porteño, cultural magazine from Argentina. Issue #100, April 1990.

27 February. Rolling Stone, September 11, 1975. One Size Fits All reviewed by Billy Altman. "The only song that's even mildly noteworthy is 'Sofa No. 2', if only because Zappa sings in German".

27 February. Down Beat, April 1980. Joe's Garage is reviewed by Larry Birnbaum.

26 February. From DDR: Neues Leben, November 1988.

26 February. Japanese Young Guitar, July 2009. Article on Zappa's works plus interviews with Dweezil Zappa and Mike Keneally.

25 February. Tuttotamburo #1 by Stefano Tamburini. First volume of the series that chronologically presents the complete works of Stefano Tamburini. This volume, covering the years 1973-1976, contains several Zappa-related comicses.

24 February. Japanese cultural monthly ADLIB, June 1988, including short report of the 1988 tour.

23 February. Disc and Music Echo, February 22, 1969. Short Cruisin' With Ruben and the Jets review.

22 February. Japanese Record Collectors' Magazine. Five issues from different years:
- November 1995
- May 1997
- January 2016
- May 2016
- October 2018

21 February. Sounds, April 26, 1975. Containing interview "Frank and his law suit – he wears it well".

21 February. Swedish weekly VeckanRevyn, June 11, 1980, with some pictures from June 1 Stockholm concert.

17 February. Canadian news magazine Maclean's. Thee issues from 1985-1992.

16 February. Japanese monthly magazine for jazz/fusion fans ADLIB, March 1988. Contains an interesting 16-page Zappa special. [1988 tour:] "In order to make each show different, the songs are grouped into five categories - thus, the audience will never get bored with a fixed setlist."

16 February. Japanese monthly cultural magazine Studio Voice, December 2002. "70's through Frank Zappa", third part of the main feature "American Seventies".

15 February. Another Melodie & Rhythmus, January 2016. Roxy - The Movie reviewed by Ben Watson.

14 February. German Melodie & Rhythmus, May 2014. Contains article "Psycho-Pop" by Ben Watson, with references to FZ, Captain Beefheart, Shuggie Otis and Sugarcane Harris. This article is published only in German. Another article in this issue by Ulrich Grunert is on Zappanale 25.

13 February. Zappa's biography by Barry Miles translated and published in Finland in 2007.

13 February. NME, April 2016. Short interview with Alex Winter about Zappa documentary.

9 February. Great book by honorable Saulius Paukštys from Vilnius. Of course in Lithuanian. Frank Zappa – Lietuvos sūnus (Frank Zappa - The Son Of Lithuania) tells the story of the birth of a monument to Frank Zappa in Vilnius. The second part of the book is the story of the construction of Frank Zappa's monument in his hometown of Baltimore (USA).

8 February. Music Legends, issue #5, published in January 2020. Contains a 13-page article on FZ, accompanied with a 45-minute music documentary Frank Zappa - Music In Reviw. Digitally is this issue in whole available on issuu.com.

8 February. New Musical Express, January 7, 1978, including news item and concert ad.

6 February. Counter-culture paper Washington Free Press, May 1-15, 1969, with a very angry concert review "The Money Game".

5 February. German Musikexpress/Sounds, September 1991. Includes exclusive interview "Zappa For President" by Rudi Dolezal, made in Prague 1991.

4 February. Mexican Jet Set, October 1976. Article contains very interesting photos from concert in Paris, March 8, 1976.

3 February. Concert program - Palais des Beaux-Arts, Brussels, Belgium, December 16, 1970.

3 February. Another, almost identical program - 1st Spectrum Summer Music Festival, July 11, 1969.

1 Februry. Laurel Pop Festival program. July 12, 1969.

1 February. French Rock & Folk #44, September 1970. Includes photos of Jean Luc Ponty and Frank Zappa from Valbonne Festival ´70.

27 January. Two issues of the Radical Philosophy:
- May/June 1996, The Negative Dialectics of Poodle Play by Ben Watson reviewed
- March/April 2011, Captain Beefheart, vorticist artist. Obituary.

26 January. Adult slick magazine The Rebel Breed, August 1968, with some freak-out scene pictures including Frank, Gail and Mothers' Auxiliary.

25 January. Record Collector News, October/November 2015. Short article on Roxy The Movie premiere.

24 January. Mojo, February 2020. Includes The Hot Rats Sessions review and short interviews with Ian Underwood and Ahmet Zappa.

23 January. Some British music magazines more with The Hot Rats Sessions reviews:
- Classic Rock, January 2020
- Long Live Vinyl, February 2020
- Record Collector, January 2020

22 January. Dutch Gitarist, January 2020.

21 January. Zappa obituary by Ben Watson "Spanner in the works". Published in the Socialist Review, January 1994.

21 January. Russian Rock Fuzz, July 1994.

17 January. On December 30, 2019 another great book from Backbeat Books appeared (recently we got Zappa Gear). This time a deluxe hardcover book by Bill Gubbins - The Hot Rats Book. A lot of unique pictures inside and it is a good read. This is an official Zappa book produced with cooperation with ZFT.

16 January. Rolling Stone, January 2, 1975. "Roxy & Elsewhere".

16 January. Rolling Stone, June 6, 1974. "Apostrophe (')"

15 January. For our German readers, The Hot Rats Sessions reviewed:
- German Classic Rock, January 2020
- German Rolling Stone, January 2020

15 January. First Indian magazine in our list - Rolling Stone, September 2016.

12 January. You can find The Hot Rats Sessions reviewed in many magazines. Here are some:
- Goldmine, February 2020
- Guitarist, January 2020
- Prog, January 2020
- Shindig, January 2020
More to come.

11 January. Rolling Stone, December 20, 1973. "Over-Nite Sensation".

11 January. Rolling Stone, February 1, 1973. A rare exception - very prising review on Zappa's album in Rolling Stone. "The Grand Wazoo".

10 January. Rolling Stone, October 12, 1972. "Waka / Jawaka".

9 January. Rolling Stone, June 8, 1972. "Just Another Band From L.A."

7 January. Rolling Stone, September 30, 1971. Review by Lester Bangs -"Fillmore East".

6 January. Rolling Stone, October 1, 1970. "Weasels Ripped My Flesh".

6 January. Rolling Stone, December 21, 1968. Cruising With Ruben & The Jets reviewed.

5 January. Austrian music monthly Rennbahn Express, January 1990, with Zappa obituary.

4 January. Rare MOI 1966 Balloon Farm concert poster. Record Collector, October 2018.

4 January Modern Drummer, January 1990. "Ed Mann" - interview with percussion setup schemas.

3 January. Guitarist, December 2019. "Mission Impossible" are the guitar stories behind 1969 classic Hot Rats.

2 January. Czech bimonthly Rock History - year 1979. Article about Sheik Yerbouti and Baby Snakes.

1 January. The Arf Dossier, issue 102. Published in December 2019.

2020

28 December. Zappa Gear by Mick Ekers. The long awaited book about Zappa's guitars, amplifiers, effect units, keyboards and studio equipment.

26 December. Modern Drummer, May 1982. The interview is "Aynsley Dunbar".

25 December. Modern Drummer, December 1988. Contains long interview with Chad Wackerman.

24 December. From New Zealand, Real Groove, September 1995. "The Plateful Dead" is on massive 53 album reissue, plus ten essential albums recommended.

23 December. Yugoslavian entertainment weekly Čik, March 1968, with FZ profile article.

22 December. I Wanna Be Your Dog, #4, 1977. French fanzine of the Iggy Pop Fan Club, containing concert review.

21 December. Frank Zappa 1966 to 1979: Every album, every song by Eric Benac. This is in-depth album guide with song by song analysis. A brand new book, published in November 2019.

20 Dezember. Short-living German music monthly Musiker & Tontechnik, July 1980. Coincidently had Santana and Zappa both gig in Sporthalle Cologne on the same day, Juni 7 1980. They were separate shows, first Santana, thereafter Zappa. Both shows reviewed in this issue.

7 December. "Chad Wackerman: Enjoying All Challenges", from Modern Drummer, May 1983.

3 December. "Mother Follower Of Edgard Varèse" by Ralph J. Gleason, from Datebook, December 1968.

1 December. Frank Zappa Adult Coloring Book - an unlicensed coloring book printed in two editions in 2018 and 2019.