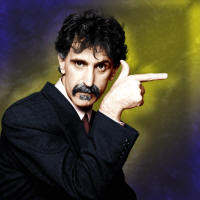 The purpose of this site is to provide a little help to those that are looking for written material about Frank Zappa.
afka (at) afka.net
Upcoming Zappa books
Frank Zappa by John Raby, 23 June 2023
Happy Forever: My Musical Adventures With the Turtles, Frank Zappa, T. Rex, Flo & Eddie, and More by Mark Volman, July 2023
Frank Zappa. The Man From Utopia by Michele Monina, September 2023
Freak Out! by Pauline Butcher. Translation to Czech language. 2023
Mother Superior : The Saga of Frank Zappa and the Mothers of Invention: The Authorised Biography by Alan Clayson - 2023 ?
Earth To Moon: A Memoir by Moon Unit Zappa - February 2024
The
main index of books on Zappa
contains now 311 items.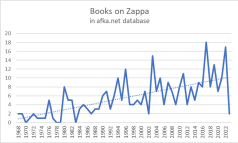 Support this website!
This is a non-profit website, dedicated to composer Frank Zappa.
Please help with the running costs of this website by making a donation.
Zappa Books
New Entries.
8 June. San Diego underground biweekly Door:
- 1968 December : Ruben And The Jets
- 1969 April : common concert of the Mothers and Country Joe
- 1971 January : "Chunga's Revenge"
- 1971 April : "Frank Zappa & Zubin Mehta – 200 Hotels (Bootleg)"
- 1971 August : "The Mothers "Fillmore East, June 1971" "

5 June. The San Diego Union, 3 June 1968. "The Mothers Of Invention In Hit Concert".

3 June. Great concert, good review - "Frank Zappa: The Palladium". One of the Halloween 77 concerts reviewed in Good Times, December 1977.

3 June. Major Hungarian newspaper Népszabadság.
- 2000 December : "Sixty years of Frank Zappa"
- 2002 December : Hungarian Frank Zappa association
- 2013 April : The Grandmothers concert in Budapest

3 June. Two editions of the Italian weekly Ciao 2001 from December 1972.
- "Pop History Vol. 11 Frank Zappa and the Mothers Of Invention"
- "Zappa's Mothers: the end of Mothers"

2 June. Rapping With Zappa: My 1970 Interview with Frank Zappa is a Kindle edition booklet by Francis Hamit. Published in March 2022.

2 June. Two old editions of the long-running American Audio magazine, with album reviews:
- 1966 September : Freak Out!
- 1969 November : Uncle Meat

1 June. Biweekly Shukan FM, 23 February 1976. Report of FZ's Japanese tour with pictures.

1 June. Finnish Soundi, February 1994. Zappa obituary and The Yellow Shark.

31 May. We received a beautiful package from Brazil. It contained several editions of the Poeira Zine magazine, which it is a pleasure to present here.
- 2006 September: Freak Out!
- 2010 November: A Movie For Your Ears
- 2011 January: Zappa The Hard Way book review and 16(!) page Captain Beefheart special
- 2015 January: Napoleon Murphy Brock
- 2016 March: Zappaslavia (Zappa in Yugoslavia and Czechoslovakia)

30 May. Two issues of the American Billboard magazine:
- 1994 November 1. 100th Anniversary issue : full-page Civilization Phaze III ad
- 1995 May 6 : two articles by Drew Wheeler, "Rykodisc Plots Zappa Attack" and "Preserving Zappa's Legacy".

27 May. "Crazy touring sets pace". The Evergreen State College Paper (later the Cooper Point Journal) on 200 Motels. 6 December 1971.

26 May. Mudd Club Newsletter June 1980. "Since meeting William Burroughts in the Mudd Club basement a year ago, Frank Zappa had been anxious to follow up the Burroughs night with his own performance. Despite the fact that the Zappa equipment alone takes up more space that the size of the whole club, a few customers managed to squeeze in and enjoy the concert, especially the new recording specifically dedicated to the Mudd Club."

26 May. Tippy's Friends Go-Go & Animal, September 1968. A comic book with an MOI picture.

25 May. Another record review from the Dutch magazine Oor. Tinsel Town Rebellion. Oor, 17 June 1981.

24 May. Dutch long-running music paper Oor, 7 October 1981. You Are What You Is.

22 May. The Puppetry Journal, Summer 1994. In Memoriam Frank Zappa.

21 May. Another interview you haven't read before. Belgian weekly Panorama, March 1990. Long interview by Raf Sauviller at Frank Zappa's home - "Zappa For President".

19 May. The Mother People Anthology features the first 13 issues of Mother People, a Frank Zappa fanzine produced from 1981 through 1989 by Rob Cerreta, Frank fanatic from the first generation of Zappa fans. Edited and introduced by Scott Parker.

14 May. Some album reviews from German Musikexpress:
- May 1981 : Tinsel Town Rebellion (✮✮✮)
- March 1982 : Shut Up 'n Play Yer Guitar (✮✮✮✮✮✮)
- June 1982 : Ship Arriving Too Late To Save A Drowning Witch (✮✮)
- June 1983 : The Man From Utopia (✮✮)
- November 1984 : Them Or Us (music ✮✮✮✮✮ lyrics ✮)

13 May. Hungarian political and social weekly Magyarország, May 1971. Article on 200 Motels.

12 May. Brutus is a Japanese men's magazine devoted to pop culture and lifestyles. May 2022 edition has a special feature entitled "My Shelves, My Life", which includes a photo of Frank Zappa's workroom.

11 May. Belgian youth weekly Joepie. Two editions from 1982 on Moon Zappa: 25 July and 26 September.

10 May. Portuguese Musicalissimo No. 2, 1980. Joe's Garage Act I.

8 May. British Mojo, June 1996. "Greatest Guitarists Of All Time" - FZ #28. Plus Rykodisc catalog supplement.

7 May. New Musical Express, 25 May 1968.
Meanwhile, Eric Clapton showed up to see The Mothers Of Invention at their Shrine Auditorium concert and ended up doing a guest set with them that set the audience wild.

7 May. Pop from Switzerland:
- July 1972 : Just Another Band From L.A.
- September 1972 : Waka/Jawaka

2 May. Spanish Ruta 66 (Route 66):
- February 1998 : 200 Motels
- May 1998 : FZ special, 8 pages

24 April. Canadian student newspaper The Varsity:
- 22 October 1971 : Toronto concert review
- 8 December 1971 : 200 Motels vs Fiddler on the Roof

24 April. Italian Musikbox, November 2003. Does Humor Belong In Music (DVD)

22 April. New Musical Express, FZ interview by Charles Shaar Murray in two parts:
- 25 August 1973
- 1 September 1973

22 April. German Stereoplay:
- 1986 November : classic rock albums in CD format
- 1987 February : Jazz From Hell

20 April. Greek Pop & Rok:
- 1978 December : Chunga's Revenge
- 1979 March : "Art Rock" by John Rockwell

20 April. British Music Week, 2 August 2013. "Kobalt signs major Frank Zappa deal".

19 April. The April 1983 edition of the Italian magazine Frigidaire includes a photograph of Frank Zappa reading a previous issue of the publication while in Sicily in 1982. The magazine featured the comic strip/character Ranxerox. After seeing the magazine, Zappa approached the artist and requested that he produce the cover of his album "Man from Utopia" with Zappa's head superimposed on the body of Ranxerox.

18 April. Japanese Record Collectors' Magazine, January 1994. Includes a 12-page Captain Beefheart special.

18 April. Estonian daily paper Päevaleht, 7 December 1993. Zappa obituary.

17 April. A 15-page Zappa special in Swedish Rock'n'Roll Magazine #7, 2022.

15 April. German Fono Forum, October 2016. "Beat The Boots".

15 April. French Best, May 1973. "Ruben and the Jets "For Real!"".

12 April. Guitarist Australia, February/March 2007. "The weird and wonderful mixolydian modes of Mr Zappa".

11 April. Estonian tabloid Post, 22 December 1995 - "Ambassador Toomas Tiivel attended the opening of Frank Zappa's monument in Lithuania."

10 April. Spanish monthly Ruta 66:
- 1997 January : Strictly Commercial
- 1997 September : You Can't Do That On Stage Anymore
- 1997 December : Strictly Genteel

9 April. Interview with FZ in the Swedish weekly VeckoRevyn, February 1980.

9 April. "The Guitar 7" from Japan. This is an extra isue of the magazine Player, presenting "Frank & Dweezil Zappa Guitar Collection".

8 April. Japanese Record Collectors' Magazine, April 2022. This issue has an article on The Mothers 1971 boxset, plus a short review of the Japanese pressings of the Zappa Movie soundtrack and 200 Motels.

7 April. It is difficult to overestimate the level of Zappa's popularity in the Scandinavian countries. Here are two issues of the Finnish magazine Suosikki, which contain annual reader poll data for 1974 and 1975. Both lists have Zappa as the number 1 musician of the year. In 1974, he was followed by David Bowie and Gary Glitter, and in 1975, Elton John and David Bowie.

6 April. "An international insidermagazine" Arf-Dossier #115 containing, as it should be: new album reviews, many nice pictures, "The Greenaway Essays" by Andrew Greenaway, "News From Belgium" by Peter van Laarhoven, "Ullis Ecke" by Ulli Schäfer, and more.

6 April. Italian monthly Il Mucchio Selvaggio, December 1995. Strictly Commercial.

1 April. British trade magazine Record Business:
- 1979 February : concert review "Zappa: faultless professionalism"
- 1979 June : airplay chart (incl. Dancin' Fool)
- 1980 January : Joe's Garage II & III
- 1981 June : TV show The Old Grey Whistle Test
- 1982 June : Ship Arriving Too Late To Save A Drowning Witch
- 1983 January : concert review "LSO plays Frank Zappa"

31 March. Suosikki, April 1976. FZ press conference and Helsinki concert review.

29 March. German free monthly Start, July 2020. The Mothers 1970.

29 March. Guitar Player Brazil, January 1999. 2nd part of the Frank Zappa's techniques.

28 March. First Zappa book published in 2023. Zappa Every Day is a DIY fanzine dedicated to the music of Frank Zappa by Flake, who listened to 34 Zappa albums in 34 days and wrote one review every day.

27 March. Hungarian Pesti Müsor, February 2011, on local band Cosmic Debris, which next year performed also at the Zappanale festival.

26 March Japanese Rockin' On, December 1982, contained a photo of FZ and Moon by David McGough.

25 March. Dutch monthly pop magazine Teenbeat, November 1967. Magazine readers' questions and answers session with Frank Zappa.

24 March. Interview with Frank Zappa "To Be Frank". International Musician and Recording World, December 1985.

23 March. Classic Rock, September 2016. The Lumpy Money Project/Object, Road Tapes Venue #1 - #3

22 March. The Swedish Schlager #12, 1984, presented the 30 biggest names in rock music, selected from 1954-1984. One name from each year. Zappa represented the year 1967.

19 March. Japanese monthly magazine Strange Days:
- 2005 November : Baby Snakes DVD
- 2007 September : The Dub Room Special DVD

18 March. It is now possible to read almost in its entirety Charles Shaar Murray's long - over 2,000 words - opus "Frank Zappa Lookin' Back", which appeared in three issues of NME on 16, 23 and 30 November

17 March. Finnish Soundi, some editions:
- 1985 October : Zappa's speech in New Music Seminar
- 1987 January : Dweezil Zappa Havin' A Bad Day
- 1987 February : Jazz From Hell

16 March. Bass Player, May 2007. Arthur Barrow. Audition Absurdities: Frank Zappa's "St. Alphonzo's Pancake Breakfast".

15 March. Italian monthly Blow Up, July 2020, contained an 8-page (!) review of the album The Mothers 1970 by Riccardo Bertoncelli, titled "Chunga, Sharleena and the bulky Turtles".

15 March. Finnish Suosikki, October 1970. "The child is the father of the man!" is about many progressive rock bands.

14 March. 30-anniversary issue of the Czech Rock & Pop with Zappa on the cover again. Printed in May 2020.

14 March. Special issue "Foto Rock" of the Spanish Vibraciones, May 1978. Some rare pictures presented.

13 March. Japanese Player, April 2022. Zappa film and 1990 archive interview.

13 March. Eat That Question film reviewed in German Das Magazin, January 2017.

12 March. A very interesting read for Sunday. Aaron Sternfield interviewed FZ in Greenwich Village restaurant in 1967 during the Garrick Theatre time. "Frank Zappa - the most beautiful on earth" - what he said on Beatles' When I'm 64, Eric Burdon etc. Taken from Finnish Suosikki, January 1968.

9 March. 12-page Frank Zappa file in Greek monthly Pop & Rok, February 1994.

9 March. Finland's Soundi, November 1981. You Are What You Is.

8 March. Zappa - il fumetto, an Italian book published in 2022 and recommended to everybody - contains a lot of comics and drawings.

7 March. Britich boys' comic The Hornet, 6 October 1973. "The Hornet file on Frank Zappa".

6 March. Musicians' magazine from Poland - Top Guitar, March 2006. FZ profile article.

5 March. Japanese Music Life, March 1971. Nice B&W photo of FZ.

5 March. German Musikexpress, December 1994. Civilization Phase III.

4 March. Interview with Jeff Simmons. British Shindig!, January 2015.

4 March. French Jazz Magazine, May 2017. Eat That Question - Frank Zappa In His Own Words by Thorsten Schütte.

3 March. A good read for the weekend by Charles Shaar Murray "How to complete the subbing and layout of a very long Frank Zappa Lookin' Back". From NME, 30 November 1973.

2 March. First magazine from Romania on our list - Orient Expressz. It was the Hungarian language weekly launched in Bucharest, Romania, in November 1992. One of the first issues contained an interview with FZ.

1 March. Ciao 2001, 15 November 1981. Three pages on You Are What You Is - "In the sign of Zappa".

28 February. Japanese Player, February 2003. Contains a 12-page(!) Sheik Yerbouti special, including interviews with Terry Bozzio and Steve Vai, equipment, technique and recording room chapters.

28 February. Back Beat, a magazine from Finland.
- March 1980 : Joe's Garage 1, 2, 3, a very critical review
- March 1981 : Tinsel Town Rebellion, a much more complimentary review

24 February. Mojo, February 2023. Waka/Wazoo.

24 February. Playgirl, January 1994. Dweezil Zappa on the cover. "Sons of Invention" is the title again, but the article is different. We don't have the text here, but we have the pictures!

24 February. International Herald Tribune, 25 June 1993. We don't have the pictures here, but we have the text. "Sons of Invention."

24 February. Japanese Rhythm & Drums Magazine, June 1995. Tutorial article of the Zappa In New York version of "The Black Page".

23 February. Finnish monthly Musa, July 1972. Just Another Band From L.A.

23 February. Greek music monthly Pop+Rok, June 1991 Nice full-page picture of FZ.

18 February. The Varsity, student newspaper from Toronto, Canada. Three articles from December 1967 and January 1968 on The Mothers of Invention performing in Convocation Hall, Toronto, at the (B)abel festival in 28 January 1968.

17 February. Very good read, concert review "Caught In The Act" from DownBeat, 7 June 1973.

16 February. Japanese cultural magazine Studio Voice.
- July 2001 : "Frank Zappa's Political Studies"
- December 2001 : Yoko Ono is featured in this issue, and FZ is mentioned in an article about the related artists.

15 February. British film magazine Sight and Sound, January 2017. "Eat That Question: Frank Zappa in His Own Words."

12 February. Long-running Norwegian magazine for young girls, Romantikk, 14 June 1983.

11 February. The theatre and film magazine from New York, Audience, December 1971. "200 Motels"

10 February. French monthly Pop 2000.
- January 1972 : FZ press conference on 200 Motels
- November 1972 : Cruising With Ruben & The Jets

9 February. In Tune, a free magazine from South Jersey, issued from March 1992 to September 1997.
- December 1993 : Frank Zappa obituary
- March 1997 : Läther

8 February. Page scans added to the Chilean magazine Onda, 15 October 1971. The magazine contains a four-page article "Frank Zappa: el nuevo genio pop".

8 February. Beat Instrumental, December 1969. Trout Mask Replica reviewed: "For people who dig Beefheart and where he's at, this record is great. For those who don't – keep taking the tablets."

5 February. One book more from 2022 - Frank Zappa: Il Grande Uccello by Riccardo Bertoncelli. This is the 9th book by RB in our index!

4 February. Japanese magazine for young men GORO. February 1976 edition has a short announcement of FZ's Japanese tour.

3 February. Very rare and interesting interview in British Sound Engineer and Producer, April 1987. Jeff Burger made the interview "At home in his kitchen". Contains a lot of producer knowledge you've never heard of.

2 February. German TV listing magazine Hörzu, 20 March 1971. "200 Motels or how Frank Zappa wanted to make a film".

1 February. Ciao 2001, 19 July 1981:
"Zip Zap" - Zappa's press conference before the "Varèse Tribute" concert on 17 April 1981.
"Fuoci d'artificio" - Tinsel Town Rebellion review

31 January. British magazine for musicians, Beat Instrumental, February 1973 - a very brief Grand Wazoo album review.

30 January. A book in Hungarian - A progresszív rock mai sztárjai (Today's stars of progressive rock) by László N. Göbölyös. It was printed in 1989 and contains a chapter on Frank Zappa, which is available in full text.

29 January. The world's second oldest still publishing blues (print) magazine comes from Finland - Blues News. The 1985 #5 issue contains a funny review on Zappa's first '58 recordings.

28 January. The most popular Swedish youth magazine in the 60s Bildjournalen, October 1967. They interviewed Frank Zappa when he was with the Mothers in Sweden. "Frank Zappa - King of Hippieland: Down with the old man rule".

27 January. Two issues of the Rolling Stone on 200 Motels film:
- 1971 February 18 : "Zappa Film Stars Rubber Doll"
- 1971 December 23 : "200 Motels" by John Weisman

26 January. Rolling Stone #34, 31 May 1969. In random notes: "Frank Zappa has become a professional lecturer, popular among college students from coast to coast ...". Plus Uncle Meat reviewed by Alec Dubro.

25 January. The quarterly magazine Lizard from Poland. Their current edition, #47, December 2022, is a Frank Zappa special with several articles on FZ.

24 January. Free Danish music monthly Gaffa. The July 2013 edition gives five stars to the A Token Of His Extreme.

23 January. The once popular Mexican weekly Mexico Canta, #328, May 1971.

22 January. The largest newspaper in Canada, Toronto Star, 23 December 1967. A big part of the article "Opera – the next big thing in rock" is about Absolutely Free.

21 January. Paternoster was a quarterly review for art and criticism, issued first in Vienna and later in Prague. Some Czechoslovakian young expats visited FZ concerts in 1982 in Vienna and Linz. Their adventures are cronicled in "Interview with Frank Zappa", published in Paternoster #2, 1983.

20 January. Portuguese weekly Expresso. Some album reviews that appeared in 1986 in connection with local Portuguese record releases:
- 1986 March : Ship Arriving Too Late To Save A Drowning Witch
- 1986 April : Tinseltown Rebellion
- 1986 May : FZ Meets The Mothers Of Prevention

19 January. Frank Zappa in Stockholm, Sweden, in February 1978. "A musical happening" is the concert review in Svenska Dagbladet.

18 January. Pelo is probably the most famous Argentinian music magazine of all time. From time to time you can still find new relevant publications.
- 1970 #1 : Mothers Of Invention as one of the 30 bands of the pop revolution
- 1970 #7 : Zappa revives the Mothers
- 1970 #8 : The most important North American bands
- 1970 #9 : The day Zappa drove the Philharmonic crazy

17 January. Greek music monthly Pop+Rok, August 1988. The article is titled "Permanent Freak Out".

16 January. A bunch of album reviews from Finnish music monthly Soundi. They are all good read. Try it!
- 1975 July : One Size Fits All
- 1976 November : Zoot Allures
- 1978 July : Zappa In New York
- 1978 November : Studio Tan
- 1979 April : Sleep Dirt and Sheik Yerbouti
- 1980 January : Joe's Garage Acts II & III

15 January. Poeira Zine, an independent magazine from Brazil. The introductory edition #0 from 2003 contains a Zappa buying guide.

14 January. British trade paper Music Week:
- 1987 January 10 : Jazz From Hell
- 1993 February 6 : Music For Nations 10th anniversary
- 1993 December 18 : laconic full page obituary
- 1995 April 8 : back catalog ad

13 January. Dutch Soundz, #1, 2017. Crusing With Ruben & The Jets.

12 January. We added scans of some great editions of the Spanish monthly Vibraciones:
- 1979 April : "The grandma tales" - Zappa in Barcelona
- 1980 April : First part of the exclusive Zappa interview "My drug is sex"
- 1980 May : 2nd part of the exclusive Zappa interview

11 January. Guitar Magazin, Japanese monthly magazine "for all guitar players":
- 1988 April : FZ exclusive interview
- 2007 July : Zappa's Gibson SG

10 January. 1973 September 2, Zürich, Switzerland concert revue. Nouvelle Revue de Lausanne. "This music, this Zappaian theater, is in fact only an immense gag interspersed with sequences where the actors become serious again."

9 January. Turkish weekly Rock Kazani, 11 July 1994. One page is dedicated to the children of rock stars: Dweezil and Moon Unit Zappa, Julian Lennon and Jimi Hendrix's son James Daniel Sundquist.

8 January. Australian radical counterculture magazine Revolution.
- 1970 June : Hot Rats
- 1970 August : random news
- 1970 December : Trout Mask Replica
- 1971 January : Chunga's Revenge

7 January. The president of Estonia, Toomas Hendrik Ilves, lived in New York in his youth. In his interview he recalled the Mothers Of Invention concert at the Garrick Theatre. Aplaus, Winter 2013.

6 January. Hungarian large format magazine Volt:
- 1993 April : Review of the Hungarian edition of The Real Frank Zappa Book
- 1994 March : vecy nicely formed Zappa obituary

5 January. Beat, February 1995, from Norway. Civilization Phase III. "Zappa is a part of life".

4 January. Some newer issues of the French Rock & Folk:
- 2019 August : photographer Jerry Schatzberg
- 2020 February : Eat That Question
- 2022 May : the Hot Rats album's cover is reviewed

3 January. The May, June, and July 1993 issues of the German monthly magazine Musikexpress/Sounds contained several album reviews, including reviews of The Man From Utopia, The Yellow Shark, and Ahead of Their Time.

2 January. In an interview with Hit Parader in July 1969, Henry Vestine revealed that he briefly met Frank Zappa and Captain Beefheart for the first time in a jam session at the Sea Witch club in Hollywood in 1963.

1 January. Italian giant glossy "rock, pop and progressive music" monthly magazine TOP. A full-page Frank Zappa picture was found in issue number 22, 1987.